Christina Haack Has Something To Say To Critics Of Her New Relationship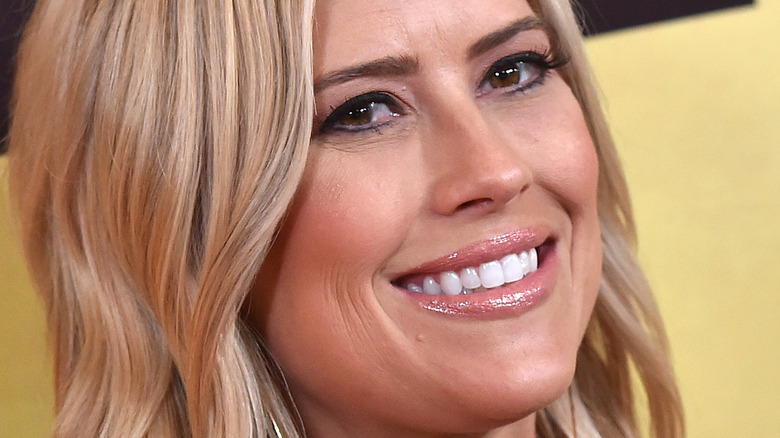 DFree/Shutterstock
Some fans think Christina Haack is married to Joshua Hall. In case you missed it, the HGTV star, who was previously married twice, met and started dating the realtor in the summer of 2021 according to People. By September they were engaged (via Page Six). Now, new photos show the star and her man vacationing in Cabo, Mexico and eagle-eyed followers think they see a wedding ring on Haack's finger, while Hall is sporting a tattoo on his ring finger.
Given the short timeline of their relationship and because Haack separated from her husband of two years, Ant Anstead, only a year before getting engaged to Hall, the "Christina on the Coast" star is getting pushback online (via The Sun). It all started when Haack took to Instagram to update fans with a new photo of the couple, captioning the beach shot, "Too fast, too soon, too blah blah blah.. that feeling of pure bliss / those deep convos, love is what it is" (via People). She later removed the caption — but not before some people weighed in with judgements about the speed of the relationship.
"I hope it lasts, and that you aren't just addicted to the hormonal blast of the novelty of falling in love. Best of luck!" one commenter said, while another person wrote, "Well that sounds great! But now you have children by two different men! It's not all about what makes you happy anymore! You need to look at the entire picture! Good luck!"
Christina Haack is used to social media criticizing her life choices
To be fair, plenty of supporters also voiced encouragement in the comments section of Haack's Instagram post. "Ignore the haters. Follow your heart," one follower said, while someone else wrote, "Just do what makes y'all happy!! It's your life, not ours." "Just live your life and be happy!!" is a comment that characterized the tone of many others.
But as one commenter noted about the star's share, "That's why it's sometimes best to keep some things private then everybody won't be in your business, judge you or bring their negative opinions." Of course, Haack is known to post updates on her personal life to her social media and has often faced backlash over her parenting choices, her weight and her relationships (via Page Six).
For his part, Hall is also showing off his love for his lady on Instagram. Sharing another photo from the couple's vacation, he wrote, "True love is rare, so go for it. Fear controls you, so face it. Time is precious, so indulge it. Life begins at the end of your comfort zone. Never settle for less than you deserve. We only get one life, so don't waste a moment of it" (via Yahoo!).