Here's What Olivia Rodrigo Looks Like Going Makeup-Free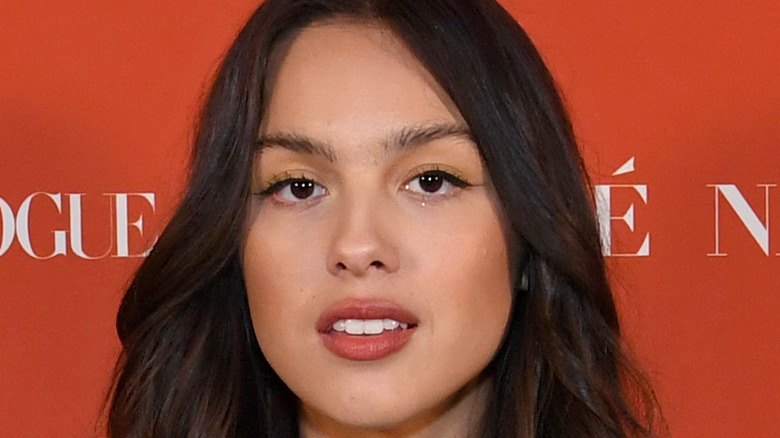 Jon Kopaloff/Getty Images
Olivia Rodrigo had a massive 2021. Despite already being reasonably famous, thanks to her starring role in hit spinoff "High School Musical: The Musical: The Series," it was the release of the singer-songwriter's chart-topping debut album, "Sour," that launched her career into the stratosphere. 
Rodrigo admitted to Vogue, "It's been very go, go go, but in the best way possible. I literally feel like I'm living my dream every day. I feel so grateful." She also described 2021 as a "whirlwind," admitting, "I'm just taking this day by day." The Disney star is remarkably mature for her age, so it's easy to forget that she's still a teenager. 
Moreover, Rodrigo might show up on red carpets looking appropriately glamorous, but the "drivers license" hit-maker endures the same struggles as anyone else her age, particularly when it comes to skincare. After all, even A-listers aren't safe from acne breakouts.
Rodrigo earned millions of fans all over the world by being refreshingly honest about her tumultuous love life, and, naturally, she's just as willing to open up about her beauty routine, too. 
Olivia Rodrigo looks just like any other teenager without makeup
In a video for Vogue, Olivia Rodrigo opened up about her beauty and skincare routine. Understandably, she begins the clip without a stitch of product on, emphasizing just how young the "good 4 u" singer is. 
Her skin looks impressively clear for a teen, which probably explains why, even when Rodrigo gets glammed up for promotional appearances, she still looks like herself. 
"It's hard to be a teenager in today's world, especially when there's so much social media, and so many people inundating you with 'This is what the beauty standard is like,'" she opined in the clip. 
In fact, Rodrigo has pared back her routine entirely in an attempt to stop overwhelming her skin with products. The singer-songwriter uses Epionce Milky Lotion Cleanser to wash her face. 
"I had the worst case of dermatitis, where I just broke out all around my mouth, and it was awful," she said. "I think it was wearing masks a lot, and also, using a bunch of products that irritated my skin. And so my dermatologist said, okay, cut everything out of your skincare routine, just wash your face." 
She added: "I think less is more with skincare, a lot of the time." Again showing wisdom beyond her years, Rodrigo acknowledged, "I cannot expect to have perfect skin all the time." 
But, by not overdoing it, the pop star can go makeup-free without worrying unnecessarily.