The Touching Tribute Dianna Agron Paid To Glee Co-Star Naya Rivera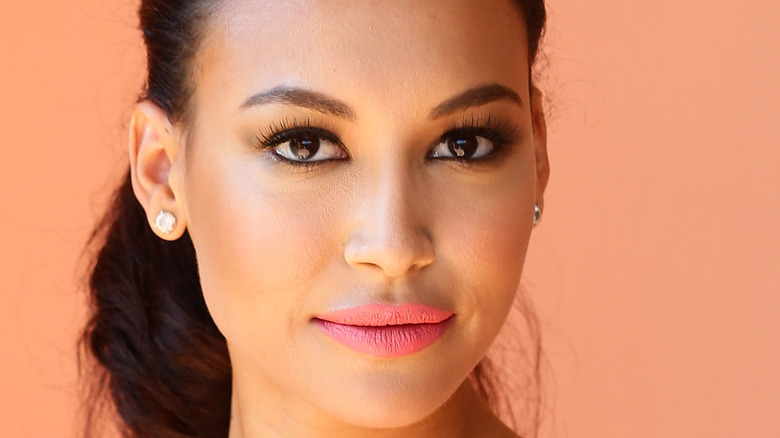 Vittorio Zunino Celotto/Getty Images
The world is still in shock over the sudden death of "Glee" star Naya Rivera, who passed away in July 2020 during an outing with her young son. As BBC News reported at the time, Rivera's death was officially ruled an accidental drowning, per the Ventura County Medical Examiner. The mother-son duo had rented a pontoon boat at Lake Piru, and got into trouble once they were out on the water. Following a lengthy search of the lake and the surrounding area, divers discovered Rivera's body, which prompted an outpouring of grief from her co-stars and fans all over the world alike.
According to Ventura County Sheriff Bill Ayub, choppy currents may have been the main culprit. Rivera's son informed law enforcement that she'd pushed him back onto the boat before disappearing under the water. "The idea perhaps being that the boat started drifting — it was unanchored — and that she mustered enough energy to get her son back onto the boat, but not enough to save herself," Ayub said. The child was found alone and asleep in the boat by the leasing agent, who raised the alarm when the vessel was not returned. He was wearing a life jacket for the excursion, but Rivera wasn't.
"Glee" was arguably the actor's biggest role, with the hit musical comedy enjoying a successful run from 2009 to 2015. In the wake of Rivera's death, her former co-star and close friend Dianna Agron took to social media to pay tribute to her.
The Glee co-stars formed an unbreakable bond on set
Following the devastating death of actor Naya Rivera, her former "Glee" colleague Dianna Agron posted a sweet tribute to Instagram in her honor. Alongside a photo of the two playing around on set by pressing their noses together, Agron shared, "Naya and I fell into stride with such ease, she was my first friend and ally on our show. In the pilot, our characters came and went with such swiftness. Our enthusiasm brimmed with all of the unknown." Agron went on to credit her late friend's "magnetic talent," admitting she'd been re-watching her performance, as cheerleader Santana, in the wake of the loss and appreciated it so much more as a result. 
"Naya had a laugh that would envelop you and hold you captive. She was mesmerizing. That twinkle in her eye, her luminous smile ... With Naya, everything was possible and would often simply unfold before us, almost magically," she revealed. Agron culminated her lengthy post by admitting she was struggling to come to terms with Rivera's death, but noted, "I will hold onto her and these memories for the rest of time, alongside our 'Glee' family."
As Us Weekly reported at the time, a whole raft of "Glee" alumni took the time to express their love for the dearly departed actor, from Kate Hudson to Darren Criss, Demi Lovato and Kevin McHale. Evidently, Rivera made a considerable impact on everybody she came into contact with.