The FBI Just Shared Startling Details About Gabby Petito's Death
In September 2021, Gabby Petito, the 22-year-old social media influencer and van dweller, made headlines when her parents reported her missing while she was on a journey across the country with her fiancé, Brian Laundrie. On September 21, Petito's remains were found in the Bridger-Teton National Forest in Wyoming. Eventually, the authorities revealed that Petito died as a result of strangulation, and Laundrie seemed to be the prime suspect in the homicide investigation at the time, according to CNN.
After searching through miles of land in Myakkahatchee Creek Environmental Park in North Port, Florida, in October, authorities finally found a trace of Petito's suspected killer. As a senior law enforcement official told NBC New York, the authorities discovered Laundrie's backpack alongside partial human remains just a day after reopening Myakkahatchee Creek Environmental Park to the public. Later that same day, it was confirmed that the remains found in the park were Laundrie's, according to CBS News. One month later, the Laundrie family attorney, Steven Bertolino, confirmed that Laundrie died from a self-inflicted gunshot wound to the head, thus confirming what many had come to conclude since his remains were found: that he committed suicide shortly after returning home from his cross-country trip with Petito.
In a journal entry, Laundrie admitted to killing Petito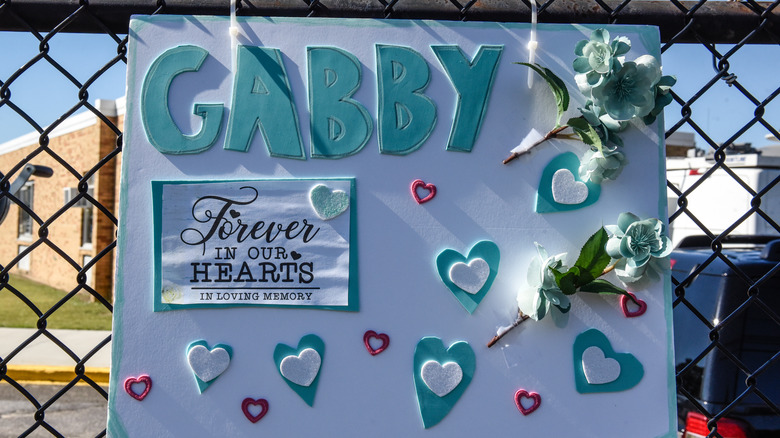 Stephanie Keith/Getty Images
Alongside Brian Laundrie's body authorities also discovered a revolver, backpack, and notebook. According to the recent and final report by the FBI, this notebook contained an entry in which Laundrie admitted to killing Petito, his fiancé. "The investigation did not identify any other individuals other than Brian Laundrie directly involved in the tragic death of Gabby Petito," FBI Denver Division Special Agent in Charge Michael Schneider said in a statement, according to the New York Post. "The FBI's primary focus throughout the investigation was to bring justice to Gabby and her family. The public's role in helping us in this endeavor was invaluable as the investigation was covered in the media around the world." The FBI also confirmed that Laundrie had been texting from Petito's phone and using her debit card in order to deceive law enforcement into believing that she was still alive, per CBS News.
An attorney for the Laundrie family spoke about the ending of the case and how the deaths of Laundrie and Petito would impact their families forever. "Gabby and Brian are no longer with their families and this tragedy has caused enormous emotional pain and suffering to all who loved either or both of them," Steven Bertolino, the attorney for the Laundrie family said in a statement, per the New York Post. "We can only hope that with today's closure of the case each family can begin to heal and move forward and find peace in and with the memories of their children. May Gabby and Brian both rest in peace."