Khloé Kardashian's New Hairstyle Has Fans Buzzing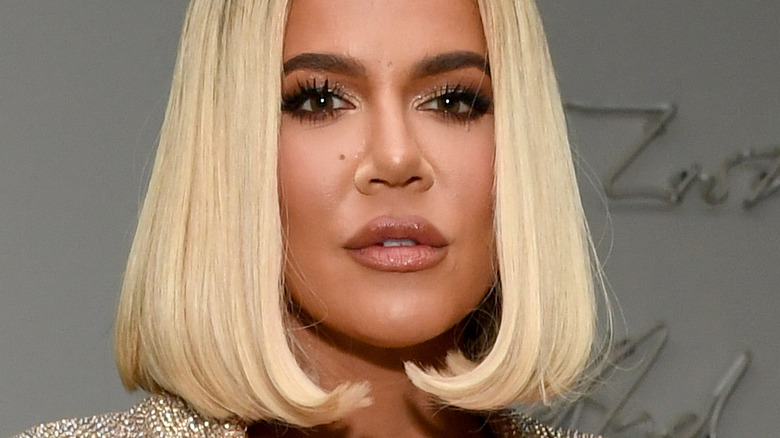 Kevin Mazur/Getty Images
Khloé Kardashian has fans freaking out over a series of Instagram images she shared on Sunday featuring a new look. In the shots, we see the reality star with curly hair pulled up into a high ponytail (via E! Online). Although we should also note Kardashian's makeup and outfit are on point, it was her wavy locks that seemed to capture the attention of most fans, with star friends and followers alike commenting overwhelmingly about the departure from her typical tresses.
Kim Kardashian's longtime pal Jonathan Cheban, known to fans as FoodGod, commented, "WaVY af!" "Love when you wear your curls!!!!" another friend complimented the Good American founder. More fans piled into the star's post's comments section, inspired to leave their take on her waves. "Love the curls," one fan said. "I think we all can agree we love the curly hair," another fan of the new look noted.
The post, which was captioned, "Material girl," comes on the heels of Kardashian celebrating having reached 215 million Instagram followers. In the images she shared to mark that milestone, her shoulder-length bob is worn straight, making the curly look stand out even more.
Khloé Kardashian does not have naturally straight hair
According to Page Six, Kardashian actually has naturally curly hair, despite wearing her tresses pin straight most of the time. Hairstylist Andrew Fitzsimmons confirmed this fact when reposting images of the star's luscious locks worn curly to his Instagram this past December. "Fantasy Curls," he captioned the series of shots, adding, "Curly has always been my favorite hair texture, so helping @khloekardashian embrace her natural hair texture has been suuuuuuper special for me as a hairstylist."
As People noted, Kardashian finds it hard to "embrace" her curly hair, which explains why we are so used to seeing her straight strands. But over the years, the youngest Kardashian sister has shown off her natural curls on Instagram — although as she has said, she rarely refrains from straightening her hair (via Us Weekly). The only time Kardashian consistently wore her hair curly was when she was pregnant, since as Bustle explains, Brazilian blowouts use chemicals and are not considered safe if you are expecting.
Although the fitness buff may not prefer the pouf, clearly fans disagree! Keep those curly hair pics coming, Khloé!