The Best Eyelash Glues You Should Be Using On Your Eyes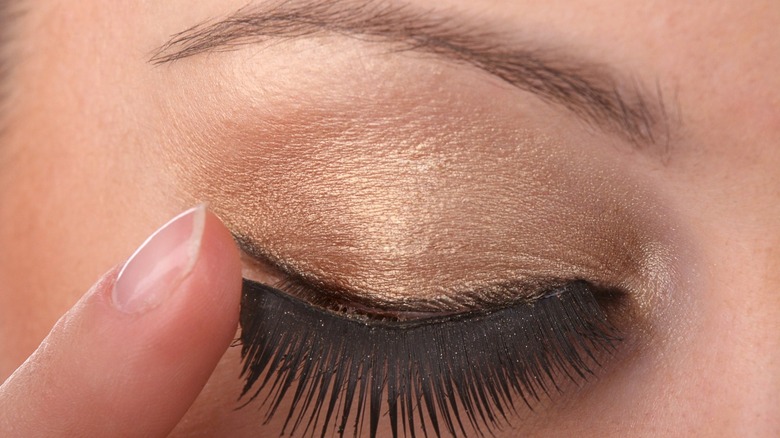 Anton Zabielskyi/Shutterstock
There are just some makeup products you shouldn't use. Why, you may ask? Well, some makeup may contain toxic chemicals or are simply a waste of your money. Take eyelash glue for example — you wouldn't expect there to be a debate on the best eyelash glue. It's eyelash glue — it's simple to use, right? You would be wrong. There is such a thing as bad eyelash glue, which should be avoided, and we have the go-to list for the right glue for your falsies that you should stick to instead.
First, if you're looking for the best budget-friendly option, as you should because saving these coins is a must, then you should try Ardell's lash glue. For less than $5, this eyelash glue will keep your lashes on through thick winds and water, Byrdie said. The only downside, however, is that it may be hard to apply on your lash line. This can be fixed simply by using a small makeup brush or even a toothpick to help disperse the product.
If you're looking for a clean eyelash glue free of toxins, then try Sassi Eyelash Glue. Not only does it come in five sizes, but the formula is also waterproof and long-lasting, per Glue Authority. Oh, and did we mention that the job lasts 24 hours? No worry about your lashes coming off during swimming!
For other eyelash glues you should be trying, check out the options below.
There are plenty of eyelash glues to choose from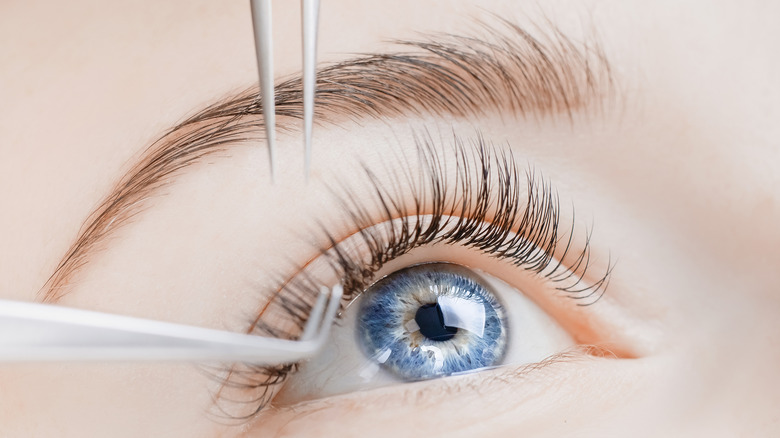 Parilov/Shutterstock
As always, the go-to of eyelash glue is Duo, per Byrdie. "Duo Adhesive Glue has been a staple in the makeup industry for decades," celebrity makeup artist Nydia Figueroa revealed to the publication. Its paraben-free formula makes it the perfect choice for clean beauty users. And, its brush-on handle makes it easier for newbie lash users to perfect their lash routine!
Though Duo may be the best, it's not the safest. That title goes to House of Lashes Glue (via Glue Authority). House of Lashes Glue is free from harmful chemicals, specifically formaldehyde, phthalates, and parabens, and this glue is said to last 10 hours and dries quickly. While we don't necessarily know how strong it is, it is safe for those with sensitive eyes. Plus, it comes in multi-packs and includes different shades, which makes it budget-friendly!
Lastly, the best option (and we mean the best) is Kiss lash glue. Every fake eyelash wearer has heard of Kiss — most have even used it. So, while Duo ranks high on the eyelash glue list, the official No.1 is Kiss. Why? There's no odor, it's long-lasting, and the application is easy (via Byrdie). The best eyelash glue to use — nothing can ever compare.