Inside B.J. Novak's Sweet Relationship With Mindy Kaling's Daughter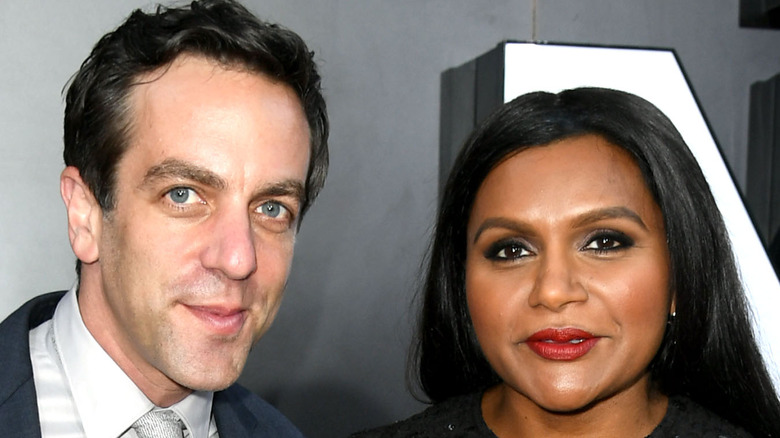 Kevin Winter/Getty Images
B.J. Novak and Mindy Kaling's friendship is well established at this point. The inseparable duo met while working on "The Office" back in 2004 and immediately hit it off. They even flirted with dating for a while, with Kaling telling Vulture, "We were never really dating, we were never really not dating. We didn't know. No one knew. All you'd know for sure as that you'd always find one of us next to the other, even if we weren't getting along." Complicating matters, their onscreen characters dated at one stage on the show too.
During a subsequent chat with People, Kaling acknowledged their relationship is "weird as hell." She explained, "He is not my boyfriend, but he is not my best friend. I guess you could describe our relationship as a 'romantically charged camaraderie with loud arguments,' but I don't think Facebook would accept this as a new status." However, in her 2020 book, "Nothing Like I Imagined (Except for Sometimes)," the "Mindy Project" star acknowledged Novak is her closest and most trusted friend, and "the person who gets me the most" (via Parade).
Naturally, then, when Kaling became a mother, her BFF rose to the occasion and fell just as much in love with her daughter.
B.J. Novak is super close with Mindy Kaling's daughter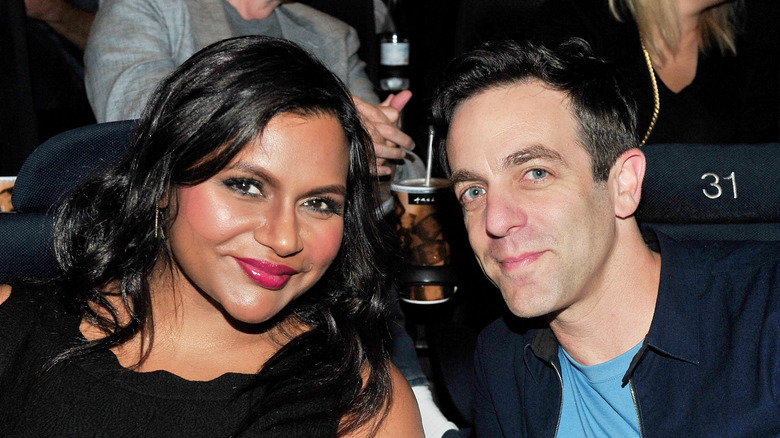 Jerod Harris/Getty Images
While chatting to Us Weekly in December 2019, Mindy Kaling confirmed her long-time friend B.J. Novak had a special bond with Katherine, who was born in 2017. "He comes over at least once or twice a week to just hang out with my daughter," she shared. "When he does that, I can go take a shower or go work out ... He's great." For Katherine's second birthday, Novak created a distraction so Kaling could dress up as Elmo and surprise her. The "Office" alum also spent Christmas with the mother-daughter duo.
In fact, Novak is actually the little girl's godfather, as Kaling told Good Housekeeping. "The truth is that B.J. is so much more like family now than a platonic friend," she explained. There are plenty of fans who think Kaling's former co-star is secretly also her baby daddy, which she acknowledged probably make sense to outsiders. However, it's not the case, even though Kaling has yet to confirm who the father is. For now, he's just the godfather. 
Per Cheat Sheet, during an interview with Stephen Colbert, the actor quipped, "It's hard because the concept of a godfather is a Christian thing. So he's Jewish, my kids are Hindu, and so, maybe he was not the right person to pick, actually."
B.J. Novak carried out a sweet family tradition for Mindy Kaling's kids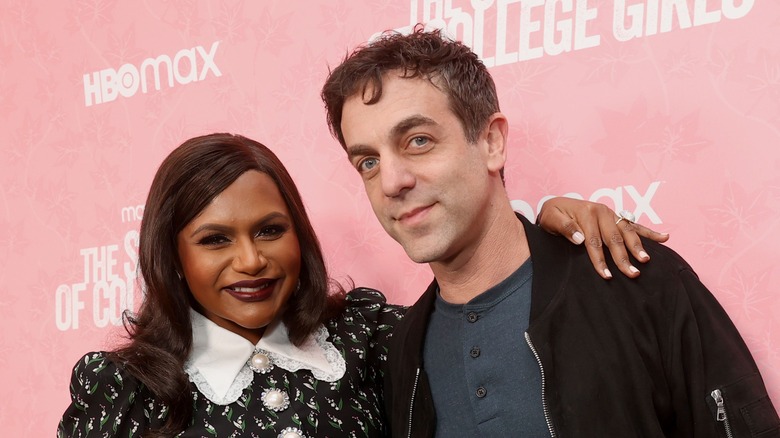 Emma Mcintyre/Getty Images
B.J. Novak subsequently dressed up as Santa Claus, in 2020, in the midst of the COVID-19 pandemic when the kids — Mindy Kaling gave birth to a son, Spencer, earlier that same year — were unable to go to the mall to see him, People reported. She jokingly reiterated, during an interview with Tory Burch, "Just so you know, it's like we're Hindu and B.J. is Jewish, so this is really ...like cultural appropriation on our part." 
All kidding aside, though, Novak is committed to helping Kaling be the best mother she can be. During an appearance on Today, the bestselling author admitted to telling him, "B.J., if something happens to me, it's not like I have a husband like you have to just take the kids.' And he's like 'Oh, my God, don't tempt me.'" The "Office" alum frequently jokes about taking custody of Katherine, even wondering whether he could sue "for god-paternity rights." 
As Kaling put it succinctly, when it comes to Katherine, "He just loves her so much."