Bob Saget's Daughter Pays Tribute To Her Dad In Touching New Post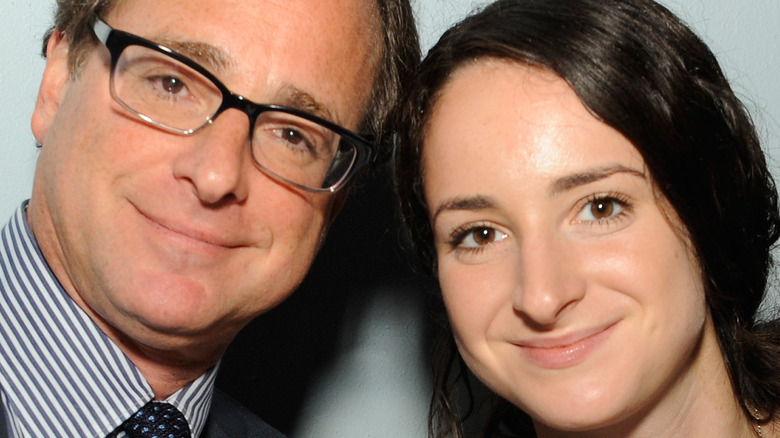 Shawn Ehlers/Getty Images
In the days and weeks since beloved TV dad Bob Saget died at the age of 65, family members, famous friends and fans alike have shown an outpouring of affection for the star. His wife Kelly Rizzo's tribute was especially touching as were the social media posts shared by Candace Cameron Bure and Jodie Sweetin. Now, one of the actor's three daughters, Lara, has broken her silence since her father's death by opening up on Instagram about what Saget was really like (via CNN).
In her deeply moving post, the 32-year-old shared a personal photo of herself as a child with her famous dad, which is sure to delight fans (via Page Six). But her caption is what will have everyone hugging those closest to them. "To anyone afraid to love, Unconditional love is the greatest of gifts," Lara wrote.
"My dad loved with everything he had," she continued. "He had so many reasons to be scared to love. So many loved ones kept dropping the body." She was likely referring in part to Saget's siblings, who both passed away young according to The Sun.
Bob Saget's daughter shares a huge life lesson she learned from her dad
Saget lost both of his sisters in the years before his own death (via The Sun). Andrea died of an aneurysm at 32, while Saget's more well-known sister, Gay, lost her life to scleroderma. Indeed, Saget told News.au.com in 2013, "There's been a lot of death in my family." 
Continuing her Instagram post, Lara shared that despite her father losing loved ones, he didn't let that keep him from loving. "Instead of being scared, he loved more," she said, adding, "I am beyond grateful to receive and to give that love."
Finally, Saget's daughter imparted this advice in light of her loss: "Love completely and be kind." She added, "Of all the lessons he taught me, these feel the biggest."
Many famous friends and fans alike shared reactions to the post, with Rizzo commenting, "I love you forever, Lara." David Coulier's wife, Melissa, also expressed her love for Lara in the comments section.