Kellyanne Conway's Book Announcement Has Twitter In A Tizzy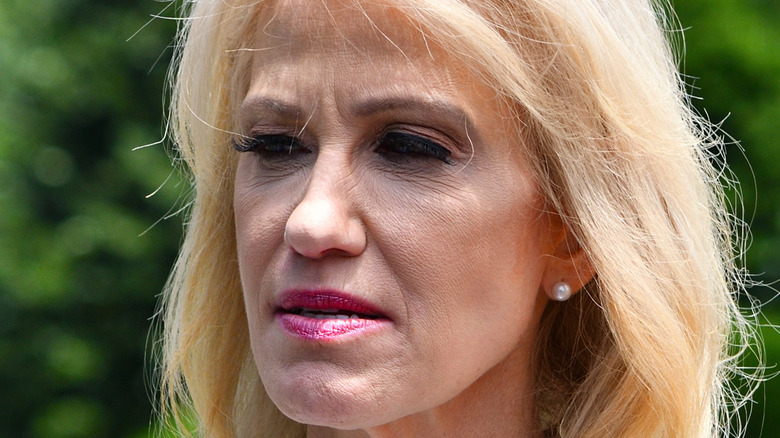 Evan El-Amin/Shutterstock
Kellyanne Conway has been one of President Donald Trump's loudest defenders. She worked as a spokesperson and campaign manager for Trump before the 2016 election, and during his presidency, she was a White House advisor and frequently on talk shows supporting the president. Now, Conway's going to tell her side of the story about her time with the Trump team in a book titled "Here's the Deal: A Memoir."
It seems she is in good company. According to The New York Times, from 2016 to 2020, there were over 1,200 books about Trump. Conway described the book to People saying it would be "a chunky 600 pages, double the length of many books in the genre. I loved writing it." Her publisher, Simon & Schuster, has described it as "an astonishing glimpse of visibility and vulnerability, of professional and personal highs and lows, and ultimately, of triumph." Along with details on the Trump years, it will include info about Conway's childhood in South Jersey, her law education, and experience in polling.
It's reasonable to say that Conway was a fairly divisive voice during the Trump presidency, so it makes sense that the announcement of her memoir has caused an uproar on Twitter.
People are calling Kellyanne Conway's book fiction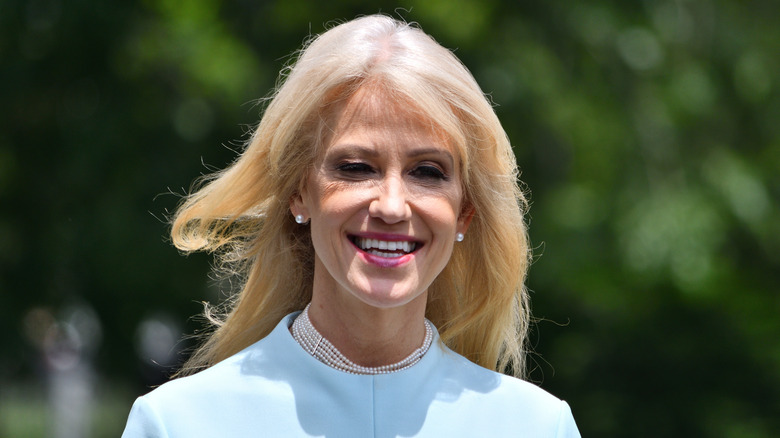 Evan El-Amin/Shutterstock
Kellyanne Conway tweeted about her upcoming book release, saying, "I've written a book — a memoir — that details my journey as only child of a single mom to presidential campaign manager and counselor. Join me inside the White House and my own house." The replies came quickly and viciously.
One Twitter user wrote "So, this book is meant to alleviate the toilet paper shortage, then? That's the only value I see in it." Another said, "'Details my journey as only child of a single mom to complicit gaslighter to a nation.' Fixed it for you. Did you already go to print?" Along with these tweets, plenty of people have called Conway's book fiction, like this user who said, "Hard pass; I'm not reading any fiction these days until our democracy is no longer threatened by the sociopath you enabled for four nightmarish years." 
"Alternative facts" was the phrase that Conway used in an interview in 2017 to back up White House press secretary Sean Spicer's claim about the size of the crowd at Trump's inauguration. That phrase definitely came up in the replies, like in this tweet that said, "I would love to read a successful woman's story like this, but from someone who doesn't freely use alternative facts. See, the problem is nobody knows if your entire book is made of alternative facts, do they? You reap what you sow."