Julia Roberts Shares A Sweet Tribute To Her Husband In Rare Public Post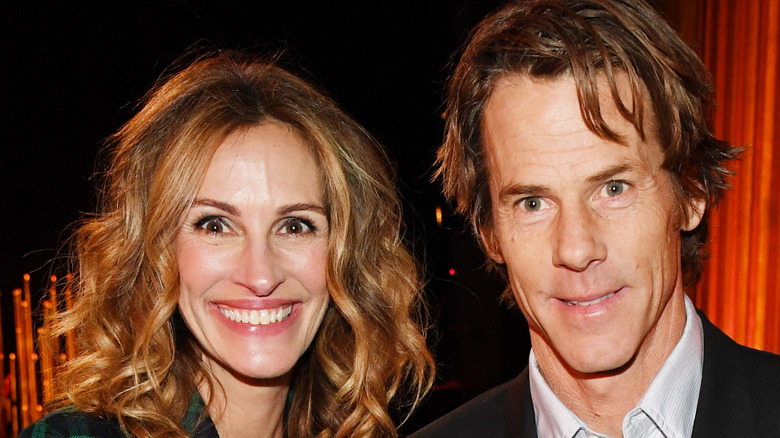 Kevin Mazur/Getty Images
In Hollywood, where romantic relationships feel more like tumultuous entanglements, Julia Roberts and Danny Moder's 20-year marriage seems like a miracle. Despite their happy marriage, the beginning of Roberts and Moder was marked by a bit of controversy. As Us Weekly reported, Roberts and Moder first met in 2000 while Roberts was filming "The Mexican." At the time, Roberts was dating fellow actor Benjamin Bratt and Moder was married to Vera Steimberg. Given the fact that Roberts and Moder got married only a few months after Moder's divorce from Steimberg was finalized in 2002, many began to wonder if the couple was dating while Moder was still married. "He sorted his whole thing out, separate and apart from me," Roberts told Oprah Winfrey in an interview published in 2003. "And I sorted my life out, separate and apart from him. I think that's the only reason we were able to ultimately fall in love with each other and be together."
By 2007, Roberts had given birth to the couple's three children, Henry and twins Phinnaeus and Hazel. Roberts told Gwyneth Paltrow during a 2018 episode of Paltrow's podcast that she is still madly in love with her husband. "He truly, to this day, to this minute is just my favorite human," Roberts said on the podcast, per Us Weekly. "I'm more interested in what he has to say or his point of view just than anybody. Really, we're so lucky in that way. We just really, really like each other and we just enjoy each other's company."
Roberts crafted a heartfelt tribute on social media to celebrate Moder's birthday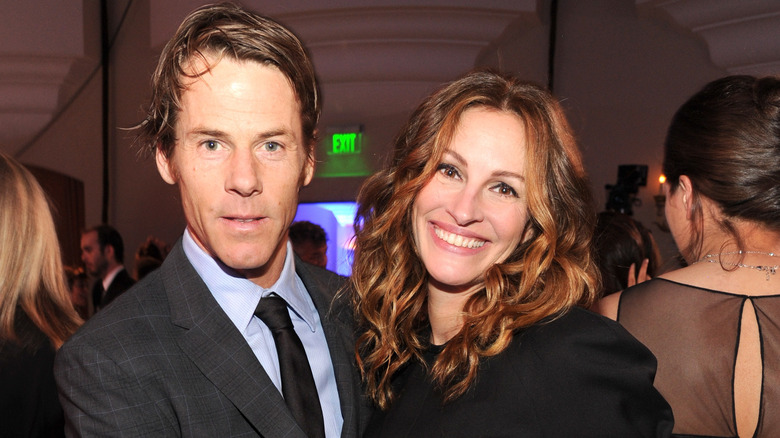 Kevin Mazur/Getty Images
On Tuesday, in honor of her husband's birthday, Julia Roberts posted a sweet message on her Instagram page. "Happy Everything ... you make my world go round," Roberts captioned a photo of her husband, Danny Moder, holding a surfboard. Though Roberts will post the occasional tribute to her husband on her Instagram page, she has kept her family mostly out of the limelight and off her Instagram feed. Back in July 2021, Roberts posted another Instagram tribute to her husband in honor of their 19th wedding anniversary. "19 years ... Just getting started! #conwings," Roberts captioned a photo of herself and Moder snuggling close to one another on a beach.
Despite the fact that she is one of the most famous actresses in the world, Roberts has managed to keep her family life away from the press and public to better preserve her family's private life. During an interview with the Wall Street Journal in 2014, director Mike Nichols, who worked with Roberts on films like "Closer" and "Charlie Wilson's War," spoke about Roberts' commitment to her family. "That's what Julia has been best at, maintaining their real life," Nichols told the Wall Street Journal. "It's the little things that tell the tale. When you visit them, there is nobody working at their house, sweeping their hall. There are toys all over, and it's just Julia and Danny and the kids. She always slips away from the center."