The Nickname Megan Fox Has For Machine Gun Kelly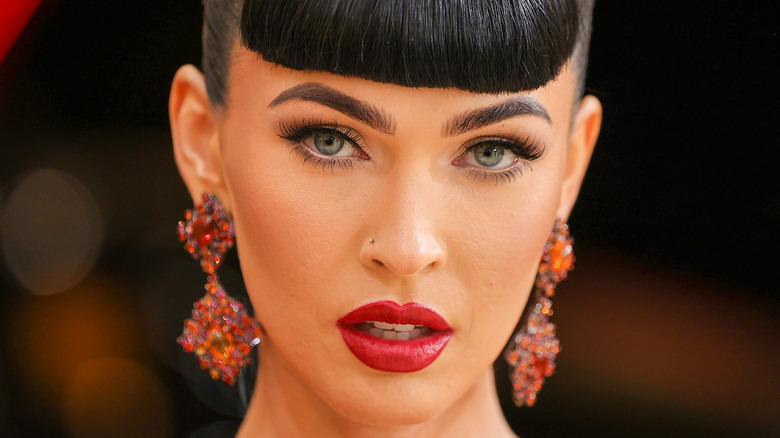 Theo Wargo/Getty Images
Megan Fox and Machine Gun Kelly haven't actually been together that long, but their controversy-baiting, extremely tabloid-friendly relationship has generated so much buzz it's as though they've been dating forever. As Insider reports, the superstar duo originally met on the set of thriller "Midnight in the Switchgrass" back in 2020 and began seeing each other soon afterwards. In January 2022, the rapper, whose real name is Colson Baker, proposed to Fox, and in the process they admitted to drinking each other's blood because of course. 
As The Cut argued in November 2021, Fox and Kelly's desire to share every gory detail with the press and fans alike, no matter how ridiculous or outlandish, hearkens back to a simpler time when couples such as Angelina Jolie and Billy Bob Thornton proudly wore vials of each other's blood around their necks to public events. Back then, we weren't online, so it wasn't as easy for celebrities to shock us with the intricacies of their relationships, which are typically kept very strictly private to keep us wanting more. 
Insider details how Fox and Kelly have over-shared in several interviews, including an instantly infamous joint chat with GQ, about how they're soulmates and their love is on a different plane to the rest of us. As a result, it's not terribly shocking to learn Fox has some pretty unique nicknames for her man. 
Megan Fox's pet names for Machine Gun Kelly suit their eccentric relationship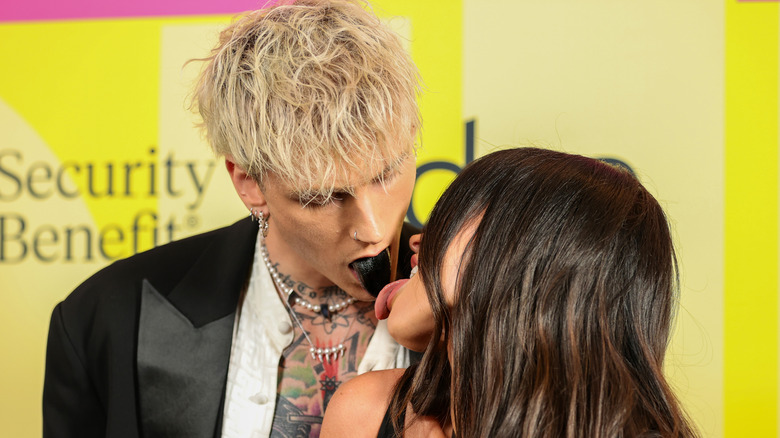 Rich Fury/Getty Images
As Distractify notes, Megan Fox is on record as being a deeply spiritual woman, with a personal connection to Buddhism. During a 2016 appearance on "Jimmy Kimmel Live!" the actor shared that she's particularly drawn to the name Buddha because it means "enlightened." Fox even named her son Bodhi as it's the Sanskrit term for "awakening," and also refers to a time of perfect wisdom. 
The "Jennifer's Body" star has since gifted fiancé Machine Gun Kelly with the Buddha nickname, so it clearly means a lot to her. Elsewhere, per Insider, during an appearance on "Good Day New York," Fox revealed she also calls Kelly "cookie" and "bubbie," noting simply, "He has lots of names." However, the actor also has a more typical nickname for her man. 
Cheat Sheet reports that, after she referred to Kelly as "Daddy" on Instagram, fans were disgusted. "Why R U calling him that?" one commenter demanded to know, while another admitted "the caption made me want to gouge my eyes out." A third cheekily referred to the couple's age difference, writing, "She's older. More like her little brother." 
Fox has been vocal from the very beginning about how deeply connected she feels to Kelly. Per E! News, during a 2020 appearance on the "Give Them Lala...With Randall" podcast, Fox said, "We're actually two halves of the same soul, I think. I said that to him almost immediately. I felt it right away."