The New Foundation That's Genuinely Good For Your Skin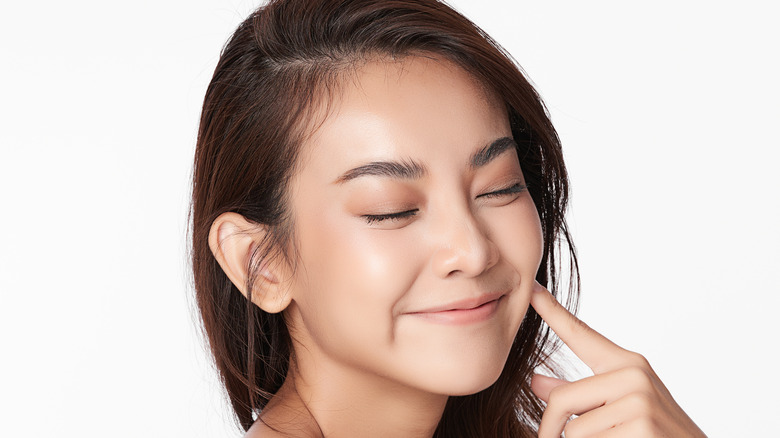 Kitthanes/Shutterstock
We may receive a commission on purchases made from links.
Between battling maskne and dry skin, it can be difficult to find the motivation to wear foundation right now. The idea of covering up skin issues and potentially causing further irritation by doing so doesn't sound like a good idea. But what if there was a foundation that was actually beneficial to your skin? There's one well-known brand that has formulated this dream concept into reality — NARS. This new foundation claims to cover all your imperfections with ingredients that work to heal and correct your skin over time.
This should not be too surprising considering founder and creative director of NARS, Francois Nars, told Grazia, "Foundation is the key to modern makeup, by balancing color without masking, skin looks flawless and healthy. NARS is about translucent-looking skin."
That's why when it comes to foundation, NARS is among the brands that always comes to mind for its tried-and-tested formulas, per Good Housekeeping. The brand is known for its flawless formulations and extensive shade ranges that demonstrate a technical understanding of skin tones and textures, according to the "Today Show." The latest foundation release to come from NARS is already racking up positive reviews from Sephora customers and beauty gurus.
Nars told Vogue UK that the foundation was inspired by memories of his mother. "I carried that vision of her glowing complexion with me. The approach of allowing the skin to shine through makeup and reflect light, as my mother always did, never left me," Nars elaborated.
NARS Light Reflecting Foundation will let the best version of you shine
NARS launched its Light Reflecting Foundation — which typically retails for $49 — as the brand's version of a skin tint. Francois Nars told Allure, "When developing this foundation, my goal was to create a formula that looks like makeup but performs like skin care, and we achieved just that with the Light Reflecting Foundation."
While several brands have recently launched foundations that claim to have skincare benefits, the NARS foundation stands out because 70% of the ingredients in the product have skincare purposes. Along with Polynesian seawater and algae extract, the foundation contains biomimetic oat that reduces redness, Japanese Lilyturf that strengthens the skin barrier and retains moisture, and cocoa peptides that protect the skin from blue light (via Sephora). It's a buildable medium coverage foundation that conceals redness and dark spots, and it blurs wrinkles and pores. According to Vogue UK, the foundation also claims to show visible signs of improvement in skin luminosity and a more even tone after a mere six weeks.
And besides making the skin feel good, it will also make it look good. The "Photochromic Technology" uses a "photo-friendly" powder to adjust the skin-tone according to the lighting. So, this foundation will make sure you look like the best version of yourself at all times and it won't wash you out.
For a finish that won't dull your sparkle even on your worst days, it looks like NARS Light Reflecting foundation will have your back.