This Was Stanford Blatch's Original Storyline On AJLT Before Willie Garson Died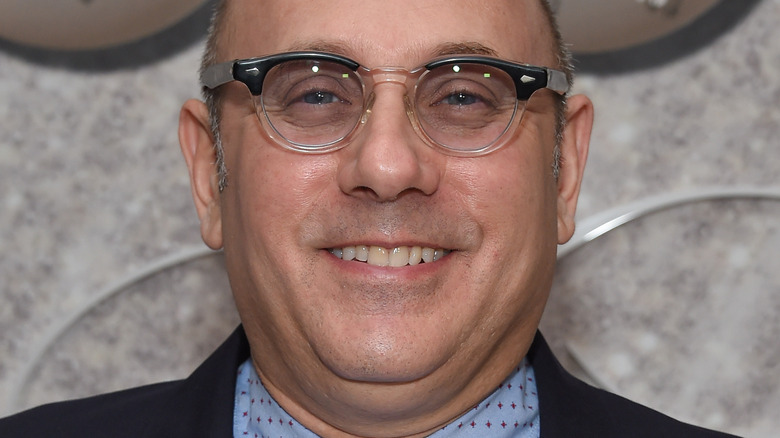 DFree/Shutterstock
Fans were gutted when "Sex and the City" star Willie Garson died in September of pancreatic cancer after struggling silently with the disease (via CNN). His worsening condition coincided with filming "And Just Like That..." in which the actor was reprising his role as Stanford Blatch. We see him in the first few episodes of the HBO Max revival of "SATC" but then, his storyline is cut abruptly short, with viewers learning he moved to Japan for work and left his husband, Anthony Marentino, played by Mario Cantone.
As showrunner Michael Patrick King told Vanity Fair in December of last year, "When we started [filming], Willie was in all 10 episodes." He added, "We wrote the most hilarious comic, tragic arc for Stanford. I didn't know he was so sick, and I was on set one night saying, 'And then this happens to Stanford and then this happens and then this happens and this happens.' And he's just looking at me. Then he took a turn for the worst. I really thought we could get through the season. When he took a turn, we had to talk about the fact that he couldn't make it. And we had to adjust [storylines]."
Tragically, Garson was not well enough to complete his scenes, and stopped being able to come to the set, according to King. There was even a "beautiful" scene between Garson and his on-screen (and off-screen) friend Carrie Bradshaw, played by Sarah Jessica Parker, that he could not finish.
"AJLT" didn't want Stanford Blatch to die on the show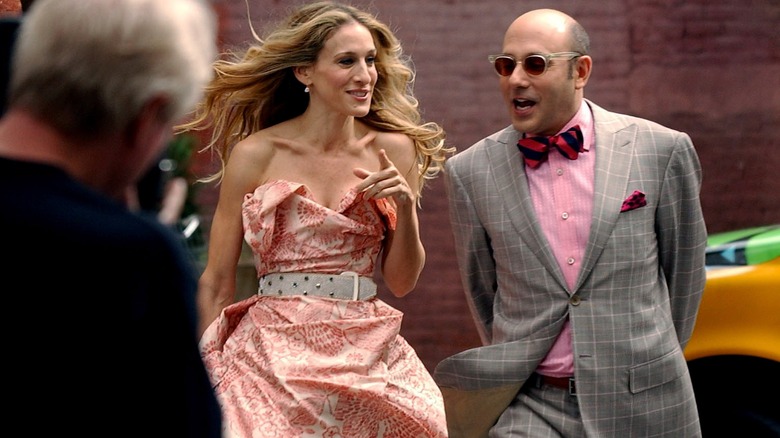 Arnaldo Magnani/Getty Images
Speaking to Vanity Fair, King said that after Garson passed away, "I thought, I'm not gonna really lean into this [death as a storyline]. It's too sad. And it's too tragic. It's not a fictional death. It's a real death."
He noted that making the storyline as silly as possible was the way to go, which the character randomly moving to Tokyo to promote a pop star and leaving his husband via a note certainly is. 
But we had to wonder what Stanford's storyline was going to be before his health heartbreakingly declined. In a new excerpt from the interview, King told the outlet, "Stanford's character always had a borderline career as a manager, and we were like going to explore the fact that it wasn't a real career. It was going to be Carrie and him, feeling the shifts. Anthony and him were probably going to have split anyway" (via People).
Michael Patrick King found the task of writing Willie Garson's character off the show very hard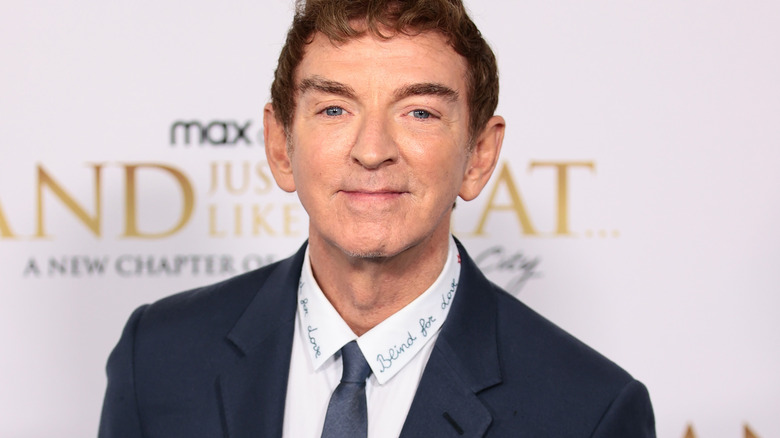 Dimitrios Kambouris/Getty Images
King also confided about Stanford and Anthony's relationship after they broke up, "Then we would keep both of them in, and everybody would be relieved that they were divorced because it was not pleasant for anybody. But there was a series of really fun, flirty, hilarious confidante scenes with Carrie that I loved. That old, old, very specific chemistry that Carrie and Stanford have, which is based totally on the uniqueness of Willie and Sarah Jessica's history" (via People).
Sadly, fans will not get to see those scenes. 
Meanwhile, King confessed he struggled with how to pivot and write Garson off the show, saying, "It's the most threadbare writing I've ever done just to move him along without much maneuvering, because it was just so sad. There was no way I could write myself out of that in any charming, cute way."