This New E.l.f Cosmetics Collection Will Give You Serious Flashbacks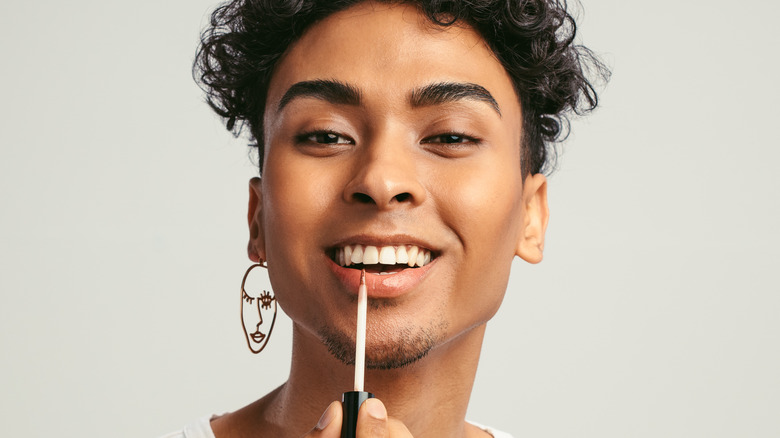 Jacob Lund/Shutterstock
Early 2000s nostalgia is taking over all the latest fashion and beauty trends, and it's no wonder why (per Nylon). From feather cuffs to crimped hair, the 2000s were a trendsetting decade that had several iconic looks. If you were a younger millennial at the time, you may have missed the experience of trying all of the most popular makeup trends back then.
But there's one trend that younger millennials did get to enjoy in the 2000s — dessert-scented beauty products. If you've been missing that delicious Lip Smackers Ice Creamies lip gloss lately, there's a new collection available now that offers a more grown-up take, per Bustle. The best part? This limited-edition collection comes from the much-loved budget beauty brand, e.l.f. Cosmetics.
Thankfully, getting to relive your 2000s memories won't come at a huge cost. If you're on the edge of your seat wondering what the new e.l.f. collection entails, keep reading. This is one comeback trend that will serve ice cold killer looks the next time you go out bar-hopping with your bestie.
The new e.l.f. Cosmetics collection will have you screaming for joy
Cookies 'N' Dreams, e.l.f. Cosmetics' latest collection, is recreating all of your most cherished memories from the Y2K era. This creamy, dreamy collection will have you screaming for ice cream ... as well as cookies-and-cream flavored beauty products. Starting at $4, the collection consists of 13 products, with six of those being scented (via Beauty Packaging).
The scented products include Just the Cream Putty Primer, Cookies 'N' Dreams Lip Glosses in three shades, Cookie Crumble Lip Exfoliator, and Cookies 'N' Dreams Milkshake Overnight Mask. According to Bustle, the lip exfoliator comes in an enticing creamy scent and has a sugar-like texture that helps slough off dead skin.
The lip gloss will have you craving that pint of Ben and Jerry's in your fridge, and it keeps your lips on-trend this season (per Glamour UK). With blue eyeshadows making a comeback, the blue-based eyeshadow palette will serve the most chill looks in an updated, more flattering take on the initial trend. It definitely does not evoke the cringeworthy frosty eye looks from the early 2000s that are better left in the past (via Glamour).
Other products in the line are the Cookies 'N' Dreams Eyeshadow Palette, Cookies 'N' Dreams No-Budge Eyeshadow Sticks in four different shades, Single Scoop Face Sponge, and Cookies 'N' Dreams Brush Set. In the words of 2000s Disney icon Lizzie McGuire, it seems like the e.l.f. Cosmetics Cookies 'N' Dreams collection is what dreams are made of.