Khloe Kardashian Shares Major Results After Working Hard At The Gym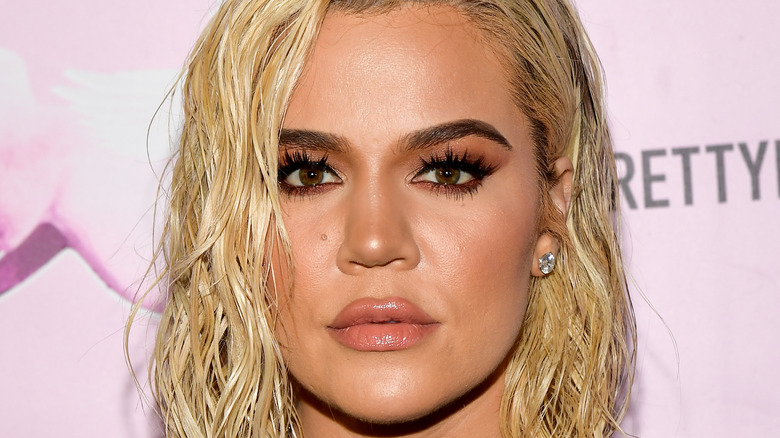 Matt Winkelmeyer/Getty Images
Khloé Kardashian is a total gym rat. The youngest of the Kardashian sisters makes no secret about her love for health and fitness, and it shows in her social media posts. Kardashian often shares snaps and videos of herself working out, and of her progress as she works hard to keep her body fit. Previously, the "Revenge Body" host revealed that she sticks to a seven day routine that had helped her achieve results, per Shape.
During her first workout of the week, the Good American founder does cardio, which consists of alternating between running and boxing. On the second day she focuses on her legs and backside, using kettlebell lifts to work the muscle groups. The following day consists of a core workout followed by another day of cardio. On the fifth day of the week, Kardashian focuses on her arms, which she reveals is her least favorite part of the body to work out. The six day is a total body working, which can include using battle ropes. The seventh day of the week is a rest day for Kardashian, who lets her body recover by stretching, doing yoga, and taking a relaxing bath before starting the process all over again.
The reality TV star is so dedicated to her fitness routine, that she recently shared a before and after photo of some progress she's seen with her back. Of course, her fans were in awe of her killer bod.
Khloé Kardashian impresses her Instagram followers with her latest gym snap
Khloé Kardashian recently stunned her fans when she posted a before and after photo of her back to her Instagram account after just three months of focusing on the muscle group at the gym with her trainer (via People). In the "before" shot, Kardashian sits on a piece of equipment and lifts weights with her back to the camera. In the "after" snap, her back is also towards the lens as she sits in front of a mirror and holds a dumbbell. "Let's go @coachjoe.paris we are sculpting my back and arms," she wrote, tagging her trainer.
Of course, Kardashian's followers couldn't help but gush over the photos. Actress Adrienne Bilon wrote, "Inspired seriously – lemme go get my life (and my back & arms) together. Lol." The Kardashian's friend and hair stylist Jen Atkin also shared her thoughts on the photos, calling the reality star her "hero." Atkin wrote, "I'm so impressed with your dedication Khloé. Years and years of waking up and committing to YOU. I love u!" Lala Anthony also chimed in, saying, "Okkkkkkkkkkkkkkkkkkkk Khlo!!!!!!!! I see u."
It seems that Kardashian is as dedicated to her fitness goals as ever, and her fans and friends are so inspired and motivated by her determination.