How To Style Formal Wear For Cold Weather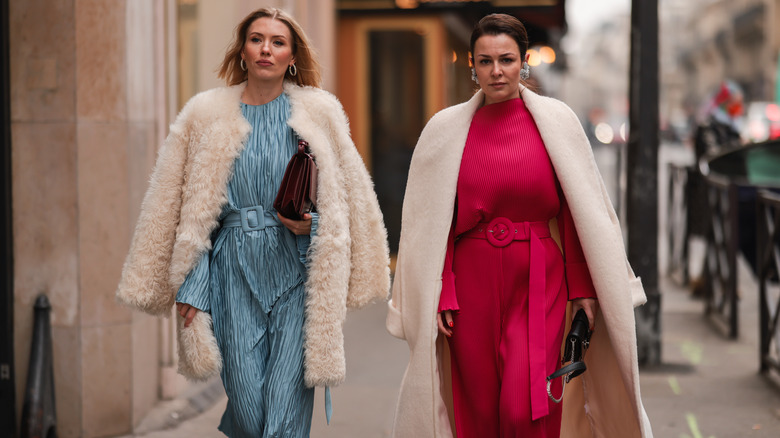 Jeremy Moeller/Getty Images
We've all been there: You just got invited to a formal wedding and you've never been more excited. You rush to buy a new dress, perfectly chic with lace and intricate embroidery, and figure out your heels and clutch strategy. Now just a bit of sparkle and you're done, right? Well, if it happens to be a winter wedding, it's a whole other story. 
Any kind of winter formal event can be tricky, especially when you want to keep warm and still look as glamorous as possible. Sure, your basic puffer jacket is what keeps you warmest on a daily basis (not to mention your trusted faux fur-lined parka!) but it's not exactly the recipe for chic when it comes to evening wear.
Whether you were just invited to a winter formal wedding, have a fancy winter-semester graduation party coming up, a cold-weather corporate gala, or a charity event, chances are, you're trying to figure out how to pair your evening gown with a coat. While you might be tempted to throw in the towel and just hope no one takes any pictures of you with your sequin dress under your puffer, there are far better solutions. 
As countless street style influencers show, there are several ways to mix formal dresses with the warmest of coats — with extremely chic results (via Who What Wear). The best part? You might already have these styles in your closet. Below, find the best ways to pair formal wear with coats.
Throw on a structured long coat over a gown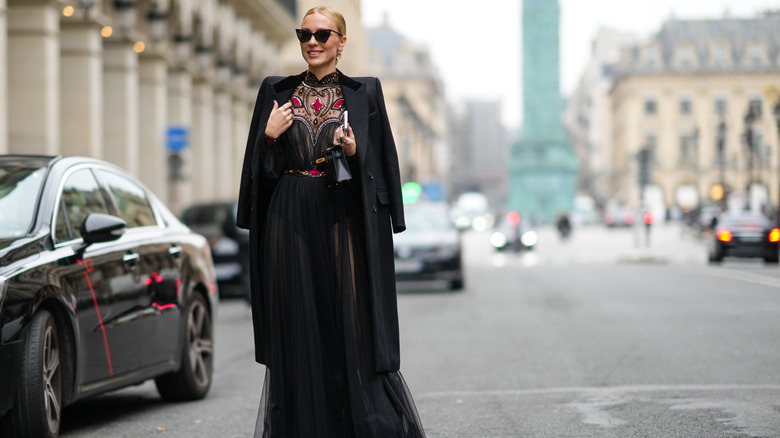 Edward Berthelot/Getty Images
One of our favorite options for making sure we stay warm with our formal wear is actually simple, and it works with practically any style of gown or maxi dress. If you have a wedding or gala event coming up, may we suggest you try a classic, long-structured coat?
You might not immediately associate long wool coats with evening wear, especially if your idea of anything formal is more in line with intricate embroidery, sequins, faux fur, and embellishments. That being said, a basic structured coat is any gown's best friend — really. If you're planning on wearing an extra-glamorous, ornate gown with tons of jewels, fringe, and any other addition that would make Liza Minnelli herself blush, then a coat like this will pair perfectly with it. Keeping your outerwear simple will ensure that your finished look isn't too busy, especially if your event is outdoors and you're planning on wearing your coat most of the time.
We love the idea of layering a traditional wool coat over an evening gown, with a finished look that's equal parts unexpected, classic, and very chic (via Editorialist). If you're investing in a coat like this for the first time, we suggest going for one in a neutral hue like black, charcoal, cream, gray, or beige. Any shade that will work for a multitude of looks, whether headed to the office or a formal wedding, is a good option. Keeping it longer than knee-length will work best, too.
A faux fur coat is the perfect addition to any glamorous evening dress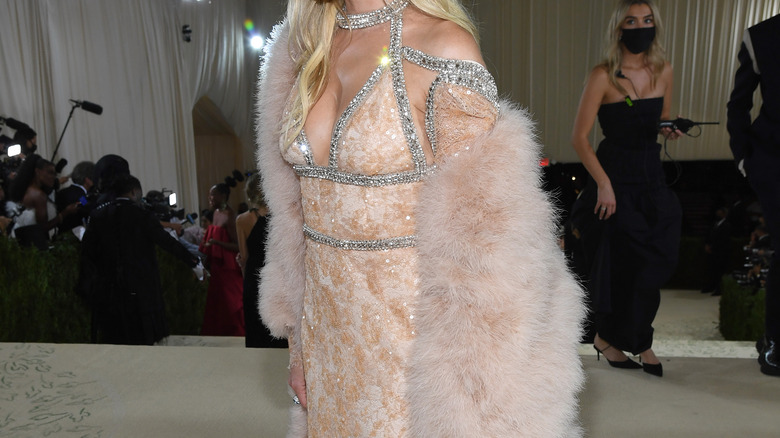 Kevin Mazur/mg21/Getty Images
Pairing a wool coat with formal wear has its appeal, especially when thinking of warmth, comfort, and practicality (via Who What Wear). That being said, we also adore the idea of pairing an evening gown with something a lot more extra, even if it isn't always as functional as its wool cousin. A faux fur coat is the supreme accessory for any kind of winter formal wear for a reason, and while it isn't always the warmest option, it is undoubtedly always one of the most gorgeous.
We're obsessed with the idea of channeling Old Hollywood icons of yesteryear with our gala looks. Is there anything chicer? Think about the ways stars like Marilyn Monroe, Rita Hayworth, and Greta Garbo would style their evening wear when headed out to red carpet events. Try pairing a silk evening dress in jewel tones like scarlet, jade, amethyst, or marigold with a sumptuous faux fur coat that screams screen siren. 
We love the idea of a dress in a simple, stark cut, either going for a glam halter style or strapless. Meanwhile, try keeping your coat as simple as possible: Faux fur in neutral shades like black, brown, cream or gray will work best (via Elle). Another option is color-coordinating your faux fur coat to your dress, with monochrome looks continuing to dominate fashion's catwalks.
You can never go wrong with an embellished jacket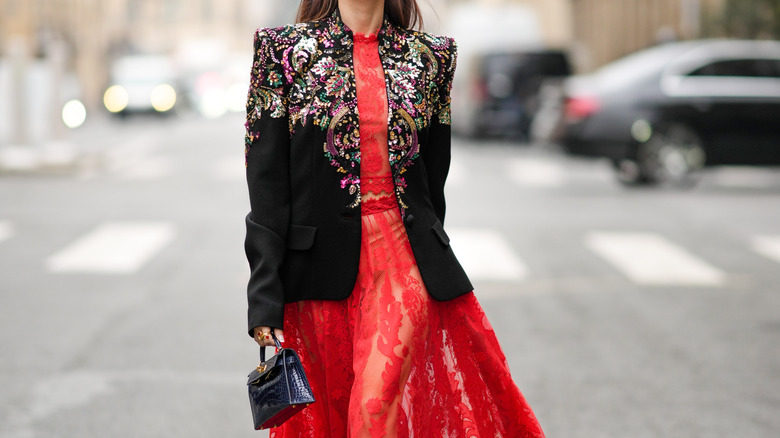 Edward Berthelot/Getty Images
So, you have a long wool coat in your closet already, but you're not so sure the coat you wear every day to work is really going to be the perfect addition to your sparkly evening dress. While these types of coats really do look amazing when paired with anything embellished underneath, some of us prefer to dazzle from head to toe — especially when headed out to a wedding, a much-anticipated gala, or a fête. Now that you know you're avoiding anything overly simple or wooly, you might also have qualms about faux fur. You might fear people will think it's actually fur, or you might just not love the fluffy look of it. No matter your doubts about the aforementioned options, there's one happy medium few of us can pass up: the intricate, embellished jacket.
This kind of coat is one of the best options possible for layering over formal wear, mainly because it adds even more elegance to any outfit and jazzes up a simple dress you might have worn before. Yes, we're all proud dress repeaters here, since it's the most sustainable and cost-effective option, and who doesn't love that? But, if taking so many photos at each wedding makes you nervous about wearing the same dress as last time, try an embellished jacket topper (via Urban Company). It will keep you warm against the frigid chill, while also glamming up a simple dress and turning it on its head.
In a pinch, a simple blazer adds cool girl chic to gowns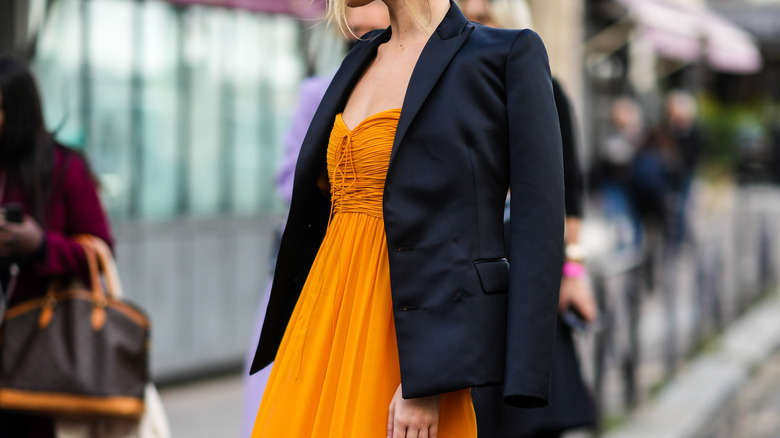 Edward Berthelot/Getty Images
Last, we have one of the most unexpected takes on pairing an evening dress with a jacket or coat. Have you ever felt like trying your hand at wearing a chic suit for a change instead of a gown? We've always loved the idea of a woman wearing a suit or tuxedo to a wedding or formal event. It has a certain sense of French girl chic we'll always adore. Just slightly androgynous, edgy, and always delightfully cool, suits have a certain "it" factor that is difficult to pass up once you try them out for yourself. That being said, if you don't want to go the whole nine yards and still want to keep the feminine appeal of a gown, we suggest trying out a blazer with your formal wear.
You might think a blazer has no place near a gown or evening dress, but one look at the runways, and several street style stars might convince you otherwise (via Coveteur). It's no secret blazers just continue to become more popular, and are truly a staple piece everyone should have in their wardrobe. They easily top a simple T-shirt and distressed shorts, chic mini dresses, and all your denim looks. With such widespread appeal, it makes sense they look amazing over gowns, too. Try pairing a solid-color evening dress with a neutral blazer on top for some edge.