The Top 5 Blazer Styles You Need In Your Closet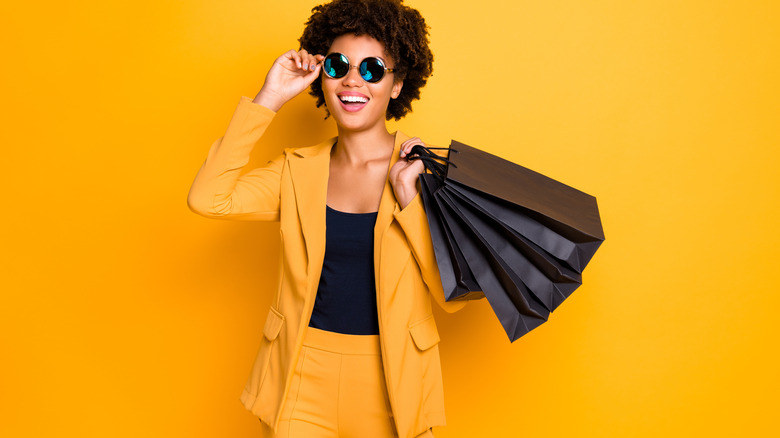 Shutterstock
As trends come and go, there's one staple in your closet that will remain timeless — the blazer. It's a must-have that can quickly pull an outfit together, per CNBC. In fact, Racked.com shopping director Tiffany Yannetta told CNBC, "Buying a good blazer is important because it's such an easy way to elevate an outfit," adding, "The upper half of your body is what people see the most — more than your pants or your shoes." But if you think of large shoulder pads and boxy cuts when you think of a blazer, think again. 
Modern blazer styles have advanced far ahead from the '80s-style jackets your mother once wore. If you're unsure on what styles of blazers to stock up for your wardrobe, keep reading our guide below for the top blazer trends you should look for. First and foremost, you want to keep a solid black fitted blazer in your wardrobe (per Glamour UK and LooksGud). A black blazer usually coordinates well with other colors, which can help you complete an outfit in a pinch. This blazer can be worn buttoned-up for a figure-flattering, structured look, or worn unbuttoned for a casual, edgy vibe.
Blazer styles that will elevate your style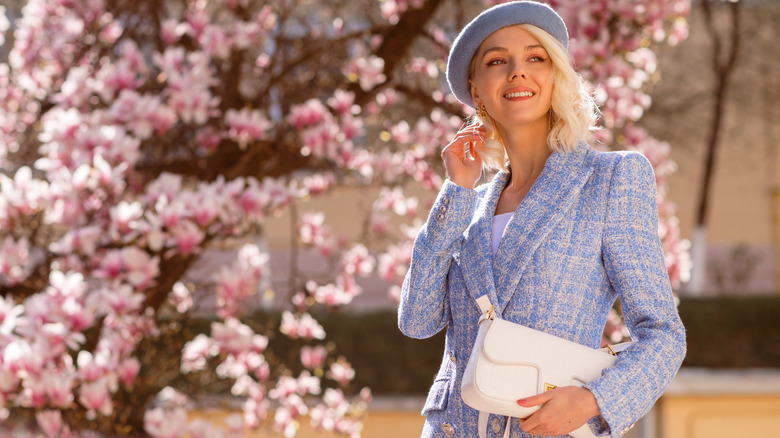 Shutterstock
If you want something that goes with the current loose-fit trend, you can try the boyfriend blazer (via LooksGud). The boyfriend blazer is a more relaxed take on the fitted blazer and can be worn for virtually any occasion. Front open blazers are also a versatile option. This blazer style doesn't have buttons and can be dressed up for work, or dressed down for brunch. Stocking up on blazers of bright colors and pastel colors is also a great way to incorporate on-trend colors into your wardrobe, per Glamour UK. 
For a dressy blazer that will work perfectly for your first day back at the office, try a pinstripe design. Not only does pinstripe give a polished look, but the vertical lines will help create a slimming effect as well.
Channel your inner Chanel with a tweed blazer. It's an evergreen look that will add pizzazz to your outfit. Olivia Rodrigo herself wore a tweed skirt suit during her visit to the White House, per Elle. A leather blazer, meanwhile, will give you an edgy, yet sophisticated look that works perfectly for a night out with the girls. Both tweed and leather blazers put the "fun" in functional, as they aren't only stylish. They will also keep you warm during the upcoming fall and winter seasons.