Of All Of Khloe Kardashian's Blunders - This Stands Above The Rest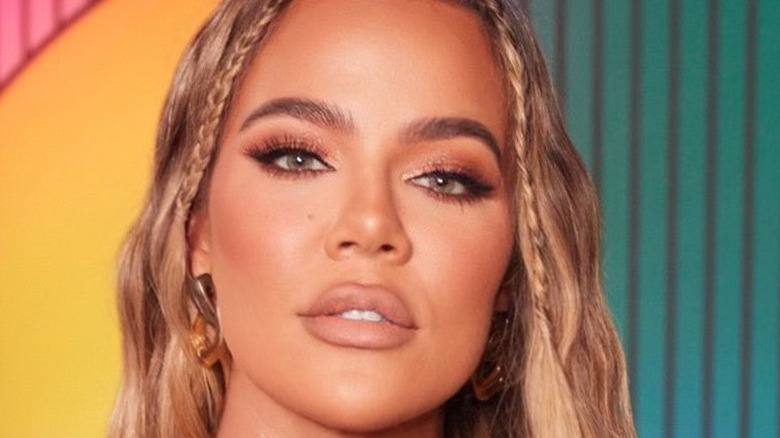 Shein X 100k Challenge 2021/Getty Images
Khloe Kardashian is no stranger to being in the spotlight, as she's spent the majority of her adult life starring on the hit reality show, "Keeping Up With the Kardashians," since 2007. As reality television enthusiasts know, though, with widespread fame and success comes a laundry list of pros and cons — including one's every move being picked apart by fans and critics across the globe. "The thing I dislike the most [about being a Kardashian] is the judgment on us," Kardashian told Harper's Bazaar in 2016. "If I want to go out with a group of friends, it's never as harmless as that. There has to be some story the next day that I'm dating somebody."
As the Good American founder explained, it's hard to do pretty much anything without the public making a big deal about it, and living in the age of social media and technology definitely doesn't help — especially when it comes to people analyzing every pic the Kardashians and Jenners post, as the reality stars are known to edit and photoshop most of their photos (via Insider).
Khloe Kardashian's nose photoshop blunders are next level
While the entire Kardashian-Jenner family is famous for over-editing their pictures on social media, Khloe Kardashian has come under fire a lot more than her sisters have in recent years. One of her biggest photo editing blunders to date, though, is her penchant for using the editing app, Facetune, to make her nose appear smaller — and sometimes, the pictures are so edited that her nose practically disappears, as evidenced in the second and fourth pictures from a collection of vacay photos from October 2020. This picture, as well as this Instagram snap, also show heavy editing done to Kardashian's face.
Kardashian has been open about using Facetune in the past, so it shouldn't come as a surprise that the "Revenge Body" host continues to over-use the app on her photos. "Facetune is the best thing to bring to the table. It's life-changing," she told Chelsea Handler during an appearance on her Netflix docuseries, "Chelsea Does," in February 2016 (via Us Weekly). "It's the only way to live," she continued, adding, "It's not real, you are presenting to the world what you want them to believe you are. It's amazing. I think our society nowadays is so caught up on getting validation from the social world that no one really knows, so they post these things."
Per Us Weekly, Kardashian is well-aware of what fans say about her ever-changing appearance, but doesn't care and "thinks she looks great" in her pics.
Khloe Kardashian denied getting a nose job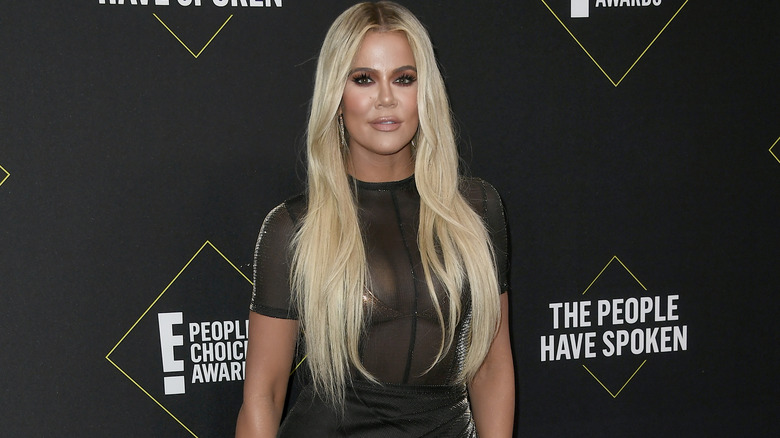 Frazer Harrison/Getty Images
Khloe Kardashian seemingly took a page from the Kylie Jenner book of cosmetic procedure denials after fans accused her of getting her nose done, shutting down plastic surgery speculations in 2016 by enlisting "Botched" doctor Terry Dubrow to explain how people's noses can change over time. "When you're bigger, your nose can get wider," Dubrow told the reality star during an appearance on her talk show, "Kocktails with Khloe" (via Us Weekly).
"It's like when you're pregnant, your nose spreads because there's fat pockets in there, I guess. So when I lost weight, my nose did get smaller, and also I now know about contouring. Like when I wash my face, my nose is wider," the "KUWTK" star told Dubrow.
Although she denied getting plastic surgery in the past, Kardashian finally admitted to getting her nose done during the "Keeping Up With the Kardashians" reunion special, telling host Andy Cohen that she's "had one nose job" and that "no one's ever asked" about her nose, which is why she's never admitted to it before (via People).