Kody Brown Reveals What We Suspected All Along About His Relationship With Janelle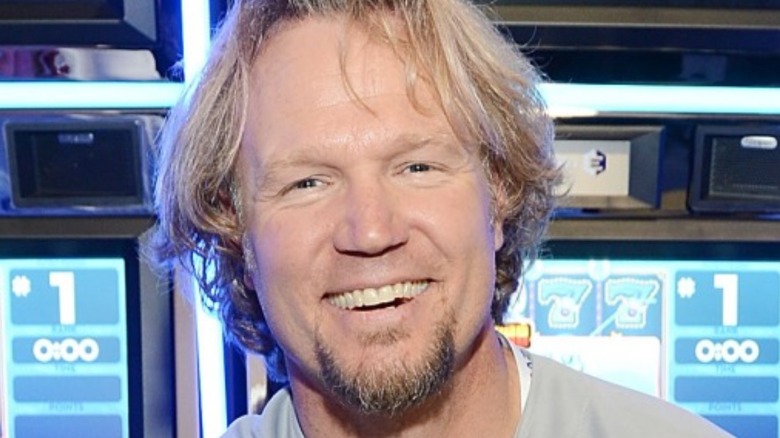 Denise Truscello/Getty Images
The apparent tension in Kody Brown's marriage to Janelle Brown is coming to a head. People teased a first look at the upcoming episode of TLC's "Sister Wives" which premieres on February 6, 2022, and all the signs are there that the pair are on different wavelengths as fans have long suspected. Many people have speculated that Janelle is gearing up to leave Kody, per Screen Rant, and this trailer dropped hints about where they currently stand. 
In the preview, Kody is seen opening up to host Sukanya Krishnan about their current relationship dynamic. "We're not in sync," Kody admitted. "We don't partner really well but we actually just are able to have a marriage that's, if you will, lower in attachment. I don't even know. We're good friends, we get along well. It's more of a, like, just a committed relationship."
When prompted further by Krishman, Kody admitted that he loves Janelle, but did not say with certainty that he was "in love" with her, which speaks volumes.
Season 16 hints at a strain in Kody and Janelle's marriage
This "Sister Wives" episode trailer isn't the first time that Kody and Janelle Brown's relationship has been painted as more amicable than romantic. Throughout Season 16 of "Sister Wives," we see the Brown family struggle adapting to life at the start of the coronavirus pandemic, per Us Weekly. Fans have speculated that Kody's relationship with wife Robyn is a point of contention for the other wives and may be partially responsible for the growing tension in the family.
Though Kody and Janelle generally seem to have a strong friendship, that doesn't mean it's completely drama free. Showbiz Cheat Sheet reports that Kody's extensive COVID-19 home rules at the height of the pandemic caused a rift between he and Janelle, who felt he was being too strict and ends up skipping out on the holiday festivities. Kody's revelation that Robyn had a nanny (via Showbiz Cheat Sheet) during this time despite forbidding his son from seeing his girlfriend (via Yahoo!) didn't help the rumors that he favors her.
A look at Kody and Janelle's relationship history
Fans continue to question their relationship. In one Reddit thread, dedicated viewers wondered why Kody isn't as romantic with Janelle as he is with the other wives. The original poster reflected on their marriage, writing "The longer the show goes on, the less I understand their relationship. From the beginning of the show, they have said they are friends. Now Kody is saying maybe that was a mistake and maybe he should have been romantic with Janelle. Who cut who off from the 'romance?'"
In one episode of TLC's long-running series, Janelle admitted that she's contemplated moving on, as reported by Yahoo! "I've had to really think," she shared. "My children are almost grown and there's not a huge necessity anymore to stay. It was a wonderful way to raise children."
She also acknowledged the gaps in her marriage to Kody. "With Kody and I right now, our relationship is pretty strained. And you know, it's easy to walk away."