How Many Grandkids Does Steve Harvey Have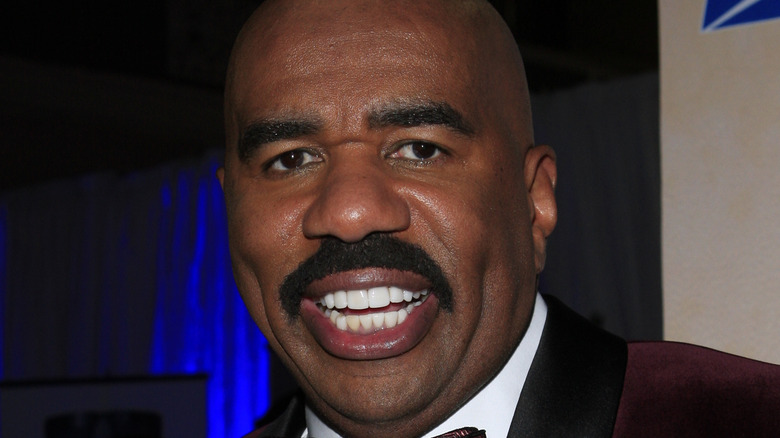 Joe Seer/Shutterstock
Steve Harvey has come a long way. After spending his early years homeless and sleeping in a car, per Celebrity Net Worth, Harvey went on to be one of the most successful talk show hosts on television, bringing in an estimated net worth of $200 million. Most know the comedian and TV personality for his hosting gigs on game shows like "Family Feud" and "Celebrity Family Feud," where he interacts with families of all kinds.
Harvey is no stranger to family both on and off the screen, and the TV star also has a large brood of his own. According to The Sun, Harvey has been married three times and has seven children between those marriages. He had three children, twins Brandi and Karli and son, Broderick Harvey Jr. with his first wife, Marcia. After that marriage ended, he went on to marry Mary Shackelford and together they had a son named Wynton. Harvey and Mary divorced in 2005 and two years later he married his current wife, Marjorie, and adopted her three children, Morgan, Lori, and Jason.
Harvey's blended family is unique, but what is even more unique about the star's family is the next generation, as the 64-year-old is already a grandfather to seven. 
Steve Harvey is used to having a lot of children around the house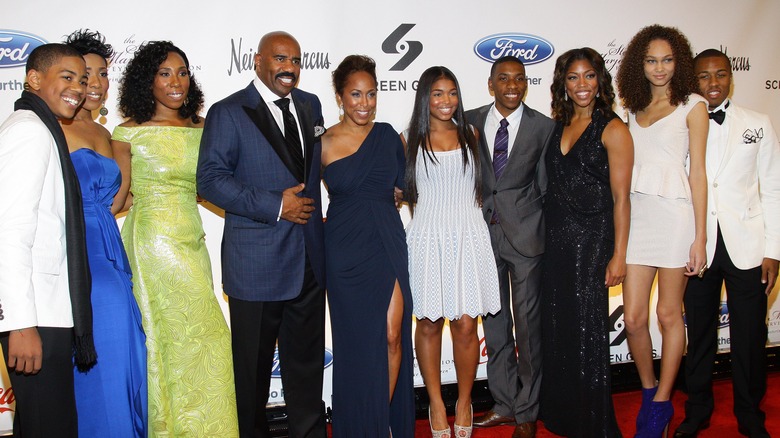 Raymond Boyd/Getty Images
According to Hollywood Life, Steve Harvey is a grandfather to seven children. His son Jason has four children with his wife, Amanda, who welcomed their fourth child, a daughter named Joey, in the summer of 2021. Harvey's daughter Karlie has one son named Benjamin (BJ for short) with her husband, Ben, and the TV host's other daughter Morgan has two children, named Elle and Marley, with her husband, Kareem.
Harvey is used to having kids around, but the comedian often jokes about his large, ever-expanding family. When discussing his life as a grandfather on his talk show "Steve," he said, "I've been waiting years for my kids to get out of my house. I want to be an empty nester. Now they come back to the house and they got more people with them. They always bring them over and drop them off. And I'm going 'Now, I been talking to my girl all day long. All we been talking about was what was going to happen tonight. Then, I get to the house and here they is," Harvey said previously (via Cheat Sheet).