Harry Styles Revealed His Favorite Songs On Fine Line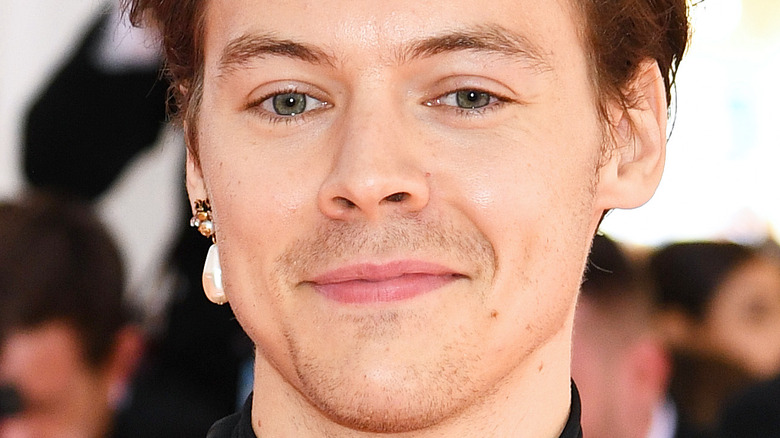 Dimitrios Kambouris/Getty Images
Harry Styles has certainly come a long way since his One Direction days. After getting his start in the music industry following the group's time on "The X Factor," Styles went solo when One Direction announced an indefinite hiatus back in 2015. While the group's other members — Zayn Malik, Niall Horan, Liam Payne, and Louis Tomlinson — have all experienced varying degrees of success, Styles has undoubtedly made a bigger splash than his former band mates.
These days, Styles sets himself apart with gender-neutral fashion, an engrossing romantic life (as of this writing, he's dating Olivia Wilde), and an all-around It boy persona. But still, most of all he's known for his chart-topping songs, especially now as a solo performer.
Styles managed to avoid the dreaded sophomore slump with his 2019 album "Fine Line," which kicked off the decade at No. 1 on the Billboard 200 chart. The album's main single, "Watermelon Sugar," would go on to reach the No.1 spot on the Billboard Top 100 chart and would even become the second longest-running song in the U.K.'s Top 40 charts.
All that being said, Styles' favorite "Fine Line" tracks may surprise you, as well as his thoughts on its hit single "Watermelon Sugar."
Harry Styles' Favorite Fine Line Tracks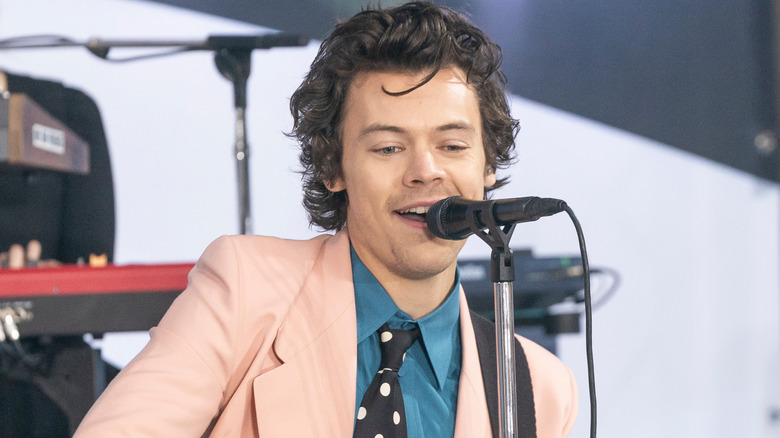 Lev Radin/Shutterstock
In a 2020 interview with NPR, Harry Styles revealed that he pulled inspiration from Carole King, The Beatles, Fleetwood Mac, and other '70s singer-songwriters when making "Fine Line," which is reflected in his two favorite songs off the album.
Styles told NPR that one of his favorite tracks is "Cherry," a song he described as "the kind of music I want to make." He went on to say, "I felt a bit of pressure that I wanted to make something that worked. ... That's when I make the music that I like the least, is when I'm trying to write a pop song or I'm trying to write something fun." Releasing the pressure to produce the next pop hit was what helped Harry Styles create "Cherry."
His next favorite is the album's title track and final song, "Fine Line." Similar to "Cherry," Styles wrote the song "Fine Line" without the goal of making it a single in mind, but that might be exactly what makes it one of his favorites. "Now when I listen to it, it's one of those things where I'm just proud that it's mine, I'm so happy. It's one of those songs that I've always wanted to make," he said when talking about the track.
What Harry Styles thinks of 'Watermelon Sugar'
Harry Styles' "Watermelon Sugar" was easily the album's breakout hit, a radio favorite that stayed relevant weeks (and even months) after its initial release. It was catchy, had a slight retro flair, and grabbed people's attention with its vaguely NSFW meaning. But despite being a fan favorite all over the world, Harry Styles didn't call this track one of his favorites. In fact, he had some negative feelings about the song initially.
Styles shared his honest thoughts during his NPR Tiny Desk Concert performance, saying, "We kind of liked it when we first had it, then I kind of really hated it for a long time and then came back and it kept kind of coming back into the mix." He noted that the song took the longest to produce of all the tracks on "Fine Line" and was at risk of being scrapped altogether. 
Thankfully, the song that almost never happened did so that we can keep adding it to all our playlists.