Why The Actor In Caesars Sportsbook Super Bowl 2022 Commercial Looks Familiar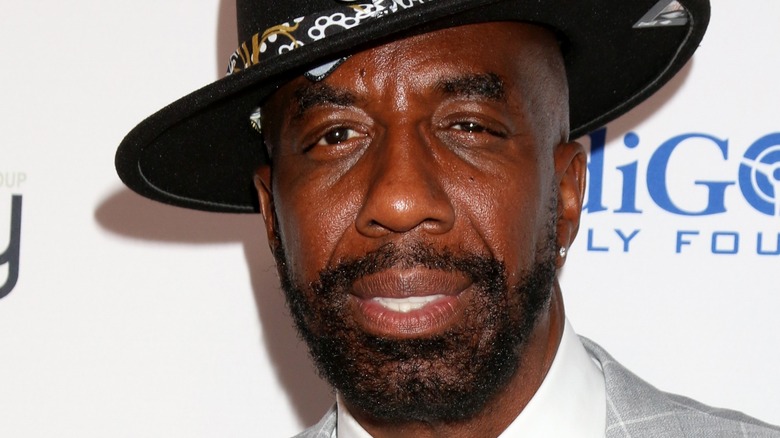 Kathy Hutchins/Shutterstock
On Sunday, it is estimated that over, 100 million people will tune in to watch the Cincinnati Bengals face off against the Los Angeles Rams in the 2022 Super Bowl per CNBC. As CBS Sports reports, given the fact that the Super Bowl is often the most-watched television program throughout every year, quite a bit of pressure is placed upon the athletes, teams, and yes — even the commercials. It appears as though this pressure has been heightened for brands airing commercials during the 2022 Super Bowl. Dan Lovinger of NBC Sports Group revealed to NBC Los Angeles back in September that ad spots were going for a whopping $6.5 million for just 30 seconds of air time. To ensure that their commercials live up to the amount of money that they are shelling out for this ad space, companies like Bud Light, Lays, Nissan, and Planet Fitness have enlisted the help of A-list celebrities like Seth Rogen, Paul Rudd, Lindsay Lohan, and Matthew McConaughey to star in their endorsements, according to USA Today.
Another star-studded Super Bowl commercial has been made by Caesars Sportsbook, an online sports betting site and casino sponsor of the NFL. A series of commercials will follow Caesar and Cleo (along with a host of other characters) as they navigate responsible gaming practices, awkward Thanksgiving dinners, and more, per AdWeek.
JB Smoove, Halle Berry, Peyton Manning, and more are set to star in Caesars Sportsbook's Super Bowl commercials
Even compared to other star-studded commercials set to premiere during the 2022 Super Bowl, the offering by Caesars Sportsbook is quite impressive. Throughout Super Bowl weekend, the exclusive casino sponsor for the NFL will be airing a series of commercials starring heavyweights across multiple industries. According to AdWeek, Caesars Sportsbook commercials will be starring comedian and "Curb Your Enthusiasm" actor JB Smoove as Caesar and actress Halle Berry as Cleo. As an added bonus, the "first family of football," Archie Manning and his sons, Peyton, Eli, and Cooper, will also be starring in a few commercials produced by the sports betting company. In addition to touting the various benefits of their betting app, Caesars Sportsbook will also be airing a commercial about responsible betting and gaming practices, which will star the aforementioned Mannings.
Aside from "Curb Your Enthusiasm," you might also recognize Smoove from his time as a writer and performer on "Saturday Night Live" between 2003 and 2005, or even from his memorable role on "The Millers" between 2013 and 2015, per IMDb. Currently, Smoove is trekking all over the country as part of his comedy tour, "No Questions, Just Answers." 
"I planted a lot of seeds," Smoove told Complex of his career success. "I'm a seed planter. So, I like to plant seeds and watch things grow. Sometimes, it may take a day or two. Sometimes, it may take a week, a month, a year. It might take 5-10 years, who knows? I've just been a happy man just to be busy like this."