Kevin Hart's Hilarious Super Bowl 2022 Commercial Doesn't Disappoint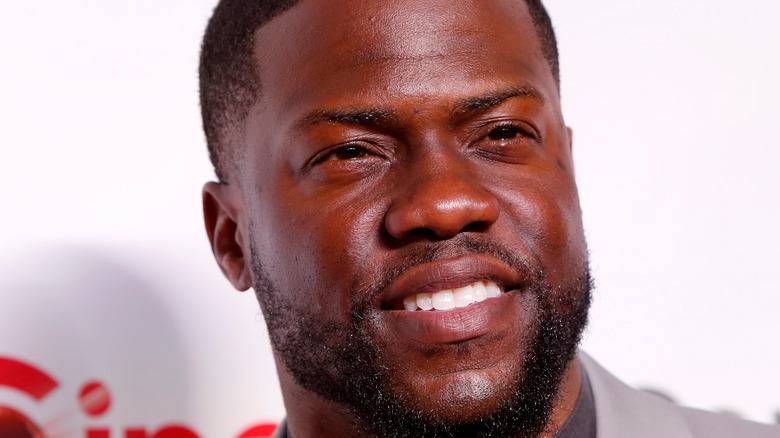 Kathy Hutchins/Shutterstock
On Sunday, it is estimated that over 100 million people will tune in to watch the Cincinnati Bengals face off against the Los Angeles Rams in the 2022 Super Bowl per CNBC. As CBS Sports reports, given the fact that the Super Bowl is often the most-watched television program throughout every year, quite a bit of pressure is placed upon the athletes, teams, and yes — even the commercials. It appears as though this pressure has been heightened for brands airing commercials during the 2022 Super Bowl. Dan Lovinger of NBC Sports Group revealed to NBC Los Angeles back in September that ad spots were going for a whopping $6.5 million for just 30 seconds of air time. To ensure that their commercials live up to the amount of money that they are shelling out for this ad space, companies like Bud Light, Lays, Nissan, and Planet Fitness have enlisted the help of A-list celebrities like Seth Rogen, Paul Rudd, Lindsay Lohan, and Matthew McConaughey to star in their endorsements, according to USA Today.
One of the most hilarious 2022 Super Bowl commercial offerings comes from Sam's Club. As it turns out, the concept behind the commercial was actually inspired by a joke uttered by the star of the commercial, Kevin Hart, during one of his standup sets.
Sam's Club Super Bowl commercial was inspired by one of Hart's jokes
In a Sam's Club commercial that will debut during the 2022 Super Bowl on Sunday, comedian and actor Kevin Hart will be inspiring quite a few bouts of uncontrollable laughter. In the commercial, Hart is promoting the store's Scan & Go app that allows its members to bypass the traditional checkout line. "Sam's Club created the Scan & Go app just for me so I can scan my stuff and skip the checkout line 'cause that's what VIPs do," Hart says while walking through a sam's Club in the commercial, per People. "Even my stunt double has a stunt double, how VIP is that? Scan and Go was made just for me people! You know what was made for you? The line!" Then, the camera pans over to a Sam's Club employee who seems incredibly annoyed at Hart's antics. "Guys, he's doing it again," the employee says into his headset.
As USA Today reports, Sam's Club was actually inspired to create the concept of the commercial after seeing Hart talk about the Fastpass service at Disney's theme parks in one of his standup sets. "It's an opportunity to poke fun at making life easier, simplifying but also feeling like there's a hierarchy in your opportunity at hand," Hart told the outlet. "When you get a Fastpass or have an amusement park allowing you to bypass the line, a little bit of cocky comes with that. That's the anchor of the joke in the idea. That VIP-like treatment, that scan-and-go and not dealing with a line, that's what Sam's Club realizes."