The Best Hair Dye Brands For When You Want Unnatural Hair Colors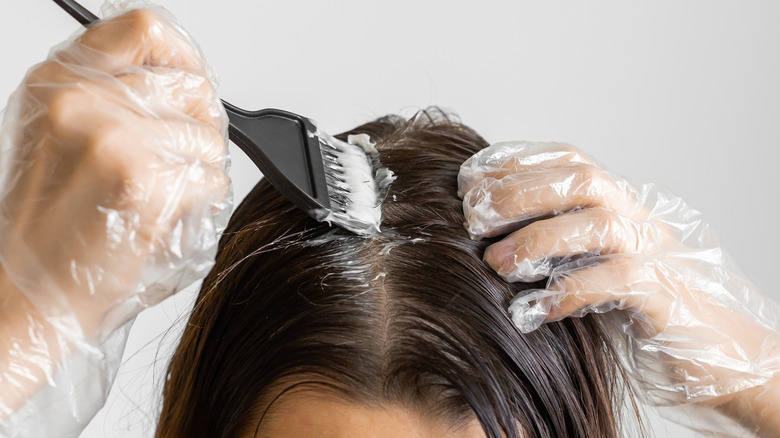 Vladimka production/Shutterstock
At-home hair dying is an art. If you're looking to experiment a bit, or if you're looking to stay at home for pandemic-reasons, you'll be happy to know that there are tons of hair dye options out there. That's true whether you're looking to dye your hair natural shades or go a little wild. With the right brands and application steps, you'll be on your way to new hair in no time. What makes the best bright hair dye brands, you may ask? Well, it's all about color, ease of application, and how easy the directions are to follow.
Before we get ahead of ourselves, there are some things to be aware of when looking into at-home hair color — especially if you're looking to go bright. "It's not safe to color or bleach your hair at home if your hair has been through a lot of processes," Colorist Lauren Grummel tells Glamour. "Or if it's very damaged to begin with. Be honest with yourself — otherwise your hair can break off."
If your hair is healthy and you're looking for an unconventional hair change, it's time to invest in brands that really do work. Here are the best vivid hair dyes available on the market so you can nail that color you've been dreaming about. 
The best bright hair dyes don't have to cost you
If you're looking for seriously bright-colored hair without salon prices, you're in luck. There are some incredible brands out there that will give you the color you're looking for right at home. Lime Crime's Unicorn Hair dye is one of the best in terms of pigmentation and variety. The brand has incredible colors from bright yellow and orange, to deep purple and green. Honestly, the range is incredible.
The shades aren't the only reason to get excited about this at-home color. The brand also offers at-home lightening kits, mixing tool kits, and post hair-dye protection to help you through every step of the dying process. There's even a blog that gives you tips for getting the unconventional hair color of your dreams so you can master the cool blue hair color celebrities love right now. Add to that the incredible reviews and the $17 prices (yes, really!), and you have all the elements for a truly remarkable at-home product.
According to Byrdie, Manic Panic is a great at-home hair dye. The tried and true brand has been around since 1977 and is still going strong with some incredible colors. The prices range from $13 to $17, which is on the affordable end, but you'll need to use foils to apply the color, so it's a little bit more of an intense at-home process than using Lime Crime.
Temporary at-home dyes are a great starting point
If you're thinking twice about permanently dying your hair an unconventional color at home, more temporary options are available. It might only be hair color, but you still want to make sure you're making the best choice for you. If you're looking to experiment safely before you commit to a permanent color, Allure suggests starting with Good Dye Young's I'm Bored Hair Makeup. The serum-based product deposits semi-temporary color into your hair that comes out in two to six washes, depending on the natural color of your hair. Oh, and it's only $12 a bottle, so you can afford to go crazy as you try new hues.
Another great option that Allure suggests is the Hally's Color Cloud. Although they don't have the widest color range, the publication says that the brand has perfected a mess-free semi-permanent hair dye application. All you have to do is pump out the foam, rub it into your locks, and wash it out. No mixing or blending required. All of that comes at the cool price of $25, which isn't all that big of an investment for playing around. 
Remember to be gentle with your hair and have some fun with the process.