This Viral TikTok Conditioner Can Give Your Hair A Brand New Color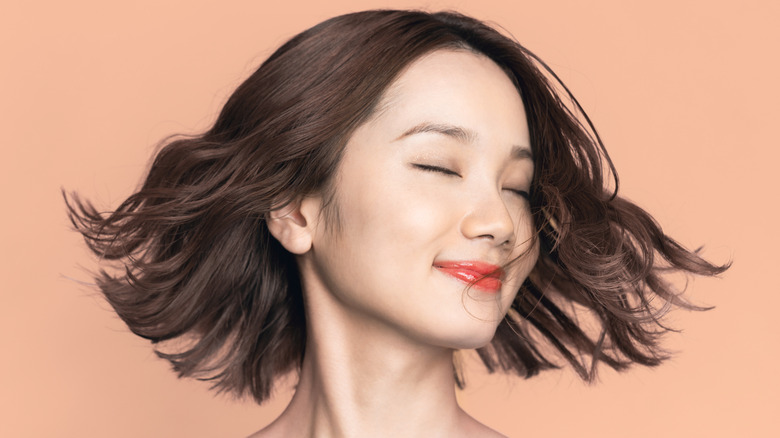 metamorworks/Shutterstock
There is almost nothing better than the feeling of walking out of a salon with a fresh color. On the flip side, the feeling of having a stale hair color and knowing that you need to book a salon trip is not great. However, whether you're trying to save some money, or just not feeling up to leaving the house, you'll be happy to know that there's a way to freshen up your hair color at home. 
Once again, we can thank TikTok for this revolutionary beauty hack. Ever since the platform launched in 2016, it's been instrumental in bringing beauty tricks, hacks, hair tools, and all kinds of lesser-known products to the public consciousness. (Not only that, but TikTok has been pretty entertaining when it comes to dance moves and videos, too.) Now, TikTik is also coming through with hair dye tips and tricks. When TikToker Jenna Palek's hair color needed a good spruce, she revived her locks with a brand new hair conditioner — meaning that your best hair color could be just one wash away. Keep reading for everything you need to know about the miracle product. 
Keracolor's Clenditioner makes a major hair transformation
If you're looking for a way to freshen up your hair between salon visits, or if you're seeking salon-worthy color that won't break the bank, then it's time to add Keracolor's Color + Clenditioner to your shower routine. TikTok user Jenna Palek headed to Ulta in search of something to transform her hair, and she definitely found what she was looking for. "I decided that I hate my hair and don't want to look at it any longer," Palek said in the start of the TikTok video. Because she found her hair to be too yellow and light-colored, she wanted something that would darken her strands.
With just one wash, the Keracolor Color + Clenditioner completely freshened up the color and took Palek's hair from bronze to a deeper brown. "It kept all of my highlights, but it completely changed the tone," Palek shared, via TikTok. "It looks like I just got out of the salon and I got lowlights or something." The best part of the whole thing is that the video is not sponsored — meaning that Palek went to Ulta after her friend recommended the product. Clearly, the trip paid off! TikTok is full of hidden gems, and Keracolor's Color + Clenditioner is one of them.
The miracle product is only $22
If the before and after of Jenna Palek's hair wasn't enough to convince you to run out and scoop up the product for yourself, then the price of the item might do the trick. Per Ulta.com, Keracolor's Color + Clenditioner retails for a cool $22. It comes in 17 different colors, so you can spruce up a variety of hair colors. There are bold shades like pinks and purples for the more daring fashionistas, as well as natural shades of browns and blondes.
Here's how the miracle product works. The "non-lather" conditioner is meant to pump color back into your hair between salon visits. According to Ulta, all you have to do is wash your hair normally. The color lasts between 10 to 15 shampoos, and you can use the product to spruce up your color as often as you'd like. Keracolor's Color + Clenditioner is also packed with top-notch ingredients — including keratin, coconut oil, and jojoba — to hydrate hair strands and add color. If you're still reading this, then it's time to switch tabs, open the Ulta website, and go get yourself a bottle of this amazing color conditioner. Your next hair revival is just a wash away!