Here's What We Think Gin And Juice By Snoop Dogg Really Means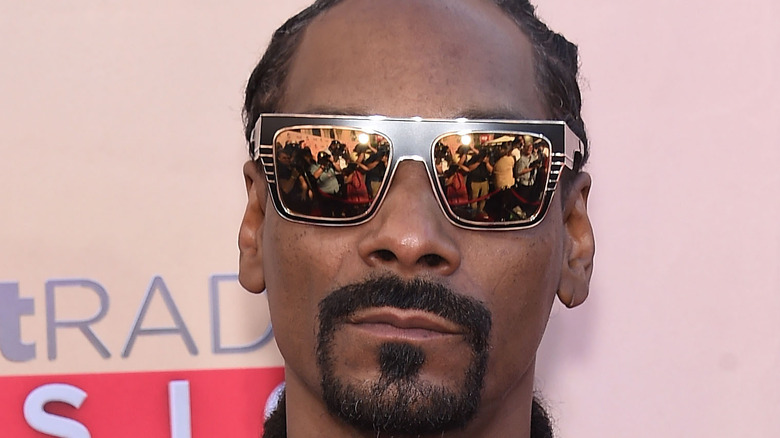 DFree/Shutterstock
Every other headline features Snoop Dogg right now; the hip-hop mogul's been busy making deals, albums, and NFT offerings in the past few weeks, and all of them take us back to his roots. The rapper just released the album "B.O.D.R," an acronym that stands for "Bacc on Death Row," in conjunction with the announcement that he will now be the new owner of Death Row Records, the label that launched his career, per ABC News. The album, in partnership with blockchain platform Gala Games, will also have NFTs for fans to purchase. And on February 13, Snoop Dogg will be performing at the Super Bowl halftime with Dr. Dre, Eminem, Mary J. Blige, and Kendrick Lamar, per the trailer released last month.
With a wave of nostalgia hitting us all, we expect to see Snoop Dogg's part of the show featuring songs from the iconic debut album "Doggystyle." The album topped R&B/hip-hop charts for weeks, with one song dominating them all. "Gin & Juice" was and remains one of the most popular songs and boozy anthems of the past two decades, and we're tuning into the Super Bowl clutching both in our hands. Read on to know about the song's meaning.
It reminds us to take a break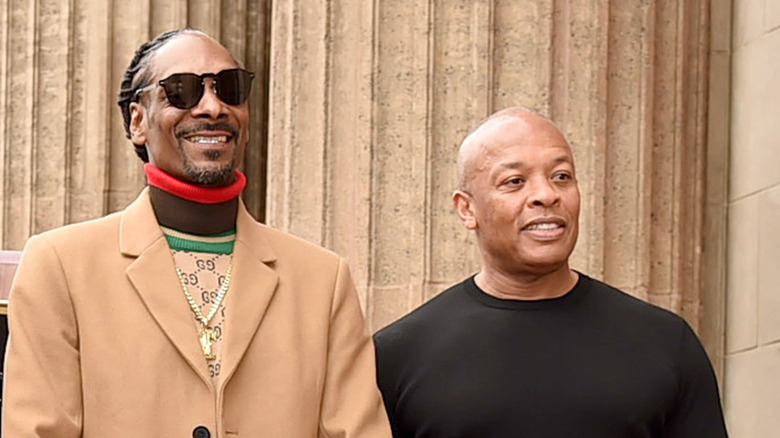 Kevin Winter/Getty Images
Sampling from George McRae's "I Get Lifted" for its bass line while borrowing from Slave's "Watching You," "Gin & Juice" is a smooth revival of Snoop Dogg's favorite drink. "Gin and juice was the choice of drink for a young playa. 1991, 1992, you didn't really have a lot of money, you go get that gin. When it came time to make the record, Doggystyle, that was my thing: Every day I would come to the studio with my bottle of gin and juice in it, and Dre would have a big-ass milk jug full of gin and juice," he said on Pandora, according to Song Facts.
The song came out in 1993 but it doesn't lose its relevance even today — we're all in need of some escapism, with or without the pandemic. "With so much drama in the LBC, it's kinda hard being Snoop D-O-double-G" is the opening line, right after he's been told by his fake music video parents: "Snoop Doggy Dogg, you need to get a jobby job." He dramatically screams away his responsibilities and throws a party instead. All the while, however, he got his "mind on my money and my money on my mind" because capitalism and the quest for money aren't ending just because he decided to pour himself a drink.