Kevin Hart's Practical Joke Stirs Up Trouble For For Nick Cannon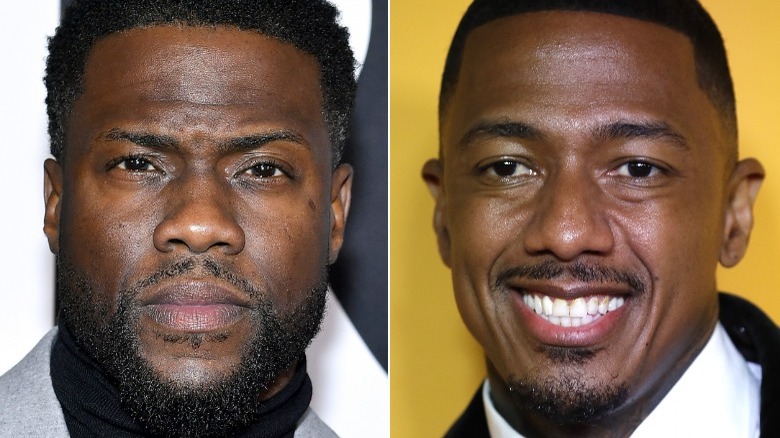 Roy Rochlin & John Lamparski/Getty
There are tons of different best friend duos out there. Some of them hang out constantly while others just hype each other up on social media. Then there are the ones that prank each other even from miles away. Nick Cannon and Kevin Hart are apparently in the latter category. Hart recently sent his friend the prank gift of a lifetime. It was timely, slightly offensive, and apparently made a few people mad in the process. Basically, it did what a prank should do.
Let's rewind a bit. Hart and Cannon are reportedly longtime friends and their love language is practical jokes. According to Distractify, the two started their prank war when Cannon sent a llama to Hart's house. He then pranked Cannon back by putting his phone number on a billboard with a message to call "his best friend Nick Cannon" to get "advice on fatherhood." Needless to say, these two are no strangers to a pretty huge joke.
It turns out that Hart might just have delivered his friend the biggest prank of all time. It might not be physically bigger than a billboard, but the message was definitely a whole lot more clear. Here's everything to know about the joke that ruffled some feathers. 
Kevin Hart gifted Nick Cannon a condom vending machine
Yes, you're really seeing this. According to Page Six, Kevin Hart sent Nick Cannon a condom vending machine for this house. Out of all the pranks that these two have played on each other, it will be hard to top this one. The condom vending machine was sent anonymously just days after news broke that Cannon was having his eight child with girlfriend Bre Tiesi. It's not exactly your conventional congratulations card, but it's something.
The funniest part of it all was that Hart didn't initially tell his friend that the gift was from him. It just showed up at his house one day. It wasn't until Cannon posted the photo of himself with the condom vending machine that Hart let him know it was from him. "I see u got my gift [Nick Cannon] ... GOTCHA BITCH!!!!!! ... Now u don't have an excuse because the condoms are free," Hart captioned his own Instagram photo.
This is anything but your typical friendship, but it's fun to see them having fun from miles away. 
Not everyone thought the prank was funny at first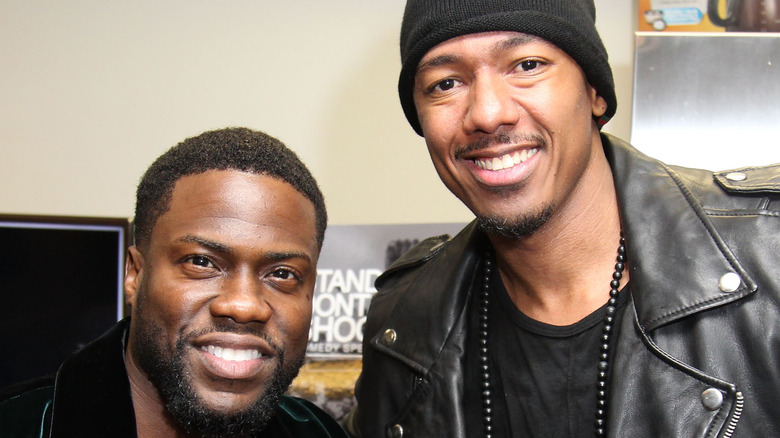 Leon Bennett/Getty Images
Apparently, not everyone thought that Kevin Hart's condom vending machine delivery was funny though. According to Entertainment Tonight, Nick Cannon's pregnant girlfriend, Bre Tiesi, didn't think the joke was very funny. "One thing that was brilliant about it, it was the mystery of it, because I had up some baby mama drama, 'Who sent you that? Who sent you that?'" Cannon told the publication. "So, I did have to do some real life stuff, and then when he came out and said it was him, everybody relaxed."
The whole point of Hart's joke is that Cannon has, well, a lot of kids. The 41-year-old has seven children with five different women — Zen "Sagon", Powerful Queen, Moroccan Scott, Monroe, Golden, Zillion Heir, and Zion Mixolydian. That's not including his pregnancy with Tiesi. According to Page Six, Cannon's therapist recommended him to become celibate after the recent baby announcement.
If he decides against the advice, at least he'll have a brand new vending machine to break in.