Jill Duggar Dillard Makes A Passionate Statement About The Results Of Her Court Case
Looking back at TLC's "19 Kids & Counting," it's sobering to think that there was so much pain hiding behind the smiles of the popular Duggar family. Not until 2015 — when the show was already in its seventh season — did it come to light that Josh, the oldest of the Duggar children, had molested several of his younger sisters some years earlier. Parents Jim Bob and Michelle sat for a TV interview in which they insisted that the incidents had been sensationalized by the press, and that they had gotten counseling for Josh (via The Washington Post). Two of the sisters, Jessa Duggar Seewald and Jill Duggar Dillard, came forward to confirm that their brother had touched them sexually. They expressed their anguish that the police report had been leaked to the press and made their private trauma public. Dillard was tearful as she said, "We are victims; they can't do this to us." 
Far from being over, however, the Duggars' saga became even darker in 2021 when Josh was arrested on charges of receiving and possessing child pornography. The trial took place later that year, with prosecutors presenting very convincing evidence against Josh (via NBC News). In December, he was found guilty, and at the time of this writing, was still awaiting sentencing. 
Jessa and Jill, along with sisters Jinger Duggar Vuolo and Joy-Anna Duggar Forsyth, went on to sue Arkansas' Washington County and the town of Springdale for allowing the police report to fall into the media's hands. The verdict was just released, and Jill's reaction was both angry and powerful.
A court ruled against Jill Duggar and three of her sisters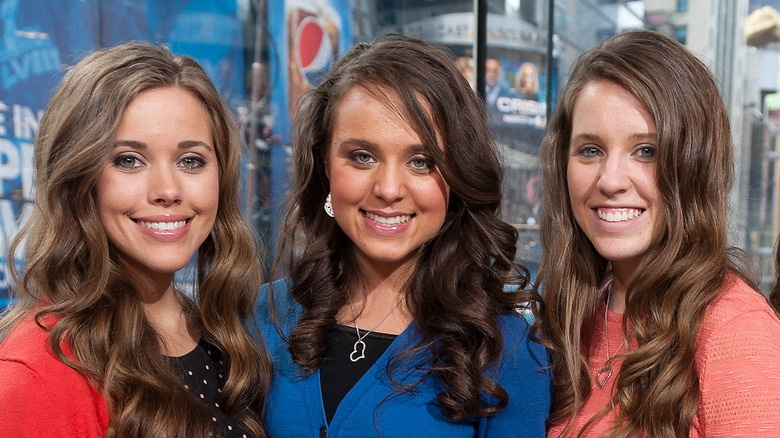 D Dipasupil/Getty Images
On February 9, a U.S. district judge ruled that although the authorities were wrong to release confidential information about Josh Duggar's molesting his four sisters, it did not constitute a damaging invasion of their privacy (via People). Jill, Jessa, Joy-Anna, and Jinger Duggar had claimed they suffered "emotional distress" at having the tabloids name them as the victims. 
Jinger discussed the issue in the 2021 autobiography she co-wrote with her husband, Jeremy Vuolo. She recalled the shock she felt when she learned that the police report was about to go public. "[T]he worst trial in our family history, a trial we had long since dealt with and made our peace with, was now public knowledge," she wrote (via E! Online). "Intimate details about our lives were splashed across a magazine page and all over the Internet... I felt shell-shocked, as if a bomb had exploded."
Jill has become known in recent years as the "rebel" who has distanced herself from both her parents and their restrictive lifestyle. Shortly after the verdict was handed down, she and her husband, Derick Dillard, released a reaction statement via their personal Dillard Family website. "While we appreciate the hard work the Court has put into our case and we highly respect the Judge, we are disappointed with the ruling that the City and County's statutory immunity protects them from our claims," they wrote. "It is unfortunate that bad actors, under the guise of public service, are given a license to intentionally inflict pain without regard for innocent victims."
Jill Dillard identifies as a sexual abuse survivor
The Dillards went on to blast all authorities who "weaponize their authority" by making privileged information public and then claiming immunity from the consequences. "The Judge has made it crystal clear that the reports were illegally released. This should have never happened, and we hope this never happens again to anyone," they wrote. "It is what compelled Derick to change careers and pursue law school in the first place, and we will continue to fight for victims' rights."
They concluded: "In the pursuit of justice, the impact on victims, especially child sex victims, should not be an afterthought, and they should not be relegated to collateral damage. Victims need to be supported and protected, not hung out to dry simply because the end justifies the means. They have been blamed, shamed, and bullied into silence for too long, so why are we surprised that perpetrators continue to be emboldened while victims are punished for their voice."
This was the most outspoken statement Jill Duggar Dillard has made about being a victim of sexual abuse, and it won her widespread praise on social media. Her own aunt, Amy Duggar King, responded on Instagram: "Big hugs and a lot of love and respect for you! What a powerful statement!" Another commenter referenced the abused children in the images found on Josh's computer. "Jill, I'm so proud of you for standing up for the little girls who were silenced and others like them," she wrote. "I pray God gives you peace."
If you, or anyone you know, have been a victim of sexual assault, help is available. Visit the Rape, Abuse & Incest National Network (RAINN) website or contact RAINN's National Helpline at 1-800-656-HOPE (4673).