The Truth About Matthew Stafford's Wife, Kelly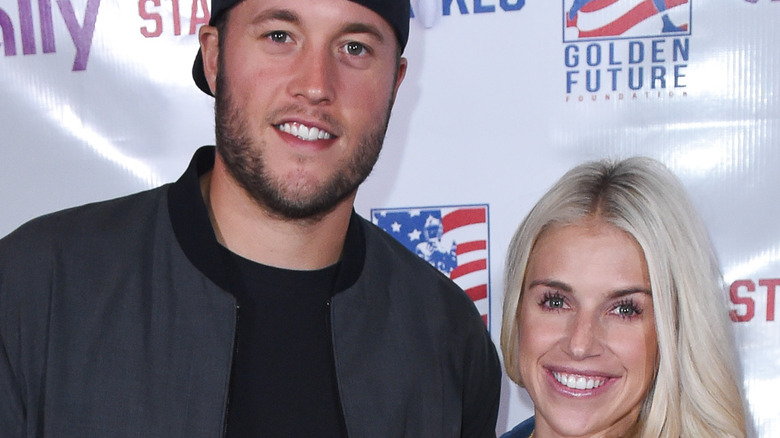 Aaron J. Thornton/Getty Images
With the Super Bowl looming, all eyes are on Los Angeles Rams quarterback, Matthew Stafford. According to Fan Nation, Stafford spent 12 NFL seasons with the Detroit Lions, never once getting as far as he currently is with the Rams. At the start of his professional career in 2009, Stafford was the #1 overall pick during the draft. Almost a decade later, the quarterback continued to be a favorite, earning the highest paid 5-year contract in 2017 –- a $135 million deal (via Forbes).
And while he may not have delighted many Lions fans -– he lost 90 out of the 165 games he started for them –- he is bringing joy to Rams fans as they compete for a Super Bowl ring. As such a successful NFL player, fans often wonder who is supporting the athlete behind the scenes. For Stafford, that support system includes his wife, Kelly, who he has been with since the pair met in college.
Kelly Stafford is a survivor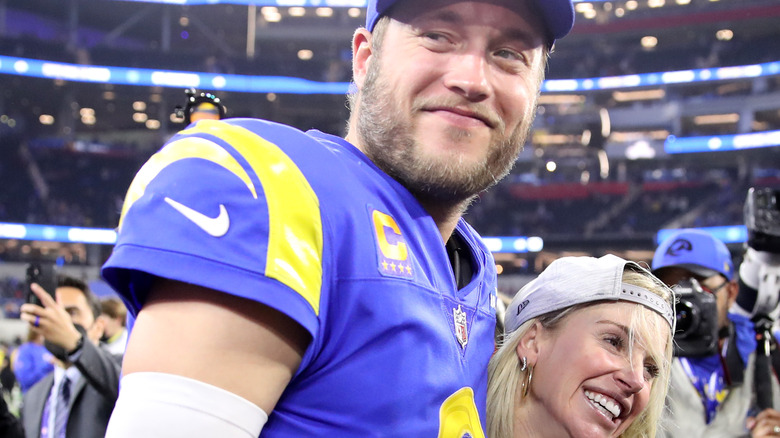 Christian Petersen/Getty Images
The love story between Matthew and Kelly Stafford is straight out of the movies. According to Us Weekly, while playing football for the University of Georgia, Matthew fell in love with Kelly, a cheerleader for the team. A few years later, the pair married and today, they share four kids: twin girls, Sawyer and Chandler and two more daughters, Hunter and Tyler.
Unfortunately, their fairytale was cut short when Kelly was diagnosed with a brain tumor in 2019. According to the New York Post, Kelly began having vertigo spells and bouts of dizziness. After an MRI, a brain tumor was confirmed. She underwent a successful surgery and today, she has a clean bill of health.
After being in the headlines for some controversial posts surrounding her husband's career and the COVID-19 pandemic, Kelly decided to create her own platform to discuss her opinions and her life. In 2021, she started her podcast, "The morning after with Kelly Stafford," which covers everything from her life with her family to her parenting struggles to what it's like to be married to an NFL star.