Why Eminem's Eyebrows Are Trending On Twitter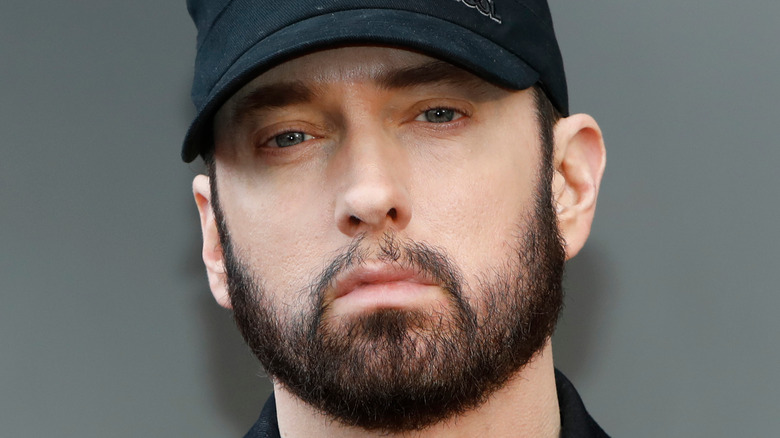 Kathy Hutchins/Shutterstock
Everyone is talking about the Super Bowl's star-studded halftime show featuring Dr. Dre and Eminem. Among the buzzy moments was when 50 Cent made a surprise cameo, getting the crowd in the stadium and at home super pumped. Another aspect of the show that has Twitter in a tizzy is, well, Eminem's eyebrows.
Not only was his gesture of taking a knee at the end of his performance trending on Twitter, but so too were his brows, which fans think looked bizarrely dark and larger than they remember — if you could even see them under his hat and hoodie. But social media users couldn't let it go after seeing the rapper, who told Billboard live TV can be "nerve wracking," on stage for the first time in a while (via New York Post).
"Whoever filled in Eminem's eyebrows for the #HalfTimeShow used all of the eyebrow pencils in Ulta," joked one Super Bowl viewer upon seeing Slim Shady performing "Lose Yourself" on Sunday night.
And Twitter was far from done having fun with Marshall Mathers' brows, which many people clearly felt somehow stole the show.
Not everyone wants to talk about Eminem's eyebrows
Ronald Martinez/Getty Images
Sure, the Super Bowl halftime show was full of moments we'll be talking about for quite some time, but it seems Eminem's eyebrows are also the subject of rampant chatter on Twitter.
"Ok, but are Eminem's eyebrows drawn on?" asked one fan. Another Twitter user had a different take on the iconic star's look, surmising in part, "Also, has anyone considered that this is his natural look and that he might have bleached his eyebrows back in the day? Geez. Chill."
Another viewer tweeted, "Eminem is 49. If he wants to replace his eyebrows with strips of gaffa tape that's his business. 50 Cent is 46. If he wants to hang upside down like a bat that's his business."
Other fans were upset that the rapper's brows were even being discussed online, with many Twitter users weighing in that people should be focused on the amazing stars that convened to deliver an incredible halftime show.