Why Lauren Boebert's Recent Award Has Twitter In Hysterics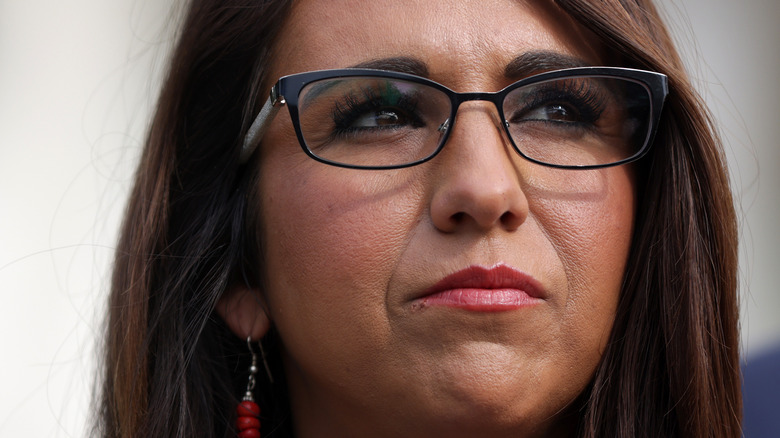 Alex Wong/Getty Images
Since she defeated Democrat Diane Mitsch Bush in Colorado's 3rd Congressional District race, Representative Lauren Boebert's views have raised quite a few eyebrows. As Axios reported, even before she was elected, Boebert revealed that she followed QAnon, a far-right conspiracy theory that alludes to a "deep state" war the government is waging against former President Donald Trump.
Boebert made headlines in January 2021, when her fellow lawmakers alleged that she was seen giving a tour of the Capitol building to a "large" group of people just hours before the Capitol riot on January 6. However, according to the Washington Post, Boebert later published a letter refuting these claims made by other lawmakers, stating that she was simply giving a tour of the Capitol to her family members. One year later, Boebert made headlines again when she accused Jewish visitors at the Capitol of doing "reconnaissance." According to The Hill, the group of visitors included rabbis and an Orthodox Jewish man. After she received quite a bit of backlash from the incident, Boebert claimed that she was simply making a joke. "I saw a large group and made a joke. Sadly when Democrats see the same they demonize my family for a year straight," Boebert said, per The Hill.
Last week, Boebert was back in the headlines after receiving quite a surprising award — and the internet is still not over it.
Boebert was given a used Red Lobster gift card after receiving the 'Hottest Woman in Congress Award'
Recently, Representative Lauren Boebert appeared on right-wing commentator Jesse Kelly's show on "The First" During her appearance, Kelly gave Boebert the "Hottest Woman in Congress Award," a distinction that awarded her an official certificate and Red Lobster gift card, according to Newsweek. Shortly after Boebert received this award, Twitter account Patriot Takes noticed that Boebert's last name was actually misspelled on the certificate, a fact which seemed to have gone unnoticed by both Boebert and Kelly.
The fact that Boebert received a Red Lobster gift card with a balance of $27.43 also erupted on Twitter. "Lauren Boebert is too much of a national security risk to even be allowed in Red Lobster," the Palmer Report tweeted. "Just want to thank whoever made that framed award that Lauren Boebert has been carrying around calling her the "Hottest Woman in Congress" while misspelling her name [and] giving her a Red Lobster gift card, because we all know she smells like fish. Epic troll," another user tweeted.
Shortly after Twitter erupted with jokes surrounding Boebert's recent award, Kelly went on to the social media platform to make his own joke about the incident. "Think I need to correct the record on this. We did NOT give Lauren Boebert a used Red Lobster gift card. The gift card was PARTIALLY used. There was still $27.43 on there. Get the facts straight," Kelly tweeted.