Here's Why 50 Cent Hung Upside Down During His Super Bowl Performance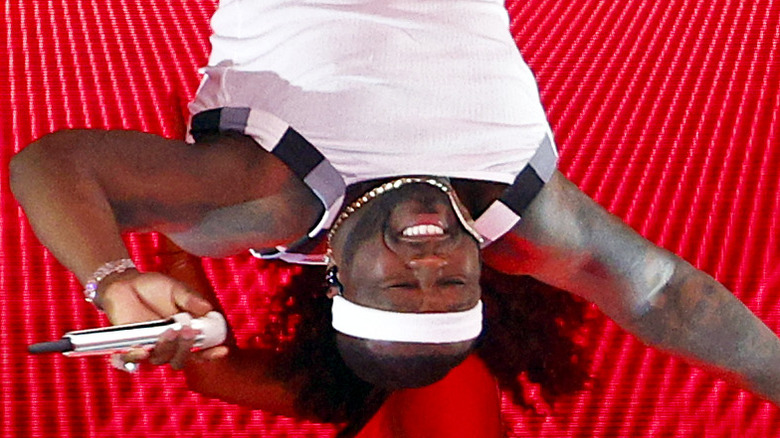 Ronald Martinez/Getty Images
In the weeks leading up to the 2022 Super Bowl, the internet was buzzing with excitement over the star-studded lineup for the halftime performance. On Sunday, hip hop and R&B giants Dr. Dre, Eminem, Mary J. Blige (can we talk about those boots Blige was wearing?!), Kendrick Lamar, and Snoop Dogg took the stage at the Super Bowl. For many, it was a walk down memory lane as the musicians performed nostalgic hits like "California Love," "Family Affair," "Alright," "Lose Yourself," and more, per NBC Sports.
Given that five performers were already filling the stage at the Super Bowl halftime show, many were not expecting any surprise performers to step out from the shadows. Eagle-eyed halftime viewers noticed that rapper Anderson .Paak was actually playing the drums during Eminem's performance, per AP News. However, one of the most memorable portions of the halftime show was the moment that rapper 50 Cent appeared to perform his nostalgic hit, "In Da Club." The fact that 50 Cent appeared to perform his hit song upside down only added to the fanfare the musician received upon entering the arena.
Why did 50 Cent hang upside, while all of his fellow performers remained upright during their performances? Read on to find out the special meaning behind his upside-down performance at the 2022 Super Bowl halftime show.
50 Cent's Super Bowl halftime performance was paying tribute to the In Da Club music video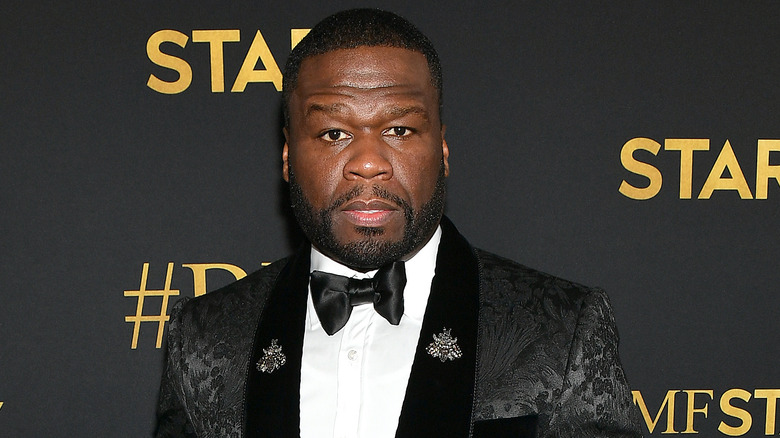 Paras Griffin/Getty Images
There is a reason why 50 Cent appeared upside down in his 2022 Super Bowl halftime performance of "In Da Club" — and it's purely based on nostalgia. As AV Club reported, 50 Cent appeared upside down in his halftime performance to pay tribute to his 2003 music video for "In Da Club," which featured the rapper hanging upside down from a room that looked very similar to the set he appeared in during his Super Bowl performance.
After performing at the Super Bowl, 50 Cent took to Instagram to share his thoughts about appearing upside down. "[Waiting] for @snoopdogg and Dre like ok who's idea was it for me to be upside down again?" 50 Cent said in an Instagram post alongside the popular meme picturing a man with veins protruding from his forehead, which had been flipped upside down.
Fans also took to social media to make playful jokes about 50 Cent's upside-down performance. "The first words out of my mouth when I saw 50 Cent hanging upside down were: 'I'll pay you $1,000 if he can do the crunch back up'" one user said, referencing the upside-down crunches that 50 Cent did during his original music video, per LAD Bible. Another person marveled at how the 46-year-old managed to complete that performance stunt at his age. "50 cent upside down at his ages [sic] killed me," the user said, per LAD Bible.