Even Megan Fox Got In On This Vibrant Eyeshadow Trend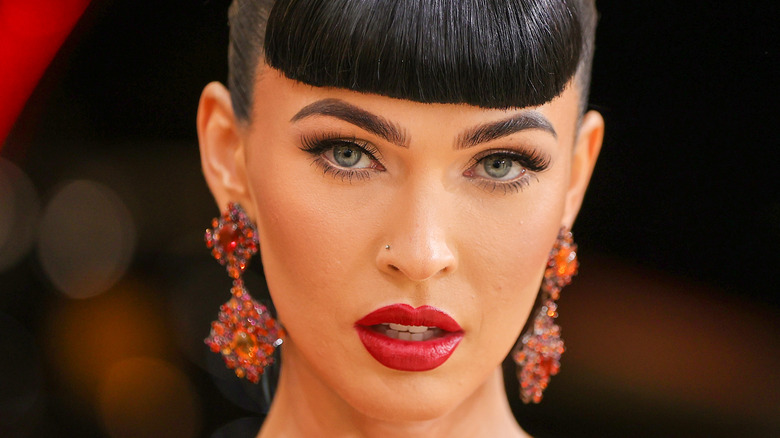 Theo Wargo/Getty Images
While some celebrities are experts at nailing trends, others are out there making them. And few people know how to create a trend quite like Megan Fox. Whether she's rocking literal see-through dresses or drinking her partner's blood, Fox definitely knows how to make a statement. It turns out that she's an expert at nailing beauty trends, too. In January 2022, the "Jennifer's Body" actress shared a neon eyeshadow look to her Instagram, and fans might be surprised at how easy it is to recreate. 
Unsurprisingly, neon makeup is an intimidating beauty trend, as it takes a delicate balance of placement and a light hand with the makeup brush to really nail the vibe. But Fox's latest look will prove that it's possible to do dainty neon makeup. Somehow, the star found a way to marry neturals with neons in a way we never thought was possible. Keep scrolling for all the details on her gorgeous neon neutral eyeshadow look — because it's too good (and too easy) not to recreate.
Megan Fox is experimenting with neon makeup
If you thought that wearing neon makeup had to be loud, think again. Early in 2022, Megan Fox wowed with a stunning neon orange eyeshadow that looks just as subtle as it does bold. In true Fox style, it's confusing and gorgeous ... all at the same time. While the actor is the queen of stepping out and stunning on the red carpet, she does the same thing on social media. The 35-year-old toned down the glam factor of her neon orange eyeshadow by posting a selfie in front of a clothing rack. Instead of smearing bright color all over her eyelid, she positioned it on the upper corner of the inside of her eye. The rest of her beauty look was created using neutral shades. The whole thing looks dainty and light, while still making a major statement. 
If you're wondering where Fox got her inspiration from, you're not alone — but, according to her makeup artist Jenna Kristina, the inspiration is right there in the photo with her. Fox's bright orange nails were the creative impetus that spurred her to use the same eyeshadow color. It's the  perfect way to make a statement without being too bold.
Get Megan Fox's look with the eyeshadow palette from ColourPop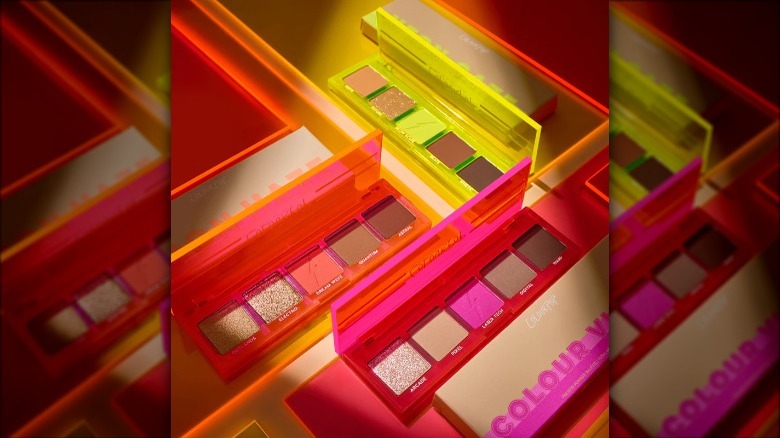 Just because Megan Fox's neon makeup look was created by a makeup artist doesn't mean that you can't easily get the look right at home. Simply create a neutral eyeshadow base, and then add a little flick of neon orange to the inside of the eye. It might take some practice, but it's a look that even a makeup newbie could nail.
And in more good news, cosmetics brand ColourPop offers the perfect eyeshadow palette to recreate this exact look. The brand's Neutrals + Neons Palette Set has three different sets, each one featuring a neon color. Not only could you emulate Fox's makeup look with the neon orange palette, but you could add your own spin by trying it with a neon yellow or pink color as well. For $30, you really can't beat getting 15 different shades, especially when the majority of them are colors that you can wear while running errands or going to work. If you've been looking for a sign that it's time to experiment with neon makeup, then this is it!