The Most Expensive Items You Can Get At Banana Republic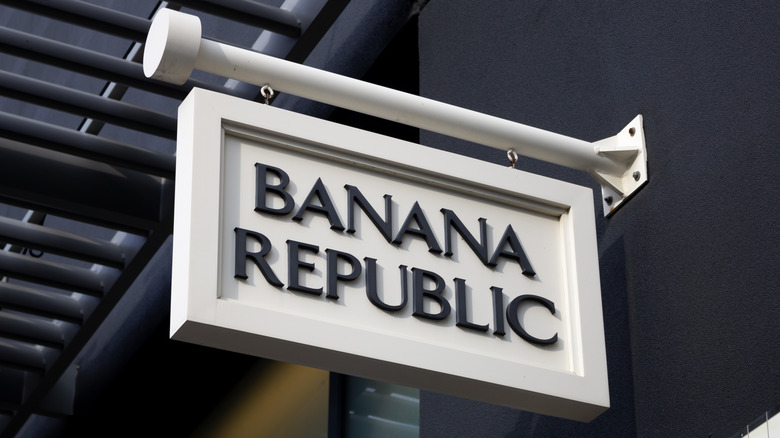 TonelsonProductions/Shutterstock
Fashion retailer Banana Republic offers an extensive line of affordable luxury items, such as designer clothing. The brand's clothing designers put a fresh edge on timeless looks. In fact, the popular clothing brand — which is part of the Gap family of brands — is often a go-to for everything from workwear to upscale items, all of which are available at various price points (via Who What Wear). Additionally, Banana Republic is often celebrated for its stock of elevated wardrobe basics — such as classic-cut knitwear, fashionable pumps, and trench coats (via Buzzfeed).
Over the years, however, the brand has undoubtedly dabbled in dramatic statement pieces as well. Notably, in 2019, they reissued the "Notorious Necklace," their RGB-inspired collar necklace. The bejeweled accessory, which previously sold out in just one day, is available for purchase for a cool $98 (per USA Today).
More recently, the brand unveiled its Heritage Collection, a luxurious nod to its roots in safari-adventure aesthetics. So, it begs the question, within the extensive line of affordable refinement, what are the most expensive items you can get at Banana Republic?
Adventure is the theme for the priciest items at Banana Republic
On the hunt for fresh fashion, Gap bought a two-store safari-inspired brand called Banana Republic in 1983 (via Gap). Since then, Banana Republic has expanded into a low-end luxe fashion staple. However, there are some splurge-worthy pieces offered as well. 
The Shearling Aviator Jacket is one of the most expensive items available with a $998 price tag that soars well above the brand's usual $200-and-under comfort zone. Aside from outerwear, another wish-list gem nods to the brand's adventurous roots. The Suede Trench Dress boasts low-key safari-inspired details, but it'll also set you back a cool $900. Considering the material, enduring style, and ethereal blue color, though, we're filing this one under "100% worth it." 
In the same vein, the Heritage High-Rise Bootcut Suede Pant is serving up a wink of safari-sass. Overall, the $800 slim-fit pant is easily one of the most versatile in the lineup with its neutral color and day-to-night opulent suede. 
Take to the streets in the brand's most expensive look
In addition to Banana Republic's more traditional pieces, the brand takes its modern edge up about 10,000 notches with its most covetable offering — the Leather Jumpsuit. This statement piece is a far cry from the brand's much-loved workwear, unless, perhaps, you work as a professional stuntwoman. The good news is, its design is geared toward frequent wear, so the leather gets softer each time you step out in this incredible ensemble.
In order to achieve that well-worn, butter-soft leather moment, well, you need to understand the assignment. Sure, the leather jumpsuit is a go-to mood for a day on your vintage motorcycle, but don't forget that this fierceness is perfect for evening wear, too. Just look to actress Halle Berry for styling inspiration (via InStyle).
At the same time, though, it's important to consider the cost. This unforgettable look is Banana Republic's most expensive design, tagging in at $1,200.