Former Olympians Lash Out About The Russian Doping Scandal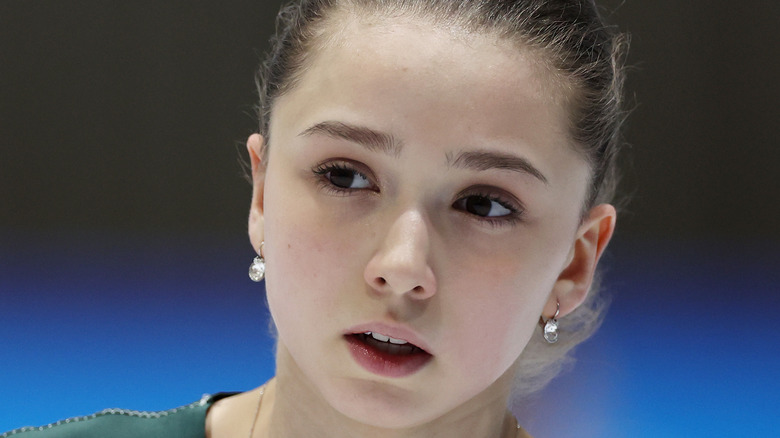 Matthew Stockman/Getty Images
Kamila Valieva, a 15-year-old Russian ice skater, came into the 2022 Olympic Games as a gold medal favorite. In her free skate for the figure skating team event, she became the first woman to ever land two quad jumps (via USA Today). NBC Olympic commentators and former U.S. ice skaters Tara Lipinski, who won gold at the 1998 Olympics, and Johnny Weir, who skated in the 2006 and 2010 Olympics, were both in awe of her performance. Weir said, "If that performance didn't inspire the whole world to take up ice skating, I don't know what would." And Lipinski explained why Valieva was so good: "She is a triple threat  – Technician, artist and she is so mentally tough."
But that was then, and a lot can change within a week. On February 7, the same day that Valieva landed the two quad jumps that helped the Russian Olympic Committee (ROC) earn gold for the figure skating team event, it was discovered that she had tested positive for a banned substance on December 25, 2021 (per CNN). However, after deliberation by the independent body Court of Arbitration for Sport (CAS), they determined Valieva could still compete in the individual women's events (via CNN). The International Olympic Committee (IOC) confirmed in a statement that the situation is still ongoing and that while Valieva will be allowed to compete, if she is a top three finisher, no medal ceremony will take place.
The controversy has some former Olympians fuming that she's allowed to skate at all.
Olympic commentators Tara Lipinski and Johnny Weir think the Olympics should be clean
Before the women's short program after the doping scandal broke, Tara Lipinski and Johnny Weir were interviewed by NBC Sports and Lipinski siad "We have to remind ourselves that she is just 15 years old, a minor. And I know more than anyone what it's like to compete at an Olympic Games at 15 years old. ... Clean sport is the only thing that matters at an Olympic games."
Weir came in strong as well, saying, "I have to condemn this decision with every ounce of my soul. ... If you won't play fair, then you can't play. This is a slap in the face to the Olympic Games."
Then, contrary to their usual lively commentary, Tara Lipinski and Tommy Weir watched Kamila Valieva's performance in the individual short program event with little commentary, and they made it clear they were disappointed. They noted the names of the jumps as she made them, but that was all. And at the end, Weir said simply, "All I feel like I can say is that was the short program of Kamila Valieva at the Olympics" (per NBC Chicago). Weir later posted on Twitter saying that the event was the "hardest thing I've ever had to cover."
Another former U.S. skater seemed in agreement with Lipinski and Weir. Adam Rippon, who won bronze at the 2018 Olympics and is the coach of U.S. ice skater Mariah Bell, took to Twitter to unleash his thoughts on the unfairness of the Valieva scandal.
Other Olympians feel adults and the ROC have failed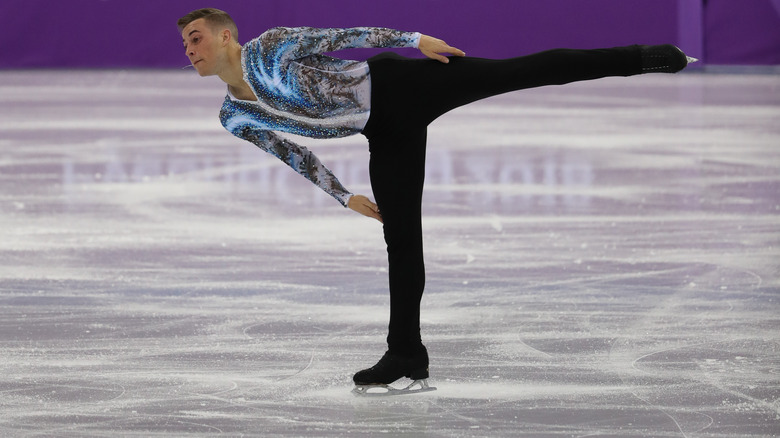 Leonard Zhukovsky/Shutterstock
Adam Rippon penned a series of angry tweets about the Kamila Valieva doping scandal. "I am so angry," read one of the tweets. "The ladies event tomorrow is a complete joke. It's not a real competition and it most likely won't even have a medal ceremony. So many Olympic experiences stolen from clean athletes who got here without the help of performance enhancing drugs. What a shame."
Rippon also lashed out at the ROC, tweeting, "The ROC has miserably failed its athletes and embarrassed themselves on the world stage YET AGAIN. My heart breaks for the Russian athletes competing in Beijing who will have everything they do at this Olympics questioned."
With a different take on the situation, German figure skater Katarina Witt, who won Olympic gold in 1984 and 1988, posted a long message on Facebook on the situation. She wrote, in part, "This scandal is a dramatic cut to her young and promising career and I sincerely hope that enough people are by her side and protect her so that she doesn't break into it. As an athlete, you follow the advice of your trustees and in this case, always the coaching and medical team first."
Witt believes that Valieva's artistry and the fact that she's learned to complete quad jumps wouldn't have been helped by doping. And instead of Valieva not being able to skate, Witt wrote, "If anything, the adults responsible should be locked up for sports forever!!!"