Kim Zolciak-Biermann Claps Back At Speculation About Her Daughters' Plastic Surgery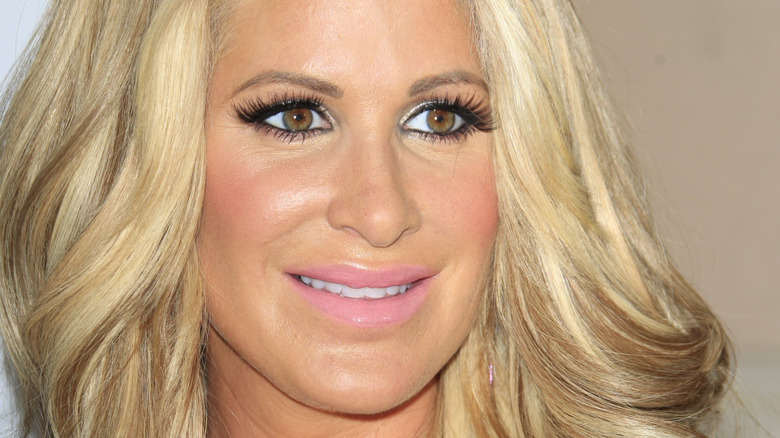 Phil Stafford/Shutterstock
Kim Zolciak-Biermann is open about having had plastic surgery herself. "I had a boob job and I've had a hernia fixed," she told E! News in 2016. She added, "I will always nip and tuck if I feel the need to do so." The reality star noted she has no reason to lie about what she's had done. So, when her daughters Brielle, who is 24, and Ariana, who is 20, were recently accused of getting plastic surgery, the mom stood up for them, denying that they went under the knife like she has (via People).
When she posted a photo of the girls on Super Bowl Sunday to her Instagram, many fans started commenting asking what procedures they'd had. "They look so different," said one fan. A lot of people noted Brielle and Ariana look beautiful, but that they were virtually unrecognizable, especially since the former reality stars now have dark hair. "So gorgeous but Brielle never needed work," commented someone else, while another commenter implored, "Omg!!Brielle leave your face alone, you are.looking old. STOPPPPP!!!"
That's when mama bear stepped in. "Wow I can't even post a picture of my beautiful baby girls @briellebiermann @arianabiermann without the nasty comments and assumptions!!" Zolciak-Biermann commented. But she had a lot more to say about the situation, and in her trademark direct manner.
Kim Zolciak-Biermann lets fans know what her girls have had done
Taking to Instagram, Zolciak-Biermann told fans, "Let's be clear here ... my daughters read your stupid a** comments and quite frankly I am appalled at the fact that some of you are flat out computer bullies that are bored to tears and have nothing better to do then to take time out of YOUR day to write something negative!" (via People).
The former "Real Housewives of Atlanta" star added that her girls, "have NEVER EVER had work done other than their lips! PERIOD!!!!!!" She then said, "Ariana has worked her a** off to get healthy and fit. The mom of six then reminded people, "Brielle is only a few months out of major jaw surgery (jaw broken in 5 places) and couldn't chew food for months ..... so clearly Brielle lost weight during the process!!!! Nobody had liposuction that's obsurd [sic]!!"
Finally, Zolciak-Biermann declared that her daughters "are even more beautiful on the inside!! TRUST THAT!"