The Viral Lipgloss That Refuses To Budge Or Smudge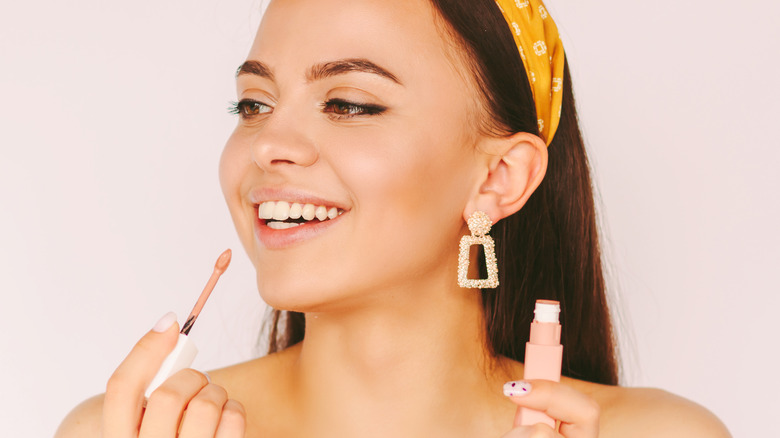 Anna Tryhub/Shutterstock
Lipstick trends fluctuate often and are difficult to keep up with, but at the end of the day, the lippy you choose is a personal decision based on what works best for you. Who could forget the deep era of matte liquid lipsticks? It's hard to imagine that anyone found those comfortable. The constant dryness with chunks cracking off, and that awful, dreaded inner ring of crustiness it would form — it was a dark time. However, it was a darkness we all put up with for the sake of wearing something so long-lasting. 
Sure, brands evolved over time and began to develop more wearable options, many of which were praised by Allure. Just as better options became available, though, the trend dice rolled again, and it was all about the gloss. From hydrating lip balms to plumping lip glosses, it was all shine, all the time. The juicier looking, the better.  
Harper's Bazaar may chalk it up to the return of yet another '90s trend, but really, everyone just realized how much fresher glossy lips looked compared to matte lips. Of course, this new movement came at a cost — longevity. Suddenly, you had to reapply lippy repeatedly, and you'd find yourself constantly leaving a trail of stickiness on everything your lips touched. Does it always have to be so messy and fade so quickly? NYX Professional Makeup thinks we can have it all.
NYX Shine Loud High Shine Lip Gloss offers transfer-proof shine
NYX Professional Makeup has been creating iconic, high quality makeup products at an affordable price point for years. Over time, they've developed some holy grail products that remain cult favorites for many. The NYX Soft Matte Lip Cream and Epic Liner are just a couple of the countless legendary products they've released (per Popsugar). So, when their latest NYX Shine Loud High Shine Lip Gloss went viral on TikTok, it's no surprise that it sold out instantly.
Makeup TikTok sees endless product recommendations come and go, but every now and then, there's one viral product that spreads all over the platform. These viral products manage to become so successful, they even make the news (via The New York Post). This particular $12 lip gloss is viral for a good reason. Finally, a brand has created a product to answer gloss-lovers' prayers. The Shine Loud High Shine Lip Gloss not only promises super wet glossiness, but it does so without compromising longevity. NYX claims the gloss is transfer-proof and smudge-proof, with a nonsticky high-shine finish that lasts up to 16 hours. The tube comes with two sides — one high-pigment base coat of color, and a clear ultra-gloss to seal it in for the day. 
As seen on BuzzFeed, countless TikTok reviews showed the Shine Loud High Shine Lip Gloss in action. TikTokers couldn't believe how long-lasting and transfer-proof the gloss actually was. Teen Vogue even reviewed it themselves and confirmed once this is on, it's not budging.