Love Is Blind's Kyle And Sal Discuss Important Emotions On Television - Exclusive
Netflix's popular dating series "Love Is Blind" is back for Season 2, and fans can't get enough of the newest group of contestants (via Digital Spy). After the first five episodes premiered on February 11, six couples had already become engaged, and a range of emotions were shared on screen. Two of the male cast members who are looking for love on Season 2 are Kyle and Sal, both of whom proposed following the initial pod process.
Sal proposed to Mallory, and Kyle proposed to Shaina, but both men were consequently swept into an intricate web of issues following their respective proposals. Sal's fiancée Mallory struggled to decipher her feelings between Sal and fellow contestant Jarrette. Kyle's fiancée Shaina faced a similar problem as she tried to determine how she felt about Kyle, as well as contestant Shayne.
As these events play out, both Kyle and Sal expressed their emotions to their partners, and to the wider audience at home, in very open and vulnerable ways. During an exclusive interview with The List, Kyle and Sal discussed the importance of expressing these emotions on television, and how they hope to set an example for other men through their actions.
Sal wanted to open the door for other men to be emotional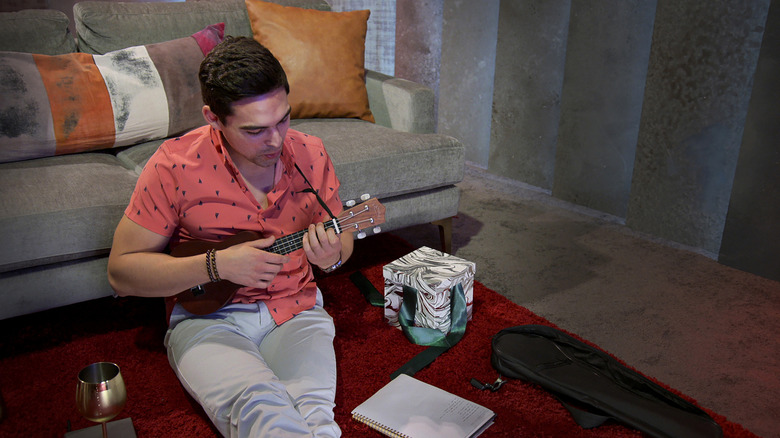 Netflix
Throughout the first five episodes of "Love Is Blind," 31-year-old Sal is taken on a complex journey as he falls in love with Mallory. There are moments where Sal is openly emotional, which is refreshing to see on a television show that pulls in such a strong viewership (via Parrot Analytics). When asked whether he had any concerns about how he would come across on the show once it aired, Sal said he was happy to have been given the chance to be so openly vulnerable.
"Now that I can say more about it, I'm like 'I cry a lot, guys.' But I like the idea of opening up that door for all men. I feel like it's really important to open up that door and encourage men to take off the armor. Really be vulnerable, be emotional. That's a sign of strength and that you are owning your emotions," Sal said.
He added, "I don't care if people take that and run with it and call me a sensitive or weak person or something. I don't care about that. I know that there are men out there that feel like they can't express themselves. And at least seeing my example in that way, I feel like that's working on something bigger and that we could all, all of us as men, could excel in that direction a little bit more."
Kyle agreed with Sal's sentiment, as he frequently expressed his emotions on-screen as well.
Kyle believes in the importance of expressing emotions honestly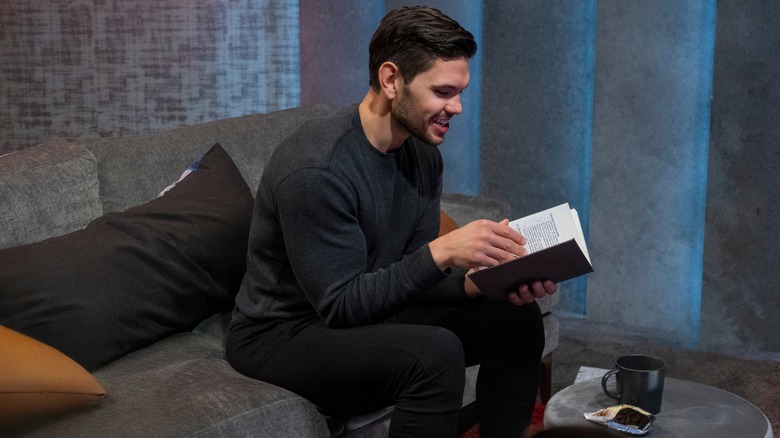 PATRICK WYMORE/NETFLIX
When discussing how important it is for men to be emotional on a television show like "Love Is Blind," Kyle echoed the sentiments expressed by fellow contestant Sal. "I cry all the time," Kyle said. "I don't care. I don't care, because they wish they could cry and be confident at the same time. They're jealous. If they're going to make fun of you, it's because they're jealous. That's the way I look at it."
As both men continue to work through their respective emotions and relationship issues, viewers can expect to see a continuation of their confidence and emotional intelligence. New episodes are slated to drop on February 18, and fans of the series are already clamoring to find out what will happen between Kyle and Shaina, and Mallory and Sal (per Cosmopolitan).
Love Is Blind Season 2 is now available to stream on Netflix.