How Tears Took Center Stage At The Olympic Figure Skating Finale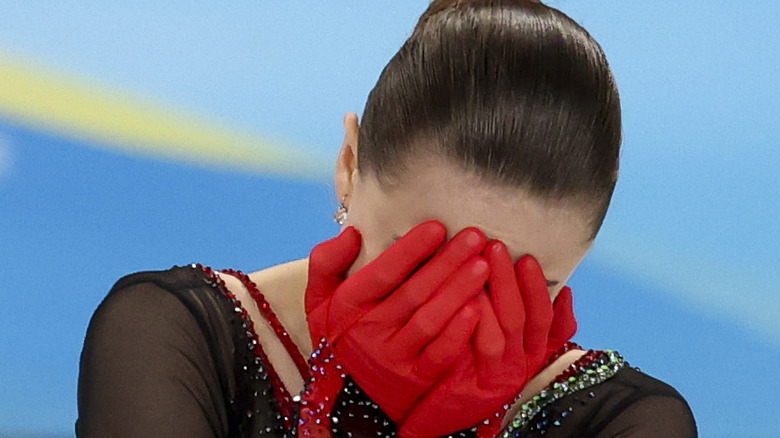 Jean Catuffe/Getty Images
The final women's figure skating event at the 2022 Winter Olympics in Beijing was always going to be a dramatic one with the shadow of doping hanging over the head of 15-year-old Russian phenom Kamila Valieva. A banned substance was found in a urine test Valieva took for a competition on December 25; however, Valieva was allowed to take the ice in the women's individual events, and after the short program, she was in first place. Her participation was controversial, and the International Olympic Committee released a statement confirming that if Valieva was one of the top three finishers, they wouldn't have a medal ceremony at the 2022.
It was something they didn't end up having to worry about. With performance marred by falls and slips, Valieva went from 1st place to 4th, according to CBS Sports. With the mistakes, her score was 141.93. Earlier in the games, for the figure skating team event, Valieva scored a 178.92 for her long program, coming in first and helping win gold for the Russian Olympic Committee. That result is in jeopardy until the final determination of what to do with Valieva's positive test, according to KCRA.
Once Valieva finished her skate, it was clear she knew she hadn't performed her best. As she skated off the ice to the "kiss and cry" section — where skaters wait to get their results — she started to cry, according to NPR.
Kamila Valieva was clearly under a lot of pressure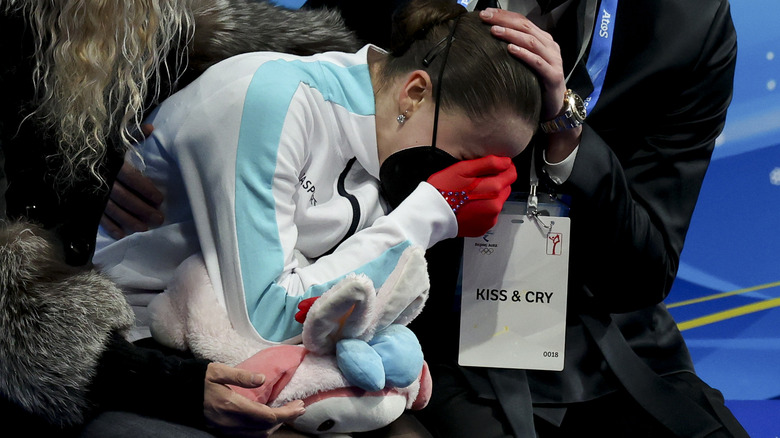 Jean Catuffe/Getty Images
Kamila Valieva's coach, Eteri Tutberidze, didn't seem to offer any condolences or words of support to the young athlete, who has been in the glare of the global spotlight for a week now. She was heard on live TV asking Valieva, in Russian, "Why did you stop fighting? Explain it to me, why? You let it go after that axel," according to NPR.
The International Olympic Committee President Thomas Bach said that he "was disturbed" seeing how Valieva's coach was treating her and that he could see the "immense, immense mental stress" Valieva was under, according to Reuters. A Kremlin spokesperson hit back at this during a press conference, saying "He doesn't like the harshness of our coaches but everybody knows that the harshness of a coach in high-level sport is key for their athletes to achieve victories," according to Reuters.
Valieva wasn't the only Russian figure skater to succumb to stress and tears with the women's final figure skate.
Silver medalist Alexandra Trusova was disappointed she didn't win gold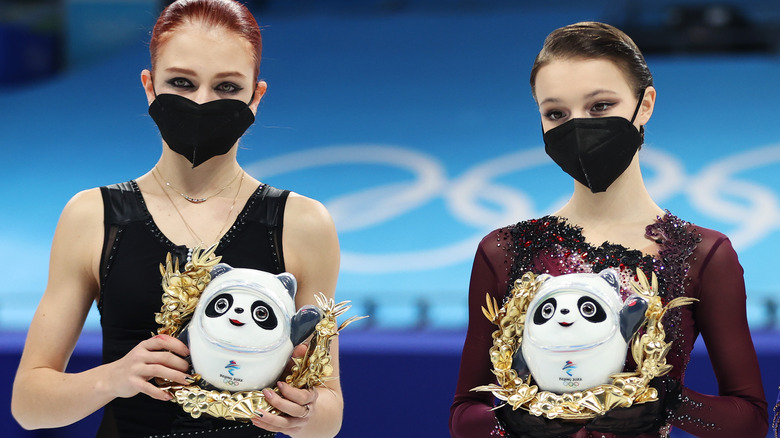 Catherine Ivill/Getty Images
 Anna Shcherbakova and Alexandra Trusova, Kamila Valieva's teammates, won the gold and silver, respectively, according to the Olympics. The 17-year-old Trusova attempted five quad jumps in her program, hitting three cleanly, according to The New York Times. This was the first Olympics that any woman had completed any quad jump, and it was Valieva that had done it just a week or so earlier. By comparison, according to The New York Times, Shcherbakova nailed two quad jumps but had a higher presentation/artistic score than Trusova. Trusova got the higher score of the two of them for the long program by a little over a point, but combined with the short program, where Shcherbakova was also ahead of Trusova by five points, Shcherbakova was the winner.
With the results, silver medal winner Trusova lost it. According to the Guardian, she was crying and said "Everyone has a gold medal, everyone, but not me. I hate skating. I hate it. I hate this sport. I will never go out on the ice again! Never! I hate! It's impossible, it's impossible! You cannot do it this way."
To the tears and the strain of Valieva and Trusova after the competition, commentator and former Olympian Tara Lipinski said on Twitter, "This is too much."