Matthew Stafford Breaks His Silence After Controversial Video Goes Viral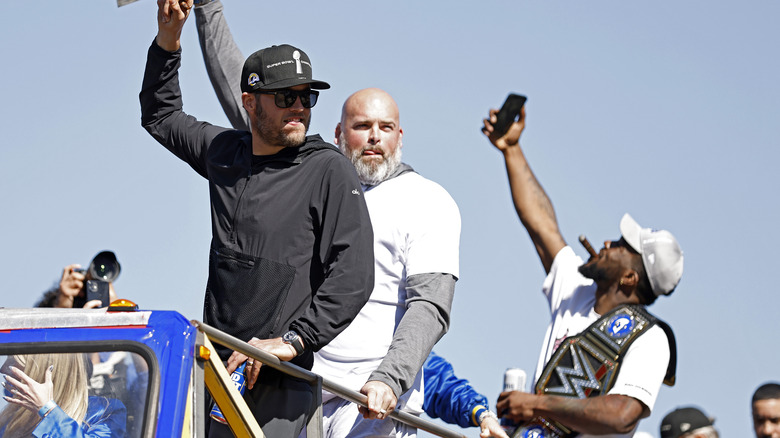 Michael Owens/Getty Images
The Los Angeles Rams' Super Bowl victory parade Wednesday has been overshadowed by a disturbing accident that took place involving a photographer. Chilling video of Kelly Smiley tumbling backwards off of a stage while attempting to take a picture of quarterback Matthew Stafford and his wife Kelly has gone viral online (via NBC4). Not only is watching her plunge off the platform upsetting, but so too is the seeming reaction of Stafford, who sees her take a tumble and then turns away as if nothing happened (via E! Online).
Smiley tweeted about the incident, writing, ""That's me. Waiting at the ER for X-ray results. Both my cameras broke but I'm ok." It was later revealed that she fractured her spine in the accident.
To be fair, while the QB's reaction is what people online were focused on, if you keep watching the video, you can see his wife try to get help for the fallen photographer right away (via Twitter). Now the famous football couple is speaking out to set the record straight on what happened that day and how they are helping Smiley recover from her injuries.
Matthew and Kelly Stafford share their plan to help Kelly Smiley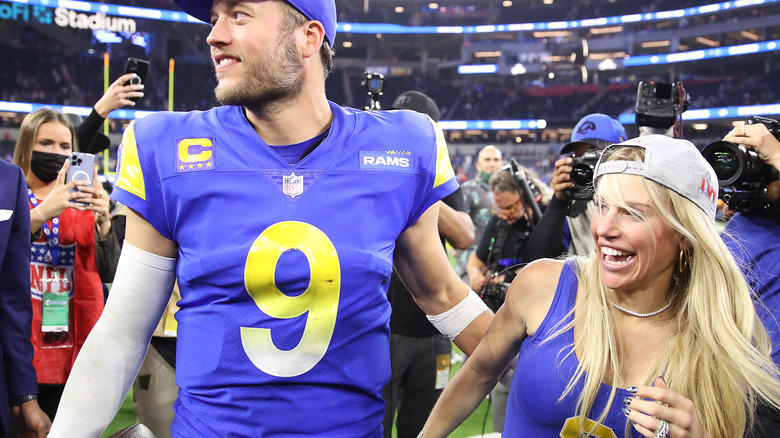 Christian Petersen/Getty Images
In a statement shared Thursday, the day after the unfortunate accident, the Staffords said, "We have been in communication with Kelly Smiley since yesterday's incident and we are sorry for what happened. As we told Kelly, we will be covering all her hospital bills and replacing her cameras. We wish her a speedy recovery" (via Us Weekly).
E! Online reports that a GoFundMe account has also been set up to help support the photographer. In part, the page notes, "Since Kelly is a working photographer, she needs this gear to help keep her working after fully recovering. Kelly is loved by all who know her and is a well-respected individual in the photography community."
Although Smiley initially shared details about her recovery on social media, at time of writing it seems that her Twitter and Instagram accounts were deleted. Meanwhile, Stafford's reaction continues to be debated online, with one person tweeting, "The Staffords should get no praise for being shamed into helping Kelly Smiley. Matthew watched her back off the stage, saw her fall, took a sip of his drink and walked away."