The Truth About What Happens If The Queen Is Incapacitated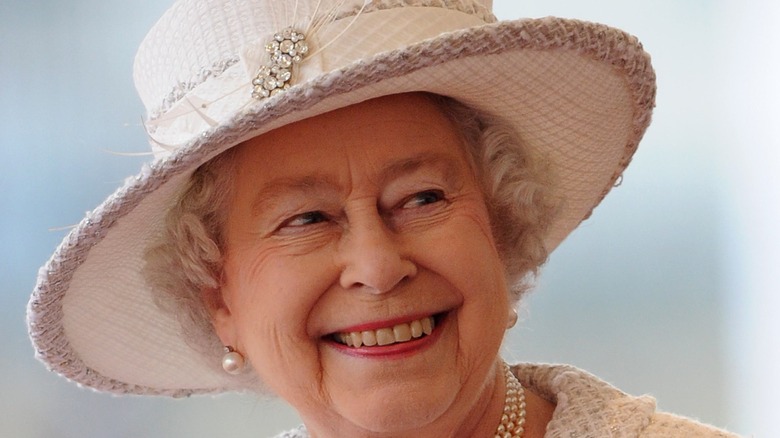 Wpa Pool/Getty Images
What should be a year of celebration for Queen Elizabeth is turning into anything but. For some time now, Queen Elizabeth's health has been cause for concern. Between hospital stays, using Prince Philip's cane to help her walk, and her comments the other day about not being able to move, this latest announcement has many worrying about what comes next.
"The queen has today tested positive for COVID," Buckingham Palace said in a statement. "Her Majesty is experiencing mild cold-like symptoms but expects to continue light duties at Windsor over the coming week," per The Independent.
The queen's COVID-19 diagnosis is a shock to many, and comes on the heels of other major royal news. Not only has Prince Andrew been in the spotlight again this week, but Prince Charles, too, as he deals with his second battle with COVID-19. Both Charles and the queen are fully vaccinated.
This also comes days after the queen announced she wished for Camilla, Duchess of Cornwall to be called Queen Consort when Charles ascends the throne — a decision that the British public has not responded to very lightly, as reported by Geo News. But with so much open planning for the future, worries about how much time the queen has left are growing. No one believes Queen Elizabeth will ever step down. However, they wouldn't be surprised if a regent had to step in and do her duties for her. What happens next is all down to how the queen's illness progresses (per Oh! My Mag).
What would cause the queen to be incapacitated?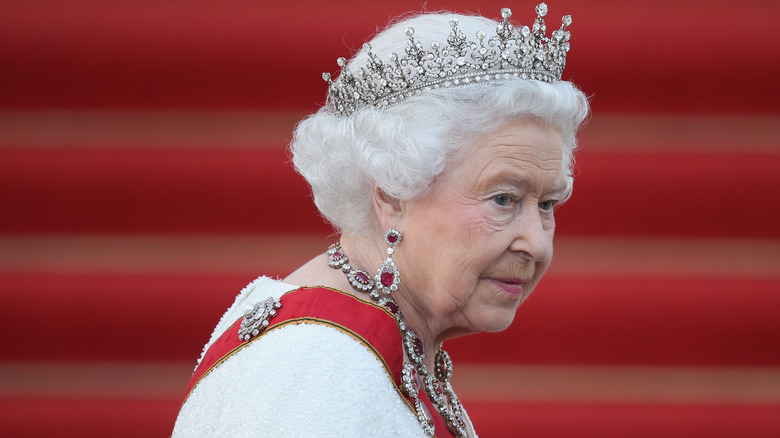 Sean Gallup/Getty Images
Queen Elizabeth II remains the longest monarch to reign in all of British history. With the queen recently celebrating her 70th anniversary of ascending to the throne, people have begun to question the likelihood that the country could find themselves in the position of her becoming incapacitated. At 95 years old, the queen's health has had a trying past year. In October 2021, her doctors advised her to rest and take a break from all official duties, according to the Evening Standard. Buckingham Palace shared a statement saying, "The doctors have advised that Her Majesty can continue to undertake light, desk-based duties during this time, including some virtual audiences, but not to undertake any official visits." 
While this break was brief, it made people realize there could be a much more prolonged rest sometime in the near future. With the queen now testing positive for COVID-19, concerns grow even further. But what exactly would it take for her to be considered entirely incapacitated?
Incapacitated isn't a term used lightly. In order for the queen to be deemed incapacitated, there must first be medical evidence. She must be judged "by reason of infirmity of mind or body incapable for the time being of performing the royal functions" by any three of a short list of high-ranking government officials, including the monarch's spouse, per Heraldica.
Which leaves the question, that if such drastic lengths were reached, who would take over in the queen's place? 
This is who takes over if the queen becomes incapacitated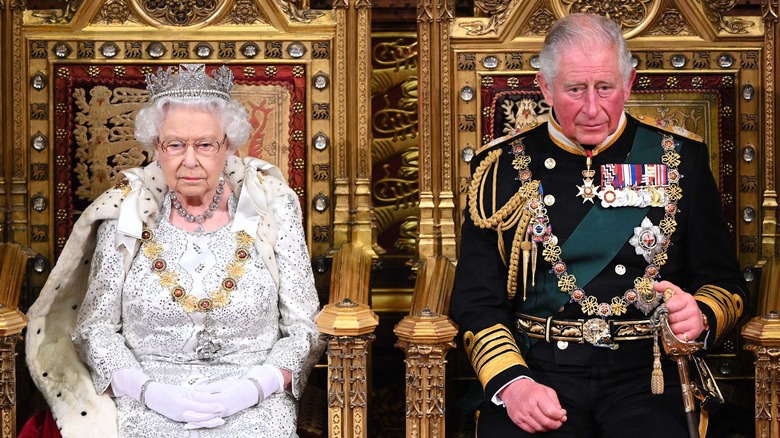 Wpa Pool/Getty Images
If the queen can no longer do her duties, either in the short or long-term, the Regency Acts of 1937 and 1953 would come into play, Express explains. In cases of short-term illness, the sovereign is able to appoint someone to carry out her duties until she recovers. However, if she's incapacitated, she's unable to ask someone to stand in for her. If this happens, the outlet explains that the job would fall to the person who is next in line to the throne — in this case, Prince Charles. This doesn't mean Prince Charles would ascend to the throne, though. Instead, he would be named his mother's regent and would perform the duties of the sovereign until the queen's health situation changes.
The queen's successor isn't the only element of her passing that the United Kingdom is prepared for. According to a plan shared by Politico, the queen's passing would be titled "D-Day," and there are preparations in place, "to manage unprecedented crowds and travel chaos that could see, in the words of one official memo, London become 'full' for the first time ever." 
As Queen Elizabeth's husband, Prince Philip was one of the people able to determine if the queen was incapacitated. However, since his death last year, the determination is now up to Lord Chancellor Dominic Raab, House of Commons Speaker Lindsay Hoyle, the Lord Chief Justice, or the Master of Rolls, per Oh! My Mag. For now, we wait and see what happens next.