Kim Kardashian Gives Fans An Inside Look Into Her Home Amid Her Split From Kanye West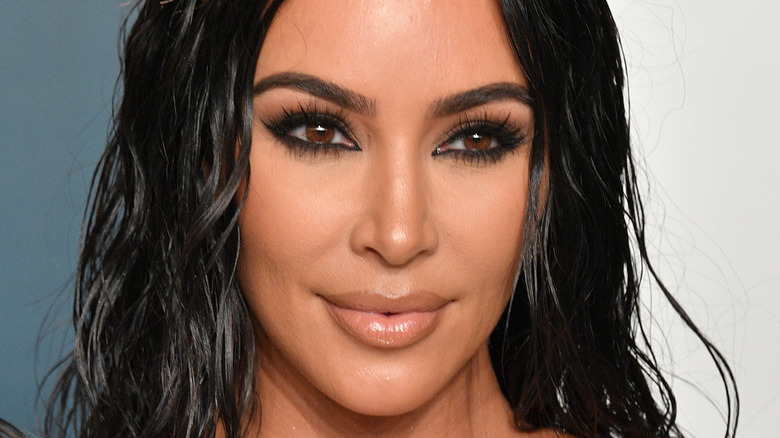 George Pimentel/Getty Images
Kim Kardashian and Kanye West's home first made headlines when its purchase price was revealed at $40 million. After extensive renovations, the Calabasas, California abode they shared with their four kids was rumored to be worth $60 million (via The Sun). Fans couldn't stop talking about the odd updates to the home, including the fact that the all-white, "minimal monastery" style of the decor seemed to not fit with family living (via Mamamia).
The last time we got a peek inside the museum-like dwelling was in 2019. Now, with Kardashian having split from West, who goes by Ye, we are getting another look at the mansion courtesy of a Vogue "Objects of Affection" video starring the reality mom (via Daily Mail).
The house is still very white, from the walls to the furniture. Kardashian is even wearing white in the video. But as she notes, "A few things have been updated." Could she cheekily be referring to the fact that she is no longer living with the rapper (via People)?
Kim Kardashian prefers calm over chaos in her home
"Everything in my house is really minimal," Kardashian confirms about the fact that the decor has not shifted too much now that West is not there. Explaining that the world is full of chaos, the SKIMS founder notes that she aims for her house to be calming.
But do her kids have a place to go to let loose somewhere in the huge home? Thankfully Kardashian confirms there is a playroom "filled with clutter." And the children's bedrooms also reflect their "full style and taste." "One is pink," the star reveals, adding another has a dinosaur theme.
Kardashian goes on to share North's artwork, explaining her oldest daughter loves to paint and is quite talented at it! She next reveals she likes to make "epic baby books" for her brood — in an all-white sitting room to her bedroom, naturally. In the sitting room Kardashian also showcases a childhood trunk full of cards and letters she received growing up.
Finally, Kardashian takes us to her backyard, which she describes as "the most amazing place for my kids to really hang out." Where do children of a near-billionaire "hang out?" On their own basketball court, of course! The star's all-black gym opens onto the court and Kardashian recounts loving a workout day with her sisters, with music blasting and the kids running around playing basketball.