The Meghan Markle Hallmark Movie That's Actually Worth Your Time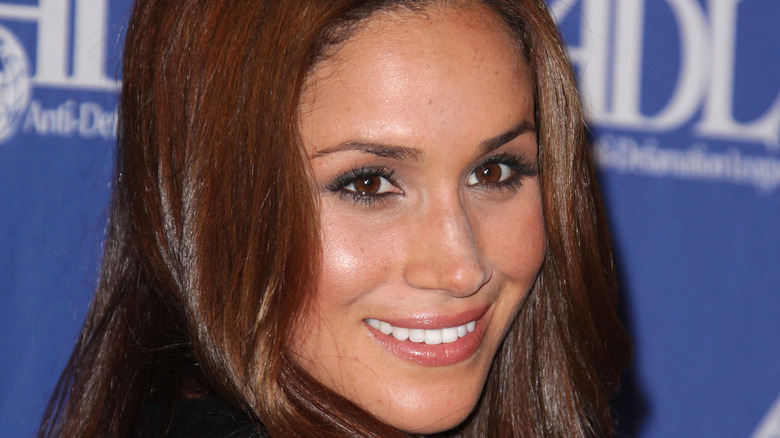 DFree/Shutterstock
Before Meghan Markle became a royal family phenomenon, she was an actress who, at times, even struggled to make ends meet as she was pursuing her dreams. (Royals — they're just like us?) Markle spoke about these early-career struggles during an interview on "The Ellen DeGeneres Show" in November 2021, sharing her experiences about driving onto the Warner Bros. lot for auditions, and how the security guards would always tell her to "break a leg," per People. The Duchess of Sussex also told DeGeneres and the audience about her quirky old Ford Explorer Sport and broken drivers' side door that forced her to enter her car by climbing through its trunk. "I would park in the back of the parking lot and open the trunk, then climb in and pull it shut behind me and crawl over all my seats to get out," Markle told the famed host.
As The Hollywood Reporter noted, Markle was only 11 years old when she landed her very first television appearance on Nickelodeon's "Nick News" in 1993, protesting a sexist Procter & Gamble commercial that suggested that women were the only ones responsible for doing dishes in the home. Over the years, Markle also appeared in small roles on television shows and movies like "General Hospital," "CSI," and "90210" before landing her biggest role on "Suits" in 2011, which she held for seven seasons until she left the show after getting engaged to Prince Harry, per Insider.
Meghan Markle appeared in two Hallmark movies
Before she charmed viewers as Rachel Zane on "Suits," Meghan Markle starred in two Hallmark movies. In 2016, Markle starred in "Dater's Handbook," in which she portrayed high-powered businesswoman Cassandra Brand, who always seems to pick the wrong men (enter: popular Hallmark trope). Eventually, Markle has the ultimate Hallmark meet-cute with her dream man at the kids' table at a wedding, and, well, as far as that movie goes, the rest is history (via Elle). Though Markle also appeared in "When Sparks Fly" on Hallmark in 2014, many have viewed "Dater's Handbook" as the best option for those wishing to get a first-hand look at Markle's acting chops.
In an interview with the Hallmark Channel after the release of "Dater's Handbook," Markle spoke about why she was drawn to the script, and how it inspired her to follow her heart in the future. "I think it's a really nice thing for all of us to kind of pay attention to when we're looking for love, but you have to follow your heart to find your true love," Markle told the Hallmark Channel. "At the end of the day, when it comes down to finding the person that you're right for, that's not the person you're going to play games with. ... So I think following her heart has really ended up proving to work out well for [Cassandra], and I think for a lot of women watching this that I would give them that same advice."
Markle's Hallmark Channel costars speak fondly of her
Similar to the way that she has charmed people all over the world as a member of the royal family, Meghan Markle has also charmed her former Hallmark Channel costars. Markle's "Dater's Handbook" costar Kristoffer Polaha revealed how he knew that Markle was going on to bigger and better things after her stint on the movie. "One of the things that she was really clear about was that she didn't want to be an actress forever," Polaha told My Devotional Thoughts. "She was already a part of the UN doing stuff for children, education, and women's rights in Africa ... So Hallmark opened up the door for me to have those remarkable interactions with this incredible woman who has now married into the royal family and will no doubt change the world for the better." Polaha also told International Business Times that Markle wrote letters and gave gifts to him, his wife, and his children while they were working together.
Tina Fiorda, who worked as a costumer on the set of Markle's other Hallmark Channel movie, "When Sparks Fly," also spoke to International Business Times of what it was like working with Markle. "She was just such a sweet person," Fiorda told International Business Times. "She was wonderful to work with. I had fun working with her and I had fun doing that project ... I couldn't say anything other than how wonderful she was, and how thrilled I am for her."