You've Probably Been Using Olaplex All Wrong
The haircare market is densely populated with an endless array of brands and unique products. While every week a new product launches and garners excitement, none have ever quite matched the phenomenon of Olaplex hair treatment. What began as an exclusively salon-used treatment has evolved into everyone's go-to shower routine.
Olaplex's unique edge is that it offers bond-repairing products that are meant to work miracles on colored, damaged, and heavily styled hair. The brand market its products effects as "restoring damaged and compromised hair by repairing from the inside out with our patented single ingredient, Bis-Aminopropyl Diglycol Dimaleate." It continues, "Once all the bonds are intact and in alignment, you have healthy, beautiful, shiny, touchable hair." And fans everywhere confirm that they get exactly that. The range began as a simple three step routine, but has now escalated into eight steps with a variety of products that are easily accessible. Sure, some consider them steeply priced for hair products, but the rave reviews speak for themselves. Rosie Huntington-Whitely shared a review of Olaplex on Rose Inc, saying, "Since using Olaplex over the last couple of years I've found that it really does hydrate my hair, strengthen it, and really repairs the ends and the brittle parts."
Olaplex has made its way into many people's haircare routines, and everyone's sure they've got it down to a science by now and could teach a course on how to use it. Well, think again: You may have been using it wrong all along.
Olaplex's No.3 isn't the third step after all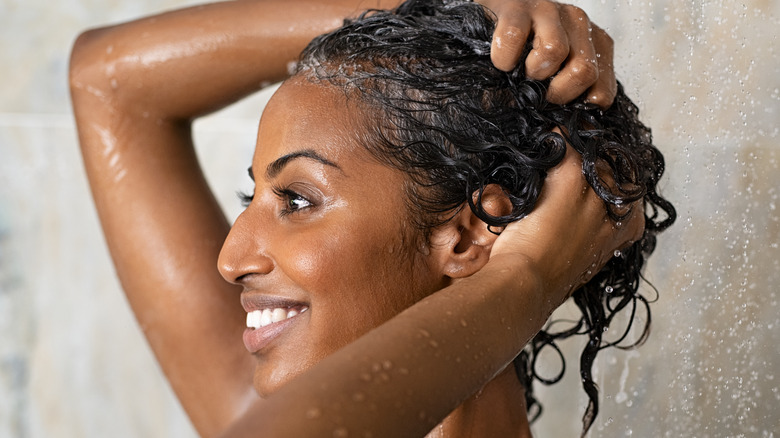 Rido/Shutterstock
Long gone are the days of a simple shampoo and conditioner haircare routine. No, now any true haircare lover knows it's all about the pre-wash treatment, post-shampoo hair mask, leave-in conditioner, serums, and heat protectants. That's not to mention the scalp scrubs and hot oil treatments. Needless to say, haircare has expanded. While most products seem pretty straightforward and easy to use, it turns out that it isn't quite as simple as just following directions.
"Before pre-treating your hair with anything, it's important to ensure the hair is free from intense product build-up," Lloyd Court, Seanhanna Salons' color director, told Cosmopolitan. "If there is too much dry shampoo, styling or care products, the cuticle can already be too filled for any treatments to penetrate the hair properly and will cause the treatment to not be as effective."
So, suddenly the internet realized that the famed Olaplex No.3 should probably be step number one after all. Olaplex has always recommended using the product as a pre-wash treatment, but TikToker @Abbeyyung also confirmed that, to get the most out of it, you should shampoo your hair before using it to ensure you're giving it a clean base on which to work its magic. Time for a routine switcheroo!