Fans React To Macaulay Culkin's Shocking Return To Our Screens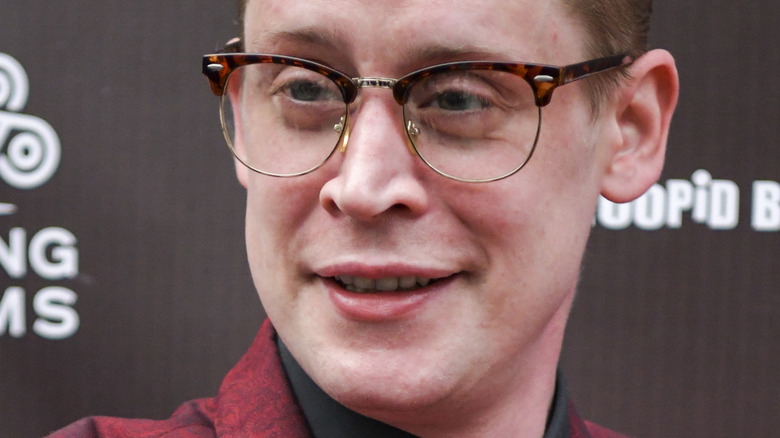 Rodin Eckenroth/Getty Images
If you were watching the most recent episode of "The Righteous Gemstones" on HBO Max, you were in for a huge shock. Macaulay Culkin made a completely unexpected cameo playing a grown up version of Harmon, the son of Baby Billy Freeman, portrayed by Walton Goggins. The appearance was brief, with Culkin only in one scene. 
Fans first see him open the door of his home when his dad, who abandoned him in a shopping mall pet store as a child, visits him after many years. The two men speak briefly inside Harmon's house, where Baby Billy profusely apologizes for what he did. Harmon is not buying it, and even claims he doesn't care about his dad. That's when Culkin's funniest moment on screen plays out, with Goggins asking if he can do anything to make things up to his son (via Yahoo!).
"Can I hit you with a closed fist as hard as I can one time, just right in the face," the "Home Alone" star's character asks. The actor then does just that. And we don't see him again.
Although Culkin's turn on the show, which also stars Jennifer Nettles, was short, Twitter was buzzing about his return to our screens for the first time since his 2021 stint on "American Horror Story" (via IMDb).
Twitter worships Macaulay Culkin's cameo on The Righteous Gemstones
Twitter was enthralled with Culkin's surprise TV appearance, with many people expressing disbelief and questioning whether the adult Harmon was really him. For those Twitter users who got over their shock and correctly identified the actor, they had a lot of thoughts about the cameo, with one person tweeting, "I still can't get over the fact Macaulay Culkin looks both 10 and 40 at the same time."
"Macaulay Culkin was so SO good in his five minutes as Harmon. The emotion he gave...I sincerely hope we can get him back in season 3," opined another viewer. "I've been waiting for grown up Harmon all year. I was hoping for some kind of Giant ugly fella (or Gronk) and it's Macaulay Culkin and it's so much better than anything I imagined," tweeted another thrilled fan. "Update: Macaulay Culkin on Righteous Gemstones may get me through the rest of winter," someone else tweeted.
Indeed, it seems the child actor hit it out of the park with his cameo. As one Twitter user put it, "Everyone talking about Euphoria when they should be talking about Macaulay Culkin popping up out of nowhere in Righteous Gemstones."