Here's The Lip Color That Anne Hathaway Wore As Andie In The Devil Wears Prada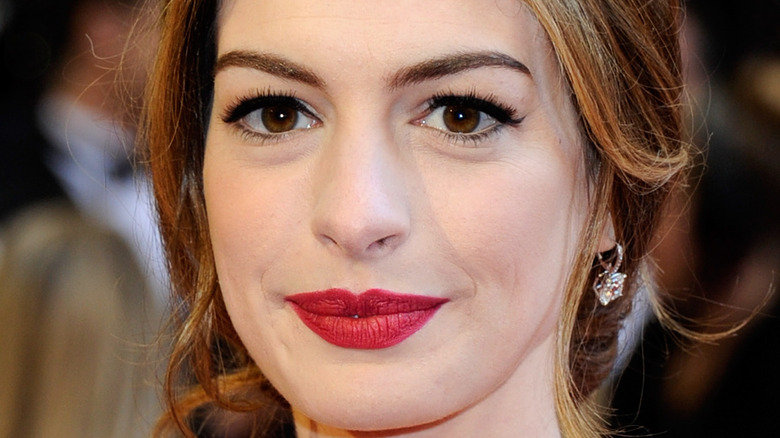 Ethan Miller/Getty Images
Behind every fabulous celebrity lipstick shade is a makeup artist who picked it out for a particular reason. When it comes to on-screen shades, that likely means versatile colors that look great on tons of different skin tones. That's no exception when it comes to the shade that Anne Hathaway wears in "The Devil Wears Prada." If you're looking for the perfect shade of red, you can stop your hunt. Because this versatile red is perfect, no matter who you are.
There are red lipsticks and then there are the red lipsticks. The one that Hathaway wears in "The Devil Wears Prada" is the perfect mix of wearable and bold. You can easily throw it on for a fun date night look or swipe it on for work. Don't just take our word for it though. Once you hear about the backstory and the creation of this shade, you're going to want to add it to your makeup bag ASAP.
In fact, it might actually be in your makeup bag right now. Believe it or not, the "The Devil Wears Prada" lipstick shade is a household name. You might even recognize it from other movies. Here's everything you need to know about the shade, because it's a great one. 
Anne Hathaway wears a MAC favorite in The Devil Wears Prada
Drop everything and head to your nearest MAC Cosmetics store. The search is over for the perfect red lipstick, my friend. TikTok creator Brittany Cale has come in clutch, finding the exact shade that Anne Hathaway wears in "The Devil Wears Prada" — MAC Cosmetic's Russian Red. The makeup enthusiast explains that this shade isn't just great on-screen. It's one of the most used and popular shades of red out there. 
"Russian Red is an icon," Cale says in the video. "Not only did you see this on people like Madonna and Selena in the '90s, but you've also seen it on Harley Quinn in 'Birds of Prey' and on Angelina Jolie in 'Maleficent.'"
What makes it so great, you ask? Well, according to the brand, it's pretty darn versatile. Not only does it look great on tons of different skin tones, but you can also build up the perfect vibrancy. "MAC Russian Red is iconic, versatile and very adaptable," Jane McKay, Senior National Artist at MAC, told 29 Secrets. "The nice thing about a matte lipstick is that you can go bold with a lip liner, or you can go muted with your fingertip, or you can sheer it down completely, like a stain. Russian Red is great with all skin tones: fair, medium, dark. Universally it's a great colour."
The Devil Wears Prada MAC Lipstick is a cult classic
Not only does TikTok creator Brittany Cale find the shade that Anne Hathaway wears, but she actually gives a full breakdown of the Russian Red shade. It turns out that this rich lipstick has an equally rich history, and the shade was created specifically for Madonna's Blonde Ambition Tour, according to the TikTok video. Basically, it's iconic, vintage, and likely the perfect red shade that you've been looking for.
The brand apparently realized how great it was, because you can still buy it today. The "intense bluish red" shade is available on the official MAC website right now for a cool $19. That's a small price to pay for being able to hold a part of history in your makeup bag.
Whether you've been hunting for the perfect red or just looking to try out a classic, you really can't go wrong with this shade of lipstick. After all, everyone needs a good red lippie on hand at all times.