Nina Dobrev's Everyday Simple Makeup Routine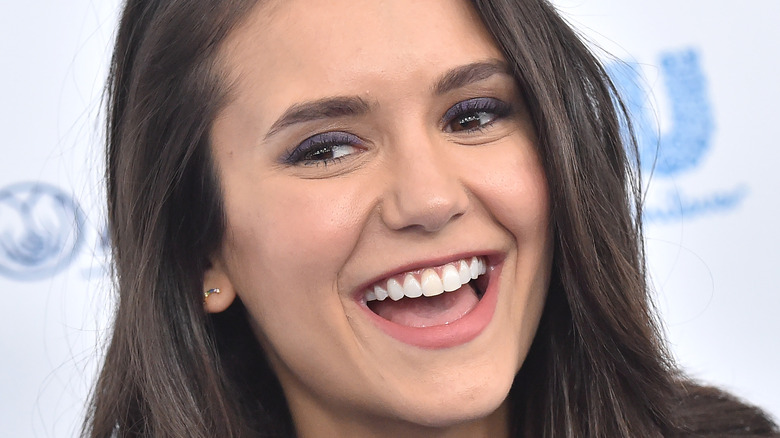 DFree/Shutterstock
There has always been an innate fascination with the beauty routines of celebrities. They're people, just like us, but somehow the glitz and glamor of their luxurious lives add an extra flair to them that people will always admire. This couldn't be truer than in the case of their beauty and style. Let's not even begin to attempt to live up to celebrity fashion. They have elite designers dressing them, and a bank account with about 10 extra 0s. But their beauty, on the other hand...
For decades now, every time a Hollywood star hits the red carpet one of the first fans things notice is their stunning makeup. Luckily, we now live in an era of makeup routines and Vogue Beauty Secrets videos where we get a front-row seat to celebrity beauty routines step by step. 
At 33 years old, Nina Dobrev looks fresher than ever. It's crazy to think that it's been over a decade since her big debut role as Elena Gilbert in "The Vampire Diaries." From her simple and understated makeup in 2009 to her current fresh and glowy go-to look, Dobrev has always rocked the fresh-faced look. 
Thankfully, Dobrev has never been shy to share her beauty secrets. Speaking to Women's Health, she once dished a little about some of her staple products like Tatcha's Luminous Dewy Skin Mist. She has also officially let fans in on every detail behind her daily 10-minute makeup routine.
Nina Dobrev's secret to glowy skin and bushy brows
Nina Dobrev created a video with Allure to give fans the scoop on her 10-minute makeup routine. Dobrev kicks off the video with the secret to her glowy skin — her skincare. "I love a good serum," Dobrev exclaims as she proceeds to rub in some of Dr. Barbara Sturm's Hyaluronic Acid Serum before topping off with Vintner's Daughter Active Botanical Serum. 
Next, Dobrev wraps up the skincare portion with a layer of Laneige's Sleeping Lip Mask which she claims, "Honestly I wear it all day, every day. Especially on planes because it's so drying when you're on a flight, and this is so yummy and it smells so good." Lastly, sunscreen is imperative and Dobrev explains, "It's important to wear sunscreen to protect yourself from potentially getting skin cancer. It's sort of like a primer as well for your makeup so your makeup stays on better."
When it comes to her base, Dobrev turns to her trusty Dior Forever concealer and glowy foundation. After a brush of blush and highlighter, she moves on to the star of the show — her thick, luscious brows. She perfects her brows by filling them in with a brow pencil, and then sets them in place for the day with Benefit Cosmetic's 24-Hour Brow Setter Clear Brow Gel. 
Lastly, a quick "kissable lips" look is created and a brush of mascara added, then the natural glowy full-browed look is all sealed in with Urban Decay's All-Nighter Setting Spray which Dobrev claims makes sure, "Your makeup doesn't move for 24 hours — for better or for worse."