Are Shailene Woodley And Aaron Rodgers Back Together?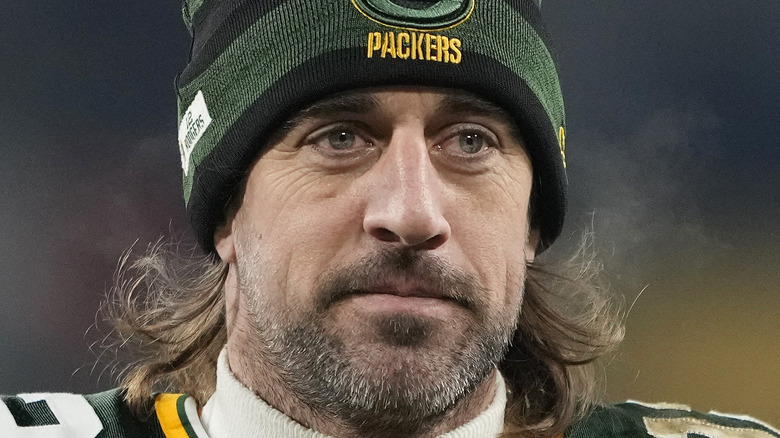 Patrick Mcdermott/Getty Images
Since sparking rumors of their romance in July 2020, Shailene Woodley and Aaron Rodgers' relationship has dominated headlines. These dating rumors were finally confirmed only a few days before Rodgers broke the news that he was engaged during the NFL Honors awards in February 2021, per Us Weekly. Then, later that month, Woodley showed off her engagement ring and spoke about her relationship with Rodgers — revealing that they met during the height of the coronavirus — during an appearance on "The Tonight Show Starring Jimmy Fallon." Woodley also joked about how she never imagined that she would be with someone who "threw balls for a living." 
One year later, in February 2022, multiple publications and sources close to the couple confirmed that they had split. "It was an amicable split; it just wasn't working," a source close to the couple told People. "They're very different people with busy careers and there were obstacles that they couldn't surmount. They will remain friendly; there's no bad blood and no drama. It just didn't work out for them." However, shortly after the news broke, Rodgers took to Instagram and thanked Woodley for her "unconditional love" and "incredible kindness" — naturally, it raised some questions as to whether they had really called it quits or not. Since making that post, the pair have sparked even more rumors about the state of their relationship.
Rodgers and Woodley have been spotted together in Los Angeles since their breakup
In late February, a fan tweeted a photo of Shailene Woodley and Aaron Rodgers getting breakfast together in Los Angeles. "They came to the cafe for breakfast and just sat outside at a table together," a source told E! News. On February 25, Us Weekly published a report in which a source close to the couple revealed that, though they had initially broken up, Rodgers and Woodley were now trying to make their relationship work. "Shailene and Aaron broke up after the two spent a lot of time apart and couldn't make it work," the source said. "Aaron had told Shailene he'll put more effort into the relationship and making her a priority. The two have been spending more time together recently and will see what the future holds."
In a separate Us Weekly report, a source told the publication that the pair began to see their major differences later on in their relationship. These differences in career aspirations and politics at least contributed to their breakup, the source alleged. However, since their breakup, the source revealed that Rodgers has promised to make his relationship with Woodley a priority, instead of making work his priority, which had been a major sore spot for the couple in the past. "He was focusing more on the sport than on future plans with Shailene," the source told Us Weekly.