Aaron Rodgers Shares Rare Insight Into His Relationship With Shailene Woodley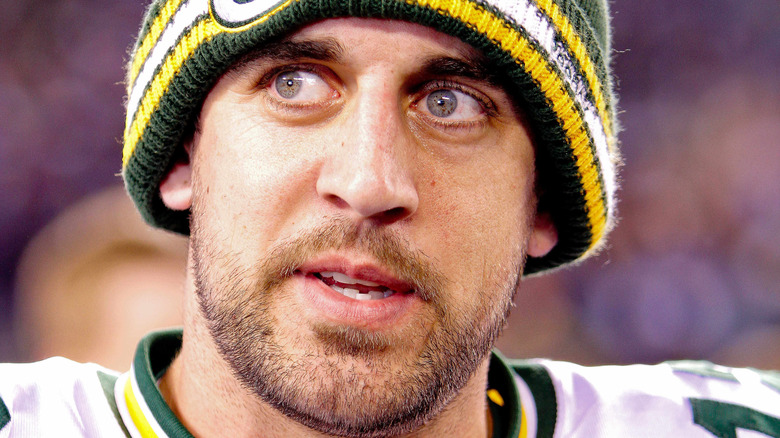 Debby Wong/Shutterstock
Green Bay Packer quarterback Aaron Rodgers and actress Shailene Woodley have not said much about one another publicly since they began dating in 2020. The football player shared the news that the two were engaged in a blink-and-you'll-miss-it statement in 2021 (via Us Weekly). Then, the "Big Little Lies" star confirmed the betrothal on an appearance on "The Tonight Show," telling Jimmy Fallon, "I never thought I'd be engaged [to] somebody who threw balls for a living."
But now, Rodgers and Woodley have broken things off according to reports. Although at one point, Woodley called the QB "an incredible human being," apparently she is done with the relationship. Is Rodgers? Maybe not if you consider that the star player has recently proclaimed his love for his ex on social media (via Page Six).
"Here's some... #MondayNightGratitude for some of the incredibly special people in my life, with some pictures from the last beautiful year," Rodgers captioned a series of images on his Instagram, including one of him and Woodley. Although he went on to express his thanks to his teammates, it was what he wrote to the actress that has everyone talking.
Aaron Rodgers professes his love for Shailene Woodley
In the wide-ranging Instagram post Rodger shared, he specifically called out Woodley and shared rare insight into their relationship with fans. "@shailenewoodley, thanks for letting me chase after you the first couple months after we met, and finally letting me catch up to you and be a part of your life," the iconic Green Bay Packers player wrote.
"Thanks for always having my back," he went on to declare to his reported ex, adding he was also thankful to the star "for the incredible kindness you show me and everyone you meet, and for showing me what unconditional love looks like."
Rodgers finished his message for Woodley by saying, "I love you and am grateful for you."
So does this mean the couple is getting back together? Only time will tell but after this sweet and very public message for Woodley, can you blame us if we hope the answer is "yes?"