Things Just Got Physical In Melissa Gorga And Jennifer Aydin's Feud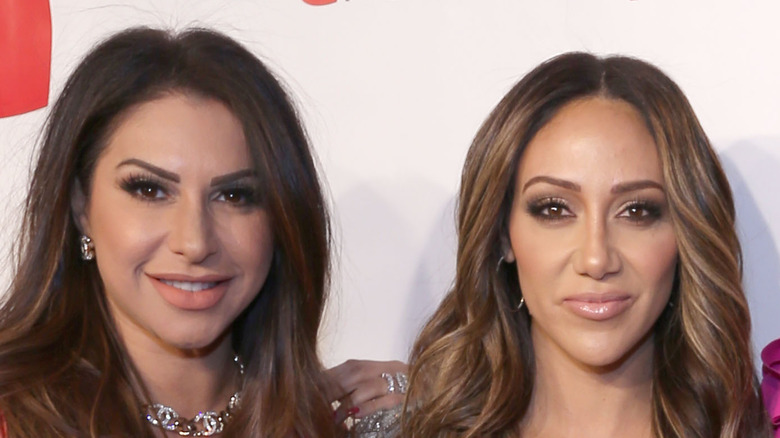 Manny Carabel/Getty Images
To be a Real Housewife is to constantly clash with your castmates — even though you're supposed to be friends. And, on "The Real Housewives of New Jersey," the drama often escalates to intense new levels because many of the ladies are actually family. 
"RHONJ" secured its icon status with the infamous Teresa Giudice table-flip, according to TV Insider. Home to some of the most infamous clashes (that tend to involve objects getting flung across the room), "RHONJ" is a fan favorite for its bold and blunt stars and their willingness to really go there. 
When Melissa Gorga first entered the show, it was hard to imagine she'd have any bigger beef than that with her sister-in-law Teresa. However, during Season 9 of "RHONJ," Melissa seemed to find a new worthy opponent.
Jennifer Aydin joined "RHONJ" that season and slowly but surely began to butt heads with Melissa. Tensions began to boil during the cast trip to Mexico but reached a boiling point during a clash at the Hamptons, which ended with Jennifer throwing glassware at Melissa, according to Hollywood Life. 
Fast forward to Season 11, and the conflict is far from resolved. Prior to the reunion even airing, the pair engaged in one of their recurring Instagram spats, with Melissa calling Jennifer "fake and conniving," and Jennifer calling her a "snake" and "boring," per Screen Rant. 
Things have only gotten worse between the two, and now it seems that their feud has led to a physical altercation in the currently-airing Season 12.
Melissa Gorga and Jennifer Aydin get in a physical fight
Going into Season 12 of "RHONJ," fans definitely expected a continuation of Melissa Gorga and Jennifer Aydin's feud. However, no one could've expected things to escalate from throwing objects to throwing hands. (Or could they?)
The Season 12 trailer shows snippets of the fight. Speaking to E! News' Daily Pop, Melissa explained how Jennifer instigated the confrontation. 
"You saw it, she grabbed my hand. And you guys will see what happens from there," she said. "I do not like that, I'm not down with any of that. I'm not into touching each other. You can use your words, right?"
The preview of Episode 4, airing on March 1, shows the ladies arguing over rumors that were swirling last season about Jackie Goldschneider's husband, Evan, cheating on her, per Page Six. Melissa and fellow Housewife Margaret Josephs confront Jennifer about her role in perpetuating the rumors. 
The fight then turns to the ladies' social media feud, where Jennifer attacked Melissa's husband, Joe, which Jennifer claims was merely "in retaliation." Melissa responds, screaming, "That's disgusting."
From there, the ladies get up from their chairs and begin screaming in each other's faces. Soon, Jennifer and Melissa entangle hands and push each other before Joe and castmate Dolores Catania attempt to tear the two apart. 
After this, there definitely doesn't seem to be an end in sight for this Housewife feud.